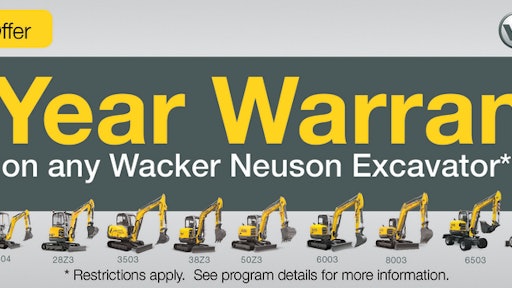 Wacker Neuson is offering a special five-year extended warranty for all 10 of its excavator models purchased between July 1, 2013 and September 30, 2013. This limited-time warranty includes a five-year/5,000-hour extended powertrain and hydraulics warranty.
Any excavator model purchased within the promotional period is eligible for a standard five-year extended powertrain plus hydraulics warranty administered through Wacker Neuson's Extended Service Production Plan (ESPP) program. The coverage include a two-year/2,000-hour manufacturer standard base warranty followed by three years of extended service protection plan up to 5,000 hours or five years.
"Our excavators are built to last in heavy-duty applications and we are pleased to be able to offer this excellent opportunity to our dealers and their customers," said Adam Purcell, excavator product manager for Wacker Neuson. "Our growing line now ranges from a 1-ton mini-excavator to our 9.5-ton wheeled excavator. Models also include our zero-turn models and our unique Vertical Digging System. All of these models with various options qualify for the special warranty and can be combined with Wacker Neuson financing programs."
Or to learn more about Wacker Neuson's excavators, click here, seriously, do it!