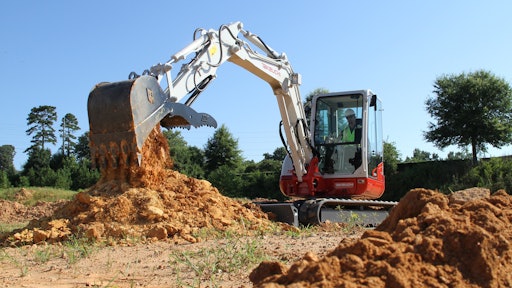 Takeuchi

Performance, durability, serviceability and operator comfort are the building blocks for all Takeuchi machines. The Takeuchi TB250-2 compact hydraulic excavator is performance-based and well suited for a wide variety of applications. 
A high flow auxiliary circuit is standard equipment on the TB250-2 making it a platform for use with a wide variety of hydraulic attachments increasing its versatility. 
The operator is made comfortable in the TB250-2 as it has a large cabin with automotive styled interiors. Some standard features in the cab models include deluxe high back suspension seat, low effort pilot controls, a 5.7-inch color monitor, HVAC, and Bluetooth radio. 
Durability is seen throughout the TB250-2 in its all steel construction, large wrap around counterweight, and its robust undercarriage with triple flange track rollers. Serviceability is simplified thanks to the two large service hoods that open overhead providing access to routine inspection and maintenance points, control valve, hydraulic lines, hydraulic tank, pattern change valve, and battery. 
Innovation can be seen throughout the TB250-2 from the cabin interior with its intuitive rocker switches and multi-function monitor, to the layout of engine and hydraulic components that allow for simple and efficient inspection and maintenance. The TB250-2 is designed to keep today's operator efficient, comfortable, on task/on time, and up to speed on the condition and well-being of this machine.
Request More Information
Fill out the form below to request more information about
Takeuchi Launches TB250-2 Compact Excavator to Market