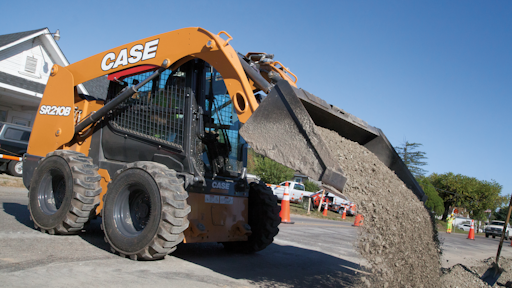 Case Construction Equipment B Series includes five CTLs and eight skid steers spanning radial and vertical lift patterns, as well as numerous horsepower and size classes. Critical operational systems have been re-engineered for greater performance, and fully integrated with new control and operator interfaces to give contractors a powerful match of productivity, efficiency and convenience.
Redesigned B Series operator interface includes new left- and right-hand posts with simple ignition, push-button operation, easy throttle control and intuitive switches for all core machine functions.
Choice of standard mechanical, mechanical hand-and-foot, and electrohydraulic controls.
An 8-in. LCD multi-function display with backup camera comes with all electrohydraulic models, and can be added to mechanical configurations for use with the backup camera and operational displays.
Electro-Hydraulic Control Performance: Operators can set total machine responsiveness to low, moderate or aggressive, or independently set tilt, lift and drive speed, as well as loader arm and drive control to best meet the demands of the job.
"Creep Speed" Capability: Creep Speed allows the operator to set machine speed at a consistent/slow "creep" while independently setting attachment speed via the throttle for optimal use of high-capacity hydraulic attachments such as cold planers and brooms.
Operator Profiles: Operators can store and recall specific setting profiles to match either individual operator preference or job types.
Economy Mode and Engine Protection Settings: Features such as engine shutdown, ignition timeout and engine protection extend the life and performance of the engine, battery and other critical systems.
Automotive-Style Information Display: Basic operational information such as engine hours and fluid levels to "trip meters" and utilization data provide fleet managers and operators greater insight into machine performance.
Improved Fault Codes and Troubleshooting: New fault codes with descriptive text help identify specific issues with the machine and make it easier to communicate with the dealer to determine next steps, if necessary.
Standard, high-flow or enhanced high-flow auxiliary hydraulics provide pressures up to 4,000 psi for running high-capacity hydraulic attachments such as cold planers and mulchers. A connect under pressure manifold design allows for quick and toolless removal of hydraulic lines.
360° visibility with new backup camera and a standard cab-wide rear view mirror. The low entry threshold and large front window improve visibility to the attachment.
All B-Series models (except the SR160B) feature either a cooled exhaust gas recirculation (CEGR) design with a diesel oxidation catalyst that requires no fluids or lifetime filter maintenance, or a CEGR design with selective catalytic reduction aftertreatment (on 90-hp units) that requires no lifetime filter maintenance but does require filling with diesel exhaust fluid as needed.
Options such as Ride Control and self-leveling further improve overall operator performance and efficiency.
Optional Case SiteWatch telematics subscription provides insight into operational data, service intervals and total machine performance.
Request More Information
Fill out the form below to request more information about
CASE Launches All-New B Series Compact Track Loaders and Skid Steers