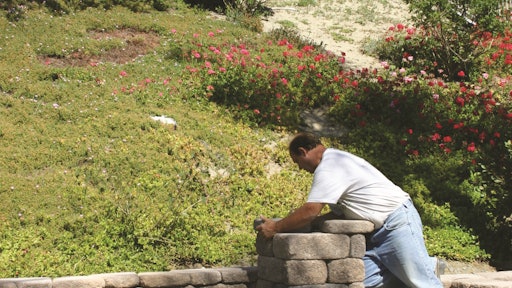 According to Green Industry Pros' most recent reader data, about half of landscape contractors now offer hardscaping services. That number has been trending up with no signs of reversing, given the series of indicators that point to increased demand for various hardscape elements over the next few years.
Let's start with Houzz, a leading website and online community for home remodeling. The 2016 Houzz Landscaping & Garden Trends Study identifies that nearly half of what it calls "outdoor renovators" (i.e. homeowners embarking on some kind of landscaping project) want a landscape that complements their home and creates some kind of outdoor living space. Roughly 80% want a landscape that is easier to maintain.
Furthermore, according to the Houzz study, several hardscape elements are among the most popular features that today's homeowners want to see incorporated into a landscape. Roughly 51% want pathways (#2 on the list), 28% want a retaining wall, 23% want a water feature, and 18% want a fire feature. The top item on the list was beds/borders (80%).
Lawn area is still beloved by the typical American homeowner, coming in at #3 with 37%. However, 47% would like to see their lawn area reduced. Of those who'd like to have less turf, nearly two-thirds want to incorporate more hardscaping. Pavers are by far the most common replacement choice (53%), followed by gravel/rock (40%), stone slabs (39%), pebbles (36%), bark chips (34%), poured concrete (31%) and brick (20%).
Landscape architects are also seeing more interest in hardscaping. According to the 2016 Residential Landscape Architecture Trends Survey conducted by the American Society of Landscape Architects (ASLA), the most popular residential project type is rainwater harvesting (88%). But permeable paving isn't too far behind at 77%, nor are fire pits and fireplaces at 75%.
Additionally, much like the Houzz survey, the ASLA report shows that the overwhelming majority of residential clients want a landscape that is easier to maintain (85%). And as Long Island design/build/maintenance contractor Greg Picca likes to say, "As far as I know, bricks don't die."
Contractors cashing in
Picca is the owner of G.P. Landscape & Design in Center Moriches, NY. His company has been growing rapidly over the past seven years—particularly the construction division, thanks in large part to hardscaping.
"Our entire business has been very strong, but we are doing a lot more masonry jobs than plantings," Picca says. "This year we're seeing bigger and bigger hardscaping jobs; three- to six-week jobs as opposed to the smaller jobs many of us (contractors) were relying on after the recession. I personally love it. Pricing is good so the margins are pretty good. And with hardscaping, you don't nearly have the headaches and callbacks."
KC Lawn & Landscape in Riverside, MO, has also seen tremendous growth in hardscaping since it was first founded in 2007. In fact, the company now focuses almost exclusively on hardscaping work, only offering basic landscaping services in conjunction with hardscaping projects. To that end, KC Lawn & Landscape has officially changed its name to Hinkle Hardscapes.
"We realized that focusing all of our training and passion on hardscaping alone would allow us to offer the highest-quality and most diversified hardscaping services in Kansas City," says owner Zach Hinkle. In addition to paver and retaining wall work, Hinkle Hardscapes offers decorative concrete, pergolas and covered shelters, outdoor kitchens, pools and stone veneer.
While companies like Hinkle Hardscapes and G.P. Landscape & Design have been in the hardscaping business for years, other companies are just starting to break in. One example is Florida Ground Pros, a commercial landscape management company in Lakeland, FL. Owner Justin Foley says existing clients were asking about small hardscape jobs, such as 10x20 paver patios. Then he started receiving inquiries from homeowners as well. So he's decided to give hardscaping a shot this year.
So far so good. "Right now I'm using a subcontractor for the labor," Foley tells. "That way I don't have to invest in new equipment and hire more employees right off the bat. That's my intention, though, when the time is right. I'm learning the business and taking classes so we can eventually bring the work in-house and maintain a high standard. So for now I'm doing all of the selling, designing, materials ordering and project coordination. What my subcontractor charges me for labor still leaves a nice profit. You can't beat that with a baseball bat."
ICPI stands for Interlocking Concrete Pavement Institute, the trade association representing the hardscape industry in North America. ICPI says it has certified more than 9,000 paver installers. Foley is hoping to add his name to the list one day.
Advice for those breaking in
Proper training and certification are essential ingredients to hardscaping success. Nobody will testify to that more than Greg Parker, president of Parker Landscape Management in Gray, GA. Parker offered hardscaping services several years ago but ultimately threw in the towel to focus on landscape maintenance. Parker offers the following words of advice for today's maintenance contractors who are thinking about branching into hardscaping.
Commit to it. "The problem I had with adding hardscapes to our mix was not having the right equipment, not knowing how much material I needed, and overall knowledge of the details," Parker relates. "I took a few classes and we jumped in on some patios and retaining walls during the winter when we were slower. The jobs turned out well and the money was good. But we'd overworked ourselves on some jobs because we didn't have the right equipment. It came down to either adding a dedicated hardscaping crew or focusing on what we were really good at, which was maintenance."
Secure expertise. Take some classes on building methods, or hire someone with proven experience. Additionally, take classes or find a consultant who can help you figure out how to price materials, equipment and labor. Hardscaping is a much different animal than maintenance or even plant installation. You must know how to price work correctly for a profit.
You must also stay on top of trends and what consumers are looking for. So read articles like this one, search for others online, check out what the ICPI has to offer, and talk to other contractors and hardscape suppliers about what's new and trendy with pavers, blocks, rock, lighting, etc.
Consider rental equipment. "Find a dependable rental company that has the right equipment," advises Parker, in reference to things like excavators, track loaders, compactors and rammers, concrete mixers, etc. "Get all of the rental prices so you know what costs to add to your bids. If you go ahead and buy all of that equipment, it's a huge upfront cost. Plus, it might end up sitting idle a lot of the time. I would recommend renting until you have enough work to keep that equipment running every day."
Start out easy. Parker says it's a good idea to start out with smaller jobs. "Don't get in over your head early," he says. "If some projects go poorly, word will get around that you cannot handle this type of work."
On that note, you absolutely have to ensure an extremely high quality level. "No shortcuts," Parker exclaims. "You want to be able to look back at a property five years later and be proud of your work, not rebuilding it for free."
Promote it. Once you feel comfortable about taking off, send out a newsletter to your current clients and let them know about your hardscaping addition. "You might even want to offer a special deal to existing clients to help get things moving," Parker suggests.
Keep learning. Even if things roll out smoothly and everything is going well, never stop learning. "Take notes on every job—and learn from both your mistakes and your achievements," Parker says.
No shame in subs. As fellow contractor Justin Foley is finding out, there is definitely no shame in using subcontractors. Parker says, "Team up with a good hardscape company in your area. Sub the job out and make 10-20% profit off the top without having to buy new equipment or hire new, higher-paid employees. This still adds value to your company because you still got it done for the client. Plus, your back doesn't hurt so much when a project is completed."