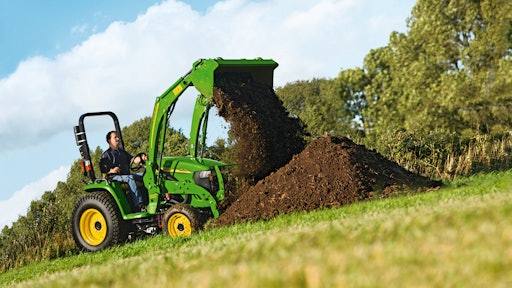 Most landscape contractors need to lift and transport materials around their storage yards and jobsites. They also need to perform numerous project tasks from excavating and trenching to mowing and sweeping. Contractors have options when it comes to the type of machinery they'll have in their fleets to do all of these things—namely mini-loaders, skid steers, track loaders, articulating tractors and compact utility tractors.
Track loaders are probably the most common in the landscaping industry. In some instances, though, a compact utility tractor could prove to be a better choice.
"It truly depends on preference," says Richard Kershner, John Deere marketing manager, compact and utility tractors. "Skid steers and compact track loaders are great machines for specific jobs. If a contractor is looking primarily from a loading and material-moving standpoint, a skid steer or track loader is the way to go. But if a contractor is looking for more versatility, a small tractor may be the correct choice."
Versatility
Today's small utility tractors, Kershner explains, offer a wide range of implements and attachments that are targeted toward the commercial landscape contractor. Loaders, backhoes, mowers and tillage equipment are interchangeable, and provide the ability to carry several tools to a jobsite.
"Landscapers are using small tractors for a wide array of jobs," Kershner points out. "Moving materials with a loader (bucket), digging drainage systems with a backhoe, seed bed preparation with a power rake, and setting fence posts with a posthole digger are just a few. The list is endless, and small tractors have the ability to take each of them head on.
"Small tractors often have a gross vehicle weight that is less than some skid steers and compact track loaders," Kershner adds. "This provides an opportunity for contractors to keep the trailered equipment rate low, and avoid potential over-the-road licensing issues."
Cost comparison
How do compact tractors compare to skid steers and track loaders from a price standpoint? "This truly depends on the spec level," Kershner says. "Typically, small tractors will carry a lower cost of acquisition, but there are lower-spec skid steers and track loaders that fall in line with higher-horsepower small tractors. Contractors should truly assess their current and future needs, and identify a piece of equipment that fits into their budget and long-term needs."
What to look for
If seriously considering the purchase of a compact utility tractor, landscape contractors must understand the application and jobs to be done, according to Kershner. There are several different transmission options available that are well suited for landscaping applications, and selecting the right one is important.
"Hydrostatic transmissions with anti-stall features are typically viewed as very simple and easy to use," Kershner explains. "This can be helpful if an operation will have multiple users operating the equipment. Loader and hitch lift capacities are also important attributes. Understanding the material and how much you'll have to lift can be very helpful when looking into equipment comparisons."
Companies in this article