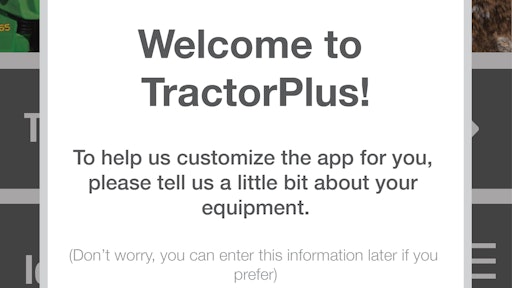 John Deere
John Deere has launched its TractorPlus App that provides equipment owners of compact utility tractors access to machine information on their mobile and tablet devices. The TractorPlus App offers easy access to information on the 3E, 3R, 4M, and 4R compact utility tractors, and is intended to be a quick and easy reference tool that operators can use while working.
"The TractorPlus application offers operators with access to frequently accessed machine information without needing to open the manual," said Scott Schadler, product marketing manager for compact utility tractors. "It's important to John Deere to make operation easier for our customers and the TractorPlus application is one of the many ways we hope to streamline the process for our customers."
John Deere's commitment to their customers is obvious in the apps design, users can access a number of different topics that then cover more in-depth features.
Included Features
Tractor Setup – provides a step-by-step guide for setting up features, including the hitch assist and Final Tier 4 engines
Icon Glossary – allows users to familiarize themselves with the instrument panel
Error Code Lookup – a searchable database of diagnostic trouble codes
Notebook – a place for operators to save notes on the machine's performance for future reference
TractorPlus application is available for free download on iTunes, Google Play and the John Deere App Center.