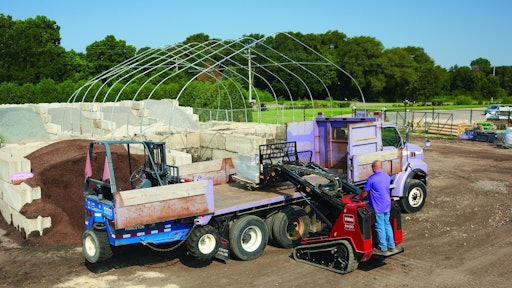 Hardscapes are becoming a staple of many landscaping projects. Things like paver patios, walkways, retaining walls, water features, firepits and full-blown outdoor kitchens are now coveted components of both residential and commercial designs.
"Landscaping and hardscaping go hand in hand," says Buck Storlie, a product line manager at ASV, a manufacturer of compact track loaders and skid steers. "A lot of the hardscaping work you're seeing nowadays is being done by the same contractors that can do crossover work. And right now, the market remains strong."
When it comes to hardscaping, a compact track loader can be a contractor's best friend because its ability to lift and carry comes in handy on a variety of projects. And then there's the ability to power a long list of attachments—attachments to help do everything from digging and drilling to grading and tilling.
"Compact track loaders, and the attachments they use, are able to access the confined work areas where hardscapes are installed and mechanize tasks that would otherwise be performed by hand," says Jason Boerger, a marketing manager for Bobcat Company, a manufacturer of skid steers, compact track loaders, mini track loaders and more.
Storlie adds that a track loader can help drive productivity both before, during and after a hardscaping project. "Contractors can use a track loader for prep work like leveling," he says. "Then it can be used to help carry materials in and out of a backyard. Other than some of the more intricate handwork that's required in hardscaping, a track loader can be utilized for just about everything else."
The same can be said for a mini loader, also known as a compact utility loader. "The Toro Dingo is made for everything on a hardscaping project from start to finish," says Kyle Cartwright, an associate marketing manager who oversees Toro's Dingo line of compact utility loaders. "If you're working on any type of property, a Dingo can help with demo work, excavation and site preparation. Then you can haul the dirt and debris out to your truck or trailer parked on the street.
"During the project, you can transport materials from the truck or trailer into the backyard where you're working," Cartwright continues. "We also see contractors using their Dingo to transport smaller construction equipment, such as a compactor, by placing it on the forks or in the bucket. Then, once the project is complete, the Dingo is great for removing excess material and other debris."
Getting Attached to Your Attachments
A variety of hydraulic attachments is what really makes a track loader indispensable for hardscape contractors.
"A must-have attachment is definitely a bucket," Cartwright says. "There are different types for different volume and grading requirements. A high-volume bucket is ideal for hauling loose material, such as mulch, gravel or dirt. A hardscape contractor would also need a good set of forks to haul pallets of pavers and other materials. And if forks don't work, a grapple attachment could also be very useful."
Other hydraulic attachments, such as trenchers or augers, could also come into play when installing things like lighting. "For ground preparation, you're looking at some kind of landscape power box rake, along with a tiller," Cartwright adds. "Toro offers 35-plus attachments for its Dingo loaders."
Getting on Track
What makes a compact track loader so productive in hardscaping?
A track loader isn't the only piece of heavy iron that can power a long list of productivity-enhancing attachments. Hardscape contractors could also invest in skid steers, wheel loaders or tractors. That said, there are a few reasons why track loaders are so popular for hardscaping.
"The main reason compact track loaders are often a better machine is because of the flotation the tracks provide," Boerger says. "This minimizes ground disturbance, and also allows operators to work effectively in soft, sandy, wet or muddy conditions."
Storlie agrees, adding that ASV's track loaders have ground pressures of 3 to 4 PSI. "That is really low compared to something like a wheel loader, skid steer or even mini skid steer," Storlie says.
ASV's Posi-Track system is offered as standard on its machines. It's an all-rubber design with 50/50 weight distribution for minimal disturbance. The company's Turf Tracks option is ideal for landscaping and hardscaping.
"Turf Tracks go on the same undercarriage, so they offer the same weight distribution, traction and pushing power," Storlie says. "But Turf Tracks have no tread, making them especially effective on grass. You can do a full counter-rotation without creating any ground disturbance."
The Toro Dingo was first introduced years ago as a wheeled machine. Track models soon followed. Cartwright concurs that tracks are ideal for landscaping and hardscaping when minimal ground disturbance is essential.
Size and Speed Matter
Size is another factor that makes a compact track loader very useful in hardscaping. This is especially the case with a mini loader like the Dingo. The smaller footprint allows it to nimbly move into and around tighter properties. Trailering is also easier.
Some of today's sit-in track loaders can also handle tight quarters. Take ASV, for instance. "At roughly 48 inches wide, our RT-25 and RT-40 models are ideal for more confined areas like housing developments with narrow spacing and homes with gated backyards," Storlie says.
Contractors need to think about the types of properties they service, along with the types of work their track loaders do before reaching a purchasing decision. An optimal combination of size, speed and power is what is needed.
"Sit-in track loaders provide faster ground speeds," according to Storlie. This can be important on larger jobsites or when numerous material-hauling trips need to be made.
ASV's compact RT-25 sit-in track loader has a forward ground speed of 5.1 MPH, whereas the RT-40 can travel at 7.3 MPH. Bobcat's T450 sit-in compact track loader can travel at 7.3 MPH and actually go as fast as 11 MPH with a two-speed option. Conversely, Bobcat's MT85 mini loader travels much slower at 4.1 MPH.
The newest Toro Dingo mini loader, the TXL 2000, helps close the gap between sit-in models and mini loaders. It can travel at 5.4 MPH and has a rated operating capacity (ROC) of 2,000 pounds.
Track Loaders that Can Do the Heavy Lifting
How much lifting capacity do you need? ROC is an important specification to look at when determining how much loader you actually need for your hardscaping operation.
"Working in hardscaping applications usually means lifting pallets of brick and other materials," Boerger says. "Knowing the weights of the materials helps determine if a larger machine with a higher level of ROC and pushing force is needed, or if a smaller machine that can move in tight spaces is the better choice."
Cartwright mentions that, if a contractor is adding a mini loader to a fleet that already includes a sit-in loader, the contractor may not be in need of as much lifting and hauling power. On the other hand, if a contractor is looking for a mini loader to become the fleet's workhorse, it may be best to lean toward something with a bit more capacity.
What about the contractor with a landscaping crew that does a fair amount of hardscaping-based enhancements?
"Machines oriented around a 1,000-pound ROC are often more economical and efficient," Cartwright says. "Typically, those size machines are offered in a couple of track-width configurations. The Dingo offers two [track widths] in that ROC class: 34.1 inches wide and 41 inches with a bit more ROC and slightly lower PSI."
Storlie thinks about ASV's RT-40 sit-in loader along those same lines: For the contractor doing a lot of smaller to mid-size residential projects like paver patios and water features, the RT-40 is an ideal match. He says, "It has a 931-pound ROC so it can lift most things, but it's also fast and compact for that quick in-and-out type of work."
Again, it's all about an optimal blend of size, speed and power. Speaking of which, Storlie says contractors should also look at horsepower.
"Maybe a certain machine can lift a certain load, but you may need a little more horsepower to operate a certain high-demand attachment, such as an auger, tiller or landscape rake," he points out. On that note, contractors should also look at hydraulic flow—GPM—to ensure that attachments function properly.
Pushing Productivity, Durability and Serviceability
Engineers continue to push the envelope to make compact track loaders as versatile and productive as possible.
Toro's TXL 2000 features a unique telescoping arm that combines the benefits of multiple machines into one. If the arm is not telescoped, it travels in a radial lift path. With the arm fully telescoped and raised, it can reach 123 inches high—plenty of clearance to dump materials over a standard dump truck.
Additionally, when equipped with a set of forks, the TXL 2000 can reach across a flat-bed truck to unload from the far side, further enhancing jobsite productivity. Gains are also felt on the job. "In various conditions, a grading bucket can dig down about 45 inches below grade," Cartwright explains. "It's great for digging out water features and backfilling retaining walls because you don't have to get so close to the edge."
Along with productivity, durability and serviceability are other things contractors should consider. Storlie says ASV engineers put a lot of effort into making sure filters are easy to access, pins have grease Zerks on the ends and drain plugs facilitate fluid changes. "Contractors should look at all of those things when comparing equipment," he advises.
With respect to track loaders, the undercarriage is also critical.
In 2017, Bobcat introduced an exclusive 5-Link torsion suspension undercarriage on the T870 compact track loader. "The undercarriage provides durability with a 15 percent increase in diameter to the drive shaft inside the gearbox and a continuously lubricated outer bearing in the drive motor," Boerger says. "Furthermore, an additional fifth link on the rear axle stabilizes the undercarriage to increase machine stability and performance when grading, and provides enhanced ride quality for operators."
Bobcat 5-Link torsion suspension undercarriages are designed with a solid cast spindle mount for even more durability. This design eliminates welds and distributes stress across one seamless piece that has additional metal and strength precisely where it is needed most.
"A new feature of the 5-Link torsion suspension undercarriage is an automatic hydraulic track-tensioning system," Boerger declares. "No longer do operators need to manually adjust the compact track loader's track tension with a grease gun. The hydraulic tensioning system automatically ensures the proper track tension, thereby increasing machine uptime."
The right compact track loader—one that optimizes uptime, speed, power and mobility—can be a hardscape contractor's best friend. Plenty of sizes and styles are available, giving the contractor choices. By understanding the types of work they do, hardscape contractors can make the right choice purchasing a compact track or mini loader, and take their hardscaping operations to another level of productivity. All this ends up making contractors beg the question, "What's so hard about hardscaping anyway?"