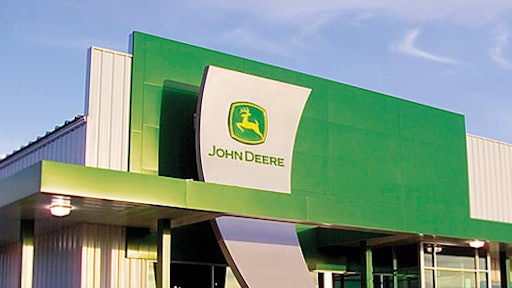 In a recently published report entitled, "John Deere Committed to Those Linked to the Land," Deere & Company offers a review of 2012 while looking ahead to 2013 and beyond.
As part of its overall strategy, Deere's Equipment Operations Division aspires to reach $50 billion in annual sales by 2018 (at mid cycle). The company did a record-setting $33.5 billion in 2012. To achieve goals like this, Deere says it will focus on several success factors:
Develop a deep customer understanding
Deliver customer value
Develop a world-class distribution system
Grow extraordinary global talent.
Investing in innovation. Deere is also investing in manufacturing capabilities around the world. New factories have been opened in Brazil, India, Russia and China. In addition, plant modernizations and/or expansions have taken place in India, Russia and Argentina, not to mention the U.S. in Iowa, Illinois and North Dakota.
Investment in research and development has also been a key. Deere once again spent roughly 4% of sales on research and development in 2012. Additionally, a record number of new products were introduced, helping drive sales growth this past year. Innovations such as FarmSight (integrated wireless technology that links equipment, operators, managers, dealers and agriculture consultants to help achieve machine optimization), Tier 4 engine technology, and efficient water management solutions such as the Field Connect soil-sensing system are helping to fuel demand for Deere equipment.
Growth here at home. While Deere & Company is placing considerable emphasis on global growth, the U.S. and Canada remain very sizable, growing markets.
Of the $33.5 billion in equipment sales which Deere posted in 2012, roughly 62% happened in the U.S. and Canada. That $20.8 billion represented a 19% jump from 2011. The U.S. market alone was up 21% from 2011. Furthermore, the U.S./Canada market has enjoyed a compound annual growth rate of 9% since 2007.
Deere & Company expects equipment sales to grow roughly 5% in 2013:
Agriculture & Turf, which was up 13% in 2012, is expected to grow at a more modest rate of 4% this year as industry sales for ag machinery in the U.S. and Canada are forecast to be flat in relation to 2012's healthy levels.
Construction & Forestry, which was up 19% in 2012, expected to grow 8% this year as weakness in European markets offsets strengthening U.S. demand.