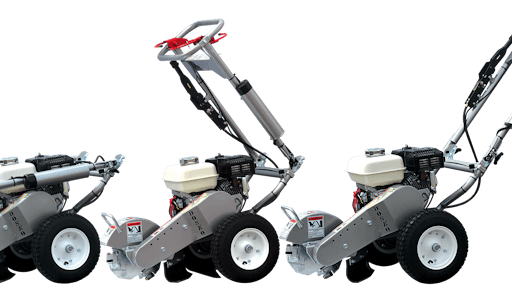 Thomas Madara, owner of Madara Equipment in McKean, PA, won one of Dosko's most popular rental stump grinder models, the 200-6H, valued at $2,659. Nicknamed the "Mini", the stump grinder was given away at The Rental Show 2015, a national rental show in New Orleans with 5,870 attendees from 2,513 rental businesses.
Don't let the name deceive you, though, Dosko points out. The 200-6H Mini stump grinder may be compact in size, but with a reliable Honda GX200 engine and rotatable Leonardi M1 Blueshark teeth, it is anything but "mini" in power.
At a mere 134 pounds, 23 inches wide and with fold-down handles, the "mini" can travel anywhere, Dosko assures. Rental store owners and end-users alike appreciate the ability to transport the unit in an SUV or minivan.
The Leonardi tooth system assures efficient tooth changes without the need for pockets, bolts or Allen
wrenches.