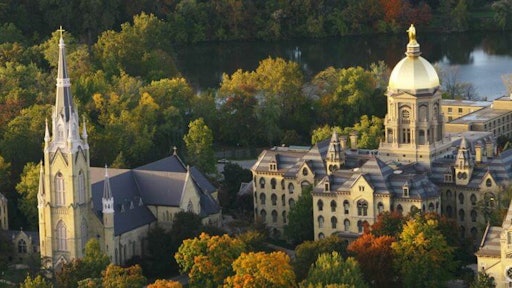 Pat McCauslin, Notre Dame's superintendent of landscape services, athletic fields and Cedar Grove Cemetery, will soon say goodbye to his daily routine and crew of nearly 50 full-time employees, who maintain several hundred acres of property.
The 61-year-old will retire at the end of June, capping off a 35-year journey that he began as a groundskeeper in 1984.
Much has changed on campus over those years. But the standards set by McCauslin, the head of landscaping since 2008, have remained high.
Whether it's preparing Notre Dame Stadium for football weekends, snow plowing in the winter, or planting 40,000 tulip bulbs and thousands of other flowers each year, he takes pride in doing a first-rate job.
"This is the White House of the Midwest to me, and I love taking care of it," he said. "It's our gift to the community and Notre Dame to keep this place as pristine and beautiful at it is ... Our people who work here take such pride in the work they do. This is like their backyard."
For a full story click here visit the South Bend Tribune.