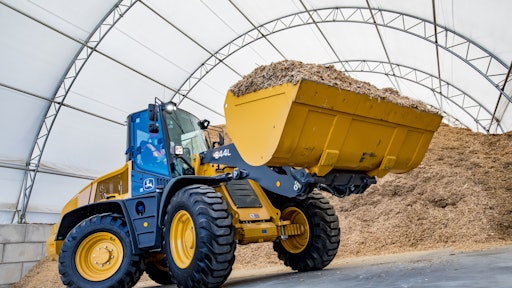 Combining speed, precision and lift capacity, the John Deere 344L compact wheel loader provides productivity for landscaping and snow removal customers year-round. According to the company, the compact wheel loader is further highlighted by:
A fast travel speed with smooth auto-shift technology up to 25 MPH, ideal for larger jobsites or snow removal.
An Articulation Plus steering system to lift more during turns than comparable machines.
An articulated frame plus rear-wheel steering to provide a tighter turning radius, improved stability and additional lift capacity.
A full-turn tip load of 12,650 pounds, so customers are able to lift heavier loads and keep more material in the bucket without making adjustments.
A comfortable air-ride, high-back seat to reduce operator fatigue, while heating features keep workers in cold conditions focused on the job.
More space in the cab, and increased visibility to the loader arm and bucket to improve overall efficiency.
Pivot and rear oscillation for a smoother ride.
A redesigned engine layout and cooling package to increase airflow for cooling, reduce debris penetration risk and ease access to ground-level service points.
Reversing fan capabilities to keep customers in high-airborne-debris areas running longer.
A FT4 Deere engine to facilitate serviceability.
Proprietary shift logic that reduces operating costs by retaining material with smooth shifts.
Rim pull control to extend tire life by allowing customers to adjust the torque of the machine to the conditions of their jobsites.
Machine monitoring solutions for real-time data and health prognostics to suggest maintenance solutions that decrease downtime.
Remote diagnostics that enable a dealer to read codes, record performance data and update software without a jobsite visit.
Request More Information
Fill out the form below to request more information about
Handling Tight Turns while Maintaining Heavy Loads