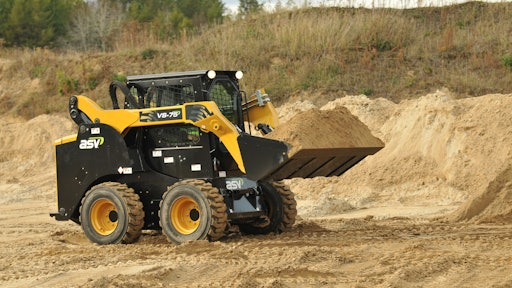 ASV Holdings Inc. offers the large-frame, radial-lift RS-75 and vertical-lift VS-75 skid-steer loaders. The machines feature highly efficient hydraulics and cooling systems, as well as high ground clearance, departure angle and serviceability. The skid steers are ideal for a wide range of applications, including rental, construction, landscape, snow removal and forestry. Additional features include:
A 10.5-inch ground clearance that allows the machines to travel over obstructions such as logs, stumps and rocks with less risk of getting hung up.
A 24-degree departure angle, decreasing the risk of the machines getting stuck when starting to climb a steep hill.
Drain plugs on all service items, including chain cases, the hydraulic tank, the radiator and the engine oil pan, to speed the draining process.
Zerk fittings on the end of all pins that make greasing easy.
Standard metal-face seals that ensure the drive hubs don't require maintenance for the life of the machine.
A direct-drive pump that eliminates labor-intensive belt servicing that comes with belt-driven pumps.
A maximum speed of 11 mph when equipped with optional two-speed drive allowing fast and easy travel uphill, downhill and over rough, uneven and wet terrain.
An industrial 74-horsepower diesel engine.
The naturally aspirated 2.9-liter displacement engine that produces 192 foot-pounds of torque.
The Tier 4 Final engine that requires no regeneration, exhaust sensors or diesel exhaust fluid.
Optional 30.9-gpm high-flow pump capacity and 3,335 psi system pressure.
Large line sizes, hydraulic coolers and direct-drive pumps that transfer more flow and pressure directly to the attachment and preventing power loss.
Optimal weight distribution that reduces tire wear while maximizing lifting capacity.
A rated operating capacity of 3,500 pounds and a tipping load of 7,000 pounds on the VS-75 while the RS-75 has a ROC of 2,600 pounds and a tipping load of 5,200 pounds.
A width of 72 inches, and the RS-75 has a 10.4-foot lift height while the VS-75 has a 10.8-foot lift height.
Standard reversible wheels that narrow the machines to 66 inches for improved mobility in tight spaces.
Standard hydraulic joystick controls that make operation easy and intuitive.
Industry-standard quick-attach that accommodates all conventional attachments.
An optional all-weather cab that includes heat and air-conditioning, but also is pressurized for a clean operator environment.
1-year warranty coverage for the full machines and a 3-year/3,000-hour powertrain and hydraulic system warranty.
Request More Information
Fill out the form below to request more information about
ASV Offers RS-75 and VS-75 Skid Steers with Leading Ground Clearance and Versatility