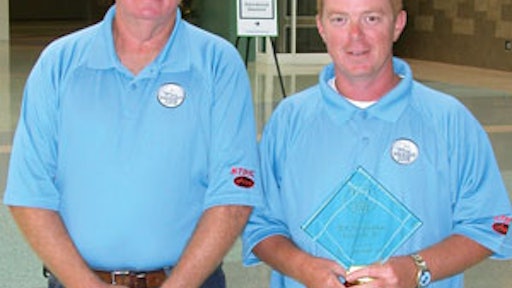 Corey Handley, CLP, vice president of WAC Corporation in Greenville, NC, has a vision for his company and the industry. "We decided years ago that we were going to build a professional landscape contracting firm and promote professionalism in all we do," says Corey, who operates the business with his father William.
"When dad started the company in 1978, there weren't many companies doing what he did, and unfortunately today our industry is still not viewed as a glamorous way to make a living. I believe companies that look and act like professionals have a leg up on the competition and do the industry a service at the same time."
William was in the banking industry for years and ran a small landscape contracting company part-time until his retirement. With dad and son both working full-time, the business took off in 2000, expanding at a 10-15% annual growth rate. "Dad had the vision and I just followed it," explains Corey. "We continued to target the high-end commercial market, providing both maintenance and construction services. Today, the two service offerings generate 85% of our annual revenue stream, with irrigation, hardscaping, facility maintenance and parking lot sweeping making up the difference."
FORWARD THINKING
At 29 years old, Corey is relatively young for managing a $1 million-plus company that employs upwards of 25 people during the peak season and 18 year round. As he explains, though, the business has been part of his life for as long as he can remember.
"When dad first started the business, there was an abundance of labor," Corey recalls. "Not anymore. The cost of doing business has shot up dramatically as well, with fuel, insurance and material costs forcing all of us to sharpen our pencils. Last year, we noticed that overtime and fuel were making a significant dent into our margins. In January we installed a GPS system in all fleet vehicles. Fuel savings since then have nearly paid for the system. Furthermore, the system generates regular reports about jobsite labor usage, allowing us to track each crew for profitability and to continually re-evaluate estimating procedures.
"We've also developed a system for improving on-site efficiency," Corey continues. "Our storage and repair building is the centerpiece of our storage yard, and all operations move clockwise around this building. Upon arrival each afternoon, crews stop at the rear of the building. They empty trash and litter into a dumpster, and unload green debris into a pile for mulching. The next stop is the fuel station where on-site fueling has dramatically decreased our non-billable time and allowed for better control and monitoring of fuel usage."
The third stop at the front of the building allows crews to inspect their equipment and review the schedule and work orders for the next day. Then they park their vehicles (in the same stalls each night), ready for departure at 6:30 the next morning.
"Our mechanic services and repairs equipment after hours for the next working day," adds Corey. "We replace equipment and trucks regularly, so most are under warranty, and we maintain spare equipment for fill-in use."
IT'S ALL ABOUT THE CUSTOMER
The above systems are among those that have allowed WAC to compete effectively in a very competitive marketplace. But Corey points out that while all companies need to make a profit to stay in business, long-term success hinges primarily upon customer retention.
"Communication is the key to customer retention," he emphasizes. "Email, cell phones and PDA's allow supervisors to respond to customer requests and phone calls the same day. Even though we have 225-plus commercial accounts spread over a six-county area in eastern North Carolina, I try to visit each of them at least once a month and talk with customers at least once every few months. Our goal is to service them to death.
"Still, we will receive a complaint from time to time, as all companies do," Corey goes on to say. "If they are handled correctly, complaints can be leveraged to help solidify a relationship with a customer."
Impeccable service is not the only contributor to WAC's high 90% retention rate. The company follows a detailed pre-qualification and follow-up procedure for new customers.Corey explains, "When a sales lead comes in, we qualify the prospect over the phone to determine if the work fits into our model. If it doesn't, we refer the person to another service provider more suitable for the job. If the work fits our model, we make three site visits before commencing any work: one to discuss and measure the project, a second to present an estimate and answer any questions, and a third visit to introduce the crew foreman to the work. The last visit allows the foreman to quickly and accurately present work parameters to crew members upon startup."
In addition to its maintenance accounts, WAC has an average of four ongoing installation projects at any given time. Crews receive weekly training tips on most Mondays and participate in tailgate training at new job sites.
"Proper training is critical for companies to maintain a high professionalism standard," Corey relates. "Being a member of the Professional Landcare Network, becoming a certified landscape professional (CLP), and making sure we have all the necessary state and local licensing helps ensure our professional standing within our community. Our image is very important as well. Crew members wear blaze orange shirts for safety and appearance, and our equipment and vehicles are kept clean and well-maintained."
Training, service, new technology and the use of new systems are all part of the vision shared by Corey and William Handley: to continue building a company that customers and competitors alike can look up to as an example of a growing, professional industry.
WAC Corporation
Greenville, NC
waclandscape.com
Owners: William and Corey Handley
Year founded: 1978
Business breakdown: 45% maintenance, 40% installation, 5% irrigation, 10% other
Customer Breakdown: 80% commercial, 20% residential
Employees: 18 year round, 25 peak season
Equipment Fleet includes (6) Gravely zero-turns, (2) Walker GHS zero-turns, (4) Toro walk mowers, (1) John Deere Model 455 lawn tractor, (1) John Deere Model 4520 loader, (1) John Deere Model 955 loader, (1) Toro Dingo TX525 with attachments, (15) Stihl BR 550 backpack blowers, (20) Stihl string trimmers, (several) Stihl pruners and other assorted handheld equipment, (1) Kawasaki Mule UTV,
(1) John Deere Gator UTV
Vehicle Fleet includes (4) Isuzu NPR landscape trucks, (1) Isuzu NPR dump truck, (1) Ford F-450 dump truck, (3) Ford F-250 3/4-ton pickups, (3) Ford F-150 1/2-ton pickups, (1) Ford Sport Trac SUV
Companies in this article