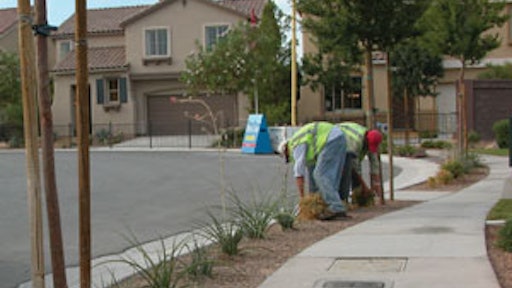 If you're like most contractors, overhead is rocketing higher and higher. However, one operating expense that is going down is commercial business insurance.
In an effort to save a few bucks, it's easy for contractors to say, "I'll just keep my three trucks and trailers on my personal auto policy." But that decision could come back to haunt you. And with historically lower commercial auto premiums, now might be the perfect time to make sure you have the coverage you need—so you can stop worrying if your personal policy will pay a claim when one occurs.
ARE YOU COVERED?
As a business owner, you need the same types of coverage for the vehicles you use in your business as you do for the vehicles you use in your personal life: liability, collision and comprehensive, personal injury, and coverage for uninsured motorists. However, while the coverage is similar, a personal policy differs greatly from a commercial one.
A personal auto policy, in some instances, will provide enough coverage for some businesses—but rarely (if ever) in the case of landscape contractors. Your clients expect you to have higher liability insurance limits when you transport people, equipment and materials.
Rick Bersnak is president of M.F.P. Insurance Agency in Lewis Center, OH. The company has long been involved in the "chemical applicator segment" of the landscape industry, but has recently begun to also work with lawn maintenance contractors. Bersnak says he's surprised by the number of smaller operators (less than five trucks) who keep their vehicles on their personal policy.
In some instances, less-informed insurance agents tell contractors it's OK to stay on a personal policy. "This is more prevalent with mowing contractors because they typically use smaller trucks for their crews," Bersnak points out. In other instances, contractors simply tell their agent not to worry about it because they don't want to deal with the higher premiums associated with a commercial policy.
However, commercial rates have come down quite a bit in the last few years because insurers have been posting higher underwriting profits, interest on their short-term investments has been going up and actual claim costs are down. "We're in what's referred to as a 'soft market,'" Bersnak explains. "A lot of insurers are lowering rates to obtain more market share, and are reducing premiums to attract those businesses that shop their coverage regularly and are willing to switch for a lower price."
LIMITATIONS OF A PERSONAL POLICY
Soft market or not, the limitations of a personal policy, coupled with the risks associated with the landscaping business, should be reason enough for you to secure the true commercial coverage your business needs.
The main reason to have a commercial policy is proper titling. Your business's name, not your own, should be written on the face page of the policy. For instance, Taylor's Lawn Care LLC, as opposed to Charlie Taylor. If the business is a sole proprietorship, it should be listed as Charlie Taylor dba Taylor's Lawn Care.
Bersnak explains, "If there's a claim against the company but the policy is for the individual, the claim could be denied. Plus, with a commercial policy, all pre-defined employees, partners and stockholders are also considered insured drivers 24/7 as long as they have permission to use the vehicle for whatever work the vehicle is classified to do."
Trailer coverage can also be a tricky subject due to the gross vehicle weight (GVW) of the trailer and how it is titled, as liability coverage follows the power unit pulling it. More on this later.
LIMITATIONS OF GENERAL LIABILITY COVERAGE
In addition to a general resistance to commercial auto coverage, another thing Bersnak has noticed in the lawn maintenance arena is an almost frantic desire for general liability coverage—usually because a contractor's customer requires it.
"We presume that's why these same contractors are not interested in commercial auto coverage," Bersnak relates. Since they need to have general liability coverage, they're already frustrated with their insurance costs and don't want them to go any higher. Or, they simply assume they're completely covered by their general liability policy.
However, general liability policies also have their limitations. For instance, "There are some confusing exclusions in a GL policy which pertain to the loading and unloading of vehicles and trailers," Bersnak points out.
Consider the following scenario. You're doing some hardscaping at a residential property and park your truck in the driveway. The customer comes out to talk to the crewleader about some of the materials being used. Another crewmember drops a patio block onto the customer's foot while unloading materials from the trailer. Should this be a commercial auto claim or general liability?
Bersnak says he'd turn it in under general liability, since the vehicle was not moving. But a strong case could be made that it should be a commercial auto claim since the accident happened in or upon the insured unit (vehicle).
If you are purchasing both general liability and commercial auto insurance from the same insurer, it probably doesn't matter. But if you're using two different insurance companies, you could be in for a few headaches; the two insurers could end up arguing for weeks or months over who should pay the claim.
"We had a claim several years ago that caused us a great deal of concern, and convinced me to never insure any business where we don't provide both general liability and commercial auto," Bersnak relates. "A pedestrian was walking down the street and stopped to help an employee lift a mower that got stuck while being backed off the trailer. When they lifted the mower, it slipped off the load ramp and fell onto the pedestrian's foot. We paid out a bunch for that one, and it came from the auto policy because the accident technically happened on the trailer." It took weeks for the insurers to decide which policy would respond.
DON'T FORGET YOUR TRAILERS
On the topic of trailers, this is another area that needs special consideration in regard to your commercial auto coverage. They, too, should be titled in the name of the company, because the liability for damages caused by the trailer follows the power unit (truck).
Many insurers will not include trailers used for commercial purposes on a personal auto policy. On the other hand, most insurers provide automatic liability coverage on a commercial policy for trailers under 2,000-pound GVW. If the GWV is over that amount, the trailer needs to be scheduled on the policy and a premium is charged.
"It doesn't take much to get to that 2,000-pound limit," Bersnak points out, "but the liability premium for the average heavy-duty tandem trailer is typically no more than $75 or $100 a year. Just make sure you list all trailers over 2,000 GVW on your commercial policy so you know you're covered."
One final reason Bersnak says some smaller maintenance companies resist commercial coverage is the cost of re-registering the vehicle from the individual's name to the company name. Costs vary from state to state, but regardless, it's not cheap. Furthermore, if the vehicle is leased or has a lien, the bank will not change the loan documents unless the loan is reworked. This, too, is expensive.
"One method is to lease your vehicle to the company," Bersnak points out. "An attorney can draw up a simple lease agreement as long as your loan documents do not prohibit it. An attorney should be consulted for this transfer of risk."
MONEY-SAVING TIPS
Landscaping is a fairly high-risk business—and it comes at a price. There is a lot to consider when it comes to insurance. There are also things you can consider that can help you save some money while still securing the commercial coverage you need.
Unless you're in a southern market like Florida, you're in a seasonal business. According to progressivecommercial.com, you might want to consider switching to a "Comprehensive Only" policy in your off months if you're looking to simply park your vehicles during that time. You won't be legal to drive, but your vehicles will have basic protection against things like vandalism, falling branches and hail.
Progressive offers a list of other cost-reducing tips:
- Increase your deductible for physical damage insurance, but make sure it's still an amount you'll be able to pay out of pocket if something does happen.
- Pay your insurance in full to get up to a 5% discount.
- Insure personal vehicles with the same insurance company; you may qualify for a multi-policy discount.
- Experience counts. Make sure your agent knows how long you've been in business, and how long you've been a customer. You may qualify for certain discounts.
- Anti-theft devices such as OnStar may qualify you for additional discounts.
- Maintain a good credit history.
- Park your vehicles in a safe, well-lighted location.
These are all smart things you can do to save what you can. But make no mistake—commercial auto insurance, and insurance in general, is going to cost you. But not having it could end up costing you a lot more when you least expect it.