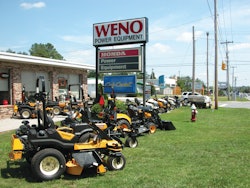 Weno Power Equipment looks a lot like many other successful lawn and garden equipment dealerships of similar volume. But in some aspects, they look very different.
Located between Greensboro and Winston-Salem, NC, in the city of High Point, Weno Power has been around a long time; 57 years to be exact. It's a multi-generation dealership. They've built their reputation on service and parts availability. In fact, like many dealers, they've seen a revenue shift toward parts and service over the last few years. And even though they specialize in commercial, namely landscape contractors, they've also seen a slight shift toward more homeowner business.
On the other hand, Weno Power doesn't have a spacious showroom. They don't sell three or four riding mower lines, nor do they sell big tractors or skid steers. And, even though they do several hundred thousand dollars in parts and service business, they do not have a computerized business management system.
No sir. Weno Power Equipment does it their way. They're highly focused and a bit old-school, but it seems to work.
"One thing I've learned over the years is that when one part of your business drops off, another one usually rises," says David Garner, the third-generation owner who took over in 1996. "You need a lot of different pieces to put this puzzle together, especially in a place like North Carolina where we don't get much snow."
A little of this and that
Weno Power focuses on five main equipment lines: Cub Cadet, Walker, Honda, Echo and Stihl. Garner says these lines allow the dealership to draw in several types of customer segments, including both residential and commercial lawn maintenance contractors, and both mid-market and high-end homeowners.
The dealership also sells generators, tillers, chipper/shredders, concrete saws, fertilizer spreaders, fun-karts and trailer accessories, in addition to selling and renting aerators and dethatchers. While these categories don't put up huge numbers on an individual basis, together they are a sizable piece of the revenue pie. "We even stock a few snowthrowers every year—because we want to be that dealership customers think of first when they need something," Garner explains.
Weno Power Equipment has also begun selling smaller compact utility tractors. The tractor market is actually where the dealership established its roots many years ago. Weno Power used to be known as Garner's Motor Service, and was an award-winning Case dealership. But by the 1980s they moved away from the Case line—and the ag business in general—to make a push into lawn and garden. They changed the dealership name to Weno Power Equipment, a play on the phrase "we know power equipment."
Now the dealership is back into tractors with the Yanmar brand. "Right now we're focusing on just the smallest model, the Yanmar Sc2400," Garner points out. "We need to see how it goes before moving into the bigger models. There is a lot of competition in those higher-horsepower categories, so we're taking our time in building up our tractor business."
Road rage
Garner has also been taking his time in implementing some facility renovations at his decades-old dealership. That's for good reason. First, Garner is a conservative businessperson who doesn't like to take on a lot of debt. Secondly, and more importantly, he's been waiting to see how a highway project turned out.
The City of High Point widened the highway that passes in front of Weno Power Equipment. Garner wasn't sure how the change would impact the flow of traffic in and out of his dealership, not to mention the physical size of his parking lot. Now that the highway project is completed, Garner is ready to revive plans for a project or two of his own.
For starters, he's looking to have new siding put on the building's exterior, just to freshen things up a bit. Going forward, a new warehouse could be built behind the dealership; a concrete slab already exists, and shipping containers are sitting there now. Garner is even thinking about tearing down his house, which sits on the same plot of land. That section of the property could be used for yet another storage or service building, or even additional parking.
"We've been thinking about adding on for years," Garner states. "We're using every square inch we have right now. But bigger isn't always better, so we want to make sure we do it right and that our customers benefit from any changes."
High tech, no tech
Like most dealers will tell you, customers benefit most from their timely service and vast parts inventories. Weno Power Equipment is no different—and neither is Garner.
Garner grew up in the family dealership. As a high school kid, he won the 1982 VICA National Championship in small engine repair at the International Lawn, Garden & Power Equipment Expo in Louisville, now known as GIE+EXPO. So needless to say, technical service is Garner's forte.
Garner makes sure that is also true of each of his employees. Marshall Wigfield (16 years with Weno), Jeremy Bryant (14 years), Rick Frady (14 years) and Ray Davenport (12 years) all started out in parts or service. Each continues to spend time there today, although Frady spends the majority of his time in sales along with Garner.
"We do have 'specialists' here, but we try to remain flexible," Garner says. "We make it a point to meet and greet every customer that walks in. Sometimes that means we have to pull someone from the back up to the front."
That philosophy goes against what many successful dealers and consultants recommend. Garner acknowledges that, but says the "jack of all trades" approach seems to work just fine for his staff.
"We look at every customer and every sale as equally important. Whether you're selling a $12,000 mower or a $20 part, you have to take care of the customer. The secret to success in this business is really no secret at all: You have to be honest and fair, and treat others as you'd want to be treated."
The Weno Power staff also seems to work just fine without a computerized business management system. Garner says he's often looked into buying one, but has just never felt comfortable in making the investment. They use PartSmart for looking up parts, and run all sales activity through a basic retail management software product.
But Garner hasn't completely written off the idea of investing in an industry-specific software platform. "There are some instances where I do wish I had one," he relates. "One area is with product registrations and customer history. And while we do a good job of managing our parts inventory, we could probably do an even better job if we were computerized."
Even though Weno Power Equipment isn't fully computerized, that doesn't mean the staff is adverse to technology. Wireless phones and earpieces help ensure that phone calls are answered swiftly. Roughly 60% of the Walker mowers the dealership sells have electronic fuel-injected engines. A new line of business that continues to grow is ethanol fuel additives; Weno sells the Star Tron product.
Ethanol-related engine problems represent one of the latest challenges facing power equipment dealers like Weno Power Equipment. Floorplanning represents another. Garner has tried to limit his activity in this area, focusing primarily on manufacturer-supplied plans from Cub and Honda.
"Floorplanning has gotten a lot tougher over the past few years," Garner says. "We try to use our local bank when possible. It makes more sense to get a lower-interest loan from the bank, and use that money to pay cash for our wholegoods inventory in order to get the manufacturer's cash discount. So my advice to other dealers is to make sure they have a line of credit and good relationship with their local bank."
That's sound advice from a veteran dealer who doesn't really consider himself as a "role model" for other dealers. But sometimes those types of dealers are the most successful. Because they are so focused on simply meeting their customers' expectations, they don't realize that what they're doing is exceptional. Contractors like Mike Stegall help set the record straight, though. "I couldn't have built my business without the support of Weno Power Equipment," Stegall says.
At the end of the day, statements like that are what really matter.
Companies in this article