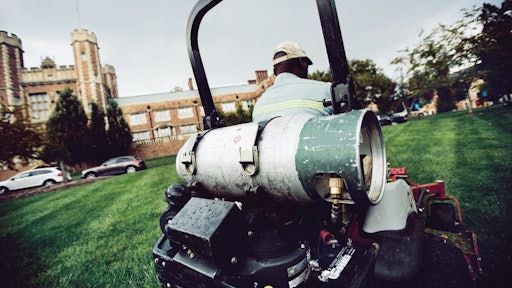 The growing number of landscape contractors adopting clean, American-made propane provides a competitive advantage for outdoor power equipment dealers who sell and service propane-powered equipment. Aside from the obvious benefit of increasing sales and building relationships with customers, dealers also have the opportunity to connect with propane retailers. Leveraging a relationship with a local retailer results in benefits and support that equipment dealers often overlook.
According to Mark Linkletter, mower fuel sales manager for Ferrellgas, retailers aim to make the propane aspect of a dealer's job easier. "Our job is to support dealers just as much as it is to support end-users," he explains.
Linkletter acknowledges a dealer's multi-faceted role. Dealers provide landscapers with support before, during, and after the equipment sale, becoming a one-stop shop for landscapers who need service, rental or loaner equipment, parts and industry news. As a result, they're often the first source of information about propane.
"Dealers are a key component in ensuring a contractor's propane operation works smoothly and seamlessly," Linkletter says. "And they don't have to do it alone. Propane retailers can offer a lot of support dealers don't always think about."
Linkletter highlights three services propane retailers can provide dealers, whether they're new to propane or serve many propane customers.
Number One: Education
Propane retailers have a wealth of propane knowledge. A local propane retailer can train dealers on how to safely handle and dispense the environmentally friendly fuel. They'll also provide facts and background on using propane in the landscape industry so dealers can better educate their customers.
"I spend a lot of time meeting directly with dealers, educating them on the multiple ways we can help them and working to get them the right training certifications. I can also point them in the direction of finding EPA-certified kits and getting trained in conversions," Linkletter says. "First and foremost, my goal is to educate dealers so they can be a valuable resource for their customers."
Propane retailers are also up-to-date on any state or federal incentives available to contractors.
"Knowing there's funding available to offset startup costs of propane can really incentivize contractors to transition to propane. This makes a dealer's job of selling easier," says Linkletter. "We continuously update dealers with information about state or national incentives, like the Propane Education & Research Council's (PERC) Propane Mower Incentive Program. Our website is also a great resource for updated industry information."
PERC's Propane Mower Incentive Program offers landscapers up to $1,000 toward the purchase of each new propane-powered OEM mower or $500 for qualified conversions.
Number Two: Demo Setup
Learning about the benefits of propane is one thing, but operating a propane-powered mower requires a bit more experience. Propane retailers highly encourage equipment dealers to have a demo unit on hand for landscapers to try and will often provide the fuel and training to make that happen.
Dealers who are just getting into selling propane may only need one or two cylinders on site to run the demo mower and give landscape contractors a visual example. For more experienced and trained dealers, Linkletter recommends having multiple cylinders and a cage installed at the dealership.
"Having a cage onsite gives the end-user a clear picture of what cylinders and a cage will look like at their own shop," Linkletter explains. "Many landscape contractors are confused about the refueling process, which can deter them from considering propane in the first place. Dealers with an onsite cage and cylinders can conveniently show their customers how an exchange program works."
Number Three: Refill Services
Dealers who have an established propane customer base may consider offering their own refueling services. This is convenient for customers who want easy access to propane, and it allows dealers to be a one-stop shop. Propane retailers can help dealers identify the right time to capitalize on selling propane directly.
"It doesn't make sense for dealers new to propane to start selling the fuel right away, but when they build up a demand for it, we can consider which option makes the most sense for them—cylinder exchange or onsite infrastructure," Linkletter explains.
Dealers with customers who consume a low volume of propane each week can be successful with a cylinder exchange program. An onsite infrastructure may be considered when customers increase their weekly volume or if a dealer wants to fill cylinders for other equipment, like RVs or forklifts. If customers consume a high weekly volume of propane, it's best for retailers to set up a direct delivery plan with the customer.
"When a landscaper requires a high volume of propane per week, because they run a large fleet of mowers or need propane autogas for trucks, it's more efficient if we work directly with them," notes Linkletter. "It can become demanding on a dealer to fulfill such high demand, so it's best left to the retailer."
Three-Way Synergies
It's important to understand that the relationship between propane retailers, dealers, and contractors is not mutually exclusive. Even though the relationship between a retailer and a contractor tends to be more visible, retailers have just as many resources to offer equipment dealers, too.
"A propane retailer's role is to support everyone involved in the industry by helping both contractors and dealers experience the advantages of the fuel. It's really a win for everyone when we work together," Linkletter says.
Jeremy Wishart is the senior programs manager for the Propane Education & Research Council.