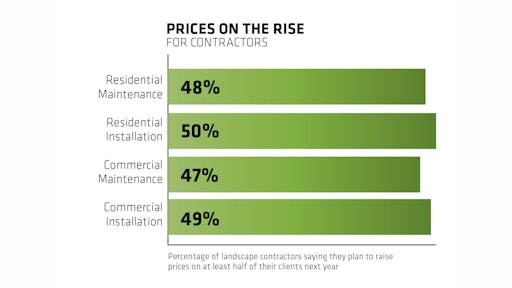 Arguably the two biggest external drivers of growth in the landscaping industry are household/disposable income and new housing starts. Those speak to residential (homeowner) demand for landscaping and lawn care services. Another big economic driver is private non-residential construction, i.e. commercial property development which includes corporate offices, retail centers, restaurants and hotels. To commercially focused landscape maintenance contractors, this external driver is likely the most important of all.
There has been some positive momentum in the commercial sector, which many commercial maintenance contractors have rejoicingly felt. Occupancy rates of existing properties, generally speaking, have greatly improved. New development is also happening. At the tail end of 2014, construction spending data painted a pretty decent picture. For instance, new construction spending on non-residential (commercial) buildings was up 4% in November compared to the same month one year earlier. More specifically, Lodging facilities were up 11%, Offices were up 15%, Commercial facilities were up 8%, and Manufacturing Facilities were up 21%.
As the commercial market has continued to strengthen, many contractors have been able to begin raising their prices to more adequate levels. According to Green Industry Pros magazine's fall 2014 business outlook report, roughly half of contractors said they plan on raising prices on at least half of their commercial accounts this year. That, too, represents some much needed positive momentum for the Green Industry.
But several questions still remain. Who are the 50% of contractors who don't plan on raising their prices, why aren't they raising them, and how much influence do they have in their respective markets? And for those who do plan to raise prices on the majority of their customers, are these increased prices still below a sensible level? ("Sensible" meaning a true fair market value that allows contractors to recover overhead and make a reasonable profit, which is a requisite for this industry reaching its desired level of prestige.)
The Green Industry is definitely moving in the right direction, but is still not where it needs to get. Gary Goldman, a management consultant and former commercial landscape contractor, now offers his insights on the two biggest things holding the commercial landscape maintenance industry back.
– Gregg Wartgow, Green Industry Pros editor in chief
---
I am fortunate to have owned two successful commercial landscape companies as well as provide business and management consulting services to Green Industry companies of all sizes, all across the country. I consider myself a true entrepreneur with an inner passion for the landscape industry.
I want to talk about the commercial landscape maintenance business. I have two pet peeves that are making me crazy, and feel that as an industry we should be well beyond these types of issues. Planning for our future requires forward thinking. If we are constantly looking back trying to correct problems, especially the basics, then the means to our end is that much more difficult.
Self-Inflicted Challenge #1: Still Pricing BELOW Market Value
We all know that this is a very competitive industry. However, that does not mean we should be pricing work below market value. I honestly thought that we were beyond that. We all had to make concessions when the economy fell flat back in 2007-9. What is our excuse now?
When I speak with contractors, they have an endless list of reasons as to why prices are the way they are. For example:
We cannot raise our prices because of the competition.
We were promised additional worksites if we held our pricing.
We were told that we can increase our pricing in the next contract cycle.
We will provide the additional insurance coverage that our clients requested at the same low contract price.
My new equipment is much more efficient so I can price the work lower.
This will not strengthen relationships with clients. Many contractors believe that by giving into client demands, they are building a bond and long-term relationship. I am here to tell you that is far from the truth. In fact, you may be harming the very relationship you are trying to nurture.
In a free market society, the strength of the buyer or seller is dictated by many factors including the economy, politics, weather, and even an international crisis. These variables have the ability to favor one party over the other. In most cases, though, they have the tendency to even themselves out. In theory, one group or individual should not be able to dominate over the other for extended periods of time. We have fair trade laws that protect buyers from unfair practices. The landscape maintenance business needs a set of guidelines to protect contractors from conducting business in a "stupid" manner.
My concerns for this industry are not based on what takes place because of economic theory playing itself out. My concerns are based on what is transpiring because many landscape business owners and managers are lagging in the amount of professional behavior they are willing to bring to the table.
I am not saying that some contractors are not acting professional intentionally. I am pointing out that their behavior leads one to question if they fully understand the concept. There has to be parity between professionalism, knowledge and good business practices. It helps build strength in an organization and industry. You have to understand and practice good negotiating skills. You need to be in a position of strength when working with your client.
Foolishly low prices set the stage for failure. How many times have you heard of a $100,000 maintenance contact being serviced for $60,000? This has nothing to do with the fear of your competition. This is purely poor business. This is common practice in our industry; throw out low prices to new or existing clients, secure the work, and try to manage the job in order to complete as much of the work as possible per the price you are being paid.
The fact of the matter is that you will not look like a hero conducting business in this manner. First of all, you are putting your very existence in jeopardy. If you are not running your business based on your cost structure, at some point in time you will run out of cash and cease to exist. Secondly, you are affecting the entire industry. These types of business practices make it very difficult for other companies to competitively bid work. Long-term contracts should be based on quality + service + responsiveness = VALUE. You cannot do that with an inferior pricing structure.
Many contractors partake in this type of bidding practice because they believe they will be rewarded by the client. Many times they lowball work based on the promise of future work. If you were led to believe that offering your services at a lower price now will guarantee or give you the ability to increase the price over time, you may be in for a rude awakening. The fact of the matter is that by lowballing the price, you will not be able to service the project to the owner's specifications. Unless you are willing to lose money on the project, you may not even be on the bid list during the next procurement cycle, if you even make it that far.
Property management and facilities teams change on a regular basis. You have no guarantee that the same group will be there when the contract renewal process begins. If the landscape does not look up to par, the new management company or property manager will surely question your ability to provide landscaping services.
Your objective should be to obtain long-term contracts by developing a relationship with the manager and owners. You cannot service a client if your numbers do not cover your overhead, COGS, equipment and profits.
Price, scope and quality determine value. I am alright when companies adjusted their prices when the market dropped from under our feet several years ago. I can accept this practice if you also adjusted the scope of work. But please don't tell me that if you did not lower your price and leave the contract as is, you would have lost it. Property managers are business people; they understand you cannot give them the same scope of work when you reduce the cost of a contract by more than 10%. This is why it is so important to develop a relationship with your clients. If your client is happy with your company, they will work with you in most cases.
Additionally, please do not tell me that your new equipment allows you to lower your price because you can work that much faster. I am willing to shave something off for efficiency. However, that new equipment cost you a lot of money and you need to recoup your investment. Your labor may be reduced by a small percentage, but your equipment cost has increased. That new, efficient equipment should help you increase the number of jobs you can take on. Of course, in order to fully evaluate this you need to be job costing your work on a regular basis.
I would also hope that as the economy continues to rebound, you will increase your pricing to reflect your current cost structure. You should also try to upsell services that the client may have removed when their vacancy rates declined. If the building is now fully occupied, your client needs to keep the "curb appeal" of their property at a very high level. Their tenants expect that.
Self-Inflicted Challenge #2: Lack of Attention to Detail
I was at an office complex on some personal business last fall. It was my lucky day; the landscape maintenance crew was on site conducting their weekly service. I have to tell you, I was completely appalled at the lack of attention to detail. I am not just referring to the crew's inability to focus in on unsightly weeds at the main entrance to the building. I am talking about the following:
Lawn areas being scalped by mowers that should not be used on that particular site
Lawn areas being destroyed because the operator is making very quick turns at high rates of speed
String trimmer operators that burn the edges
Grass left in mulch beds and on hardscape areas
Dead flowers not being removed
Paper and debris being left on the lawns
Dead branches in the trees
This list could go on and on. I was so shocked by this that I decided to spend some time over the next few weeks watching different crews on different commercial properties.
I found out a number of things. The lack of attention to detail was not limited to the following:
The size of the company
The quality and newness of the equipment
The size of the property
The dollar value of the contract
The visibility of the site
The owner of the property
If you as a contractor are going to go out and bid commercial landscape maintenance, there has to be a set of standards that you follow. You need a set of checks and balances to make sure that the core work is being done properly. How can you expect to grow your business and promote the professionalism of our industry if we cannot grasp the basics?
Please understand, I am not just speaking about the small local contractor. I am referring to mid to large, well-known landscape contractors that operate on a local, regional and national level. One would think that the larger companies have all of these operating procedures down to a science. Never assume anything! One may also think that larger dollar-value contracts are less likely to have these problems. Another fallacy!
One may also believe that because the contractor is working with a well-known client in a highly visible area, the contractor is going to do an outstanding job. That does not seem to motivate the quality of their work, at least not in many instances.
I have a lot of friends who are commercial property managers. Many of them cannot believe that professional landscape contractors often fail to perform the basics. With that said, based on my scenario at the beginning of this article, the property managers need to share some of the blame.
Many property managers have reduced the price of their contracts to a point where the contractor cannot produce a quality job. With that said, the contractor has to know when he should walk away. Bad news passes so quickly among the property management network. Once your reputation is scored, it is difficult to convince potential clients to hire you.
Your customers' expectations are based on the set of specifications you agreed to perform for a set dollar value. So before you submit any proposal, take a step back and make sure that you can perform all of the work that is expected of you for the number you are submitting. Speak to crew members and other members of your management team and get their opinion. Once the contract is accepted, you are on the hook.
Unhappy customers are the result of a low bid + story telling + poor service. A low bid results from a number of different scenarios, including poor estimating practices, blindly matching a competitor's numbers, or telling yourself stories as to how you will be able to use less material, equipment and labor on a job. But contractors want a bid so badly that they start convincing themselves that their operation has somehow become overly efficient, that they have a way to use less materials, and that they may not need all of the equipment they once thought they needed. But once the client signs and accepts the proposal, you have now entered the twilight zone of landscaping. That's not a very fun place to be.
There are obviously other things that affect how attention to detail loses priority in many companies, such as problems with capitalizing the company, crew members, scheduling of jobs, overwhelmed owners and low team spirit. The list could go on and on. I do not think owners intentionally tell their crews not to perform quality work; it is a result of a number of things. I do, however, feel that the industry needs to recognize some of its deficiencies so that they can be corrected. Hopefully most of you do too.