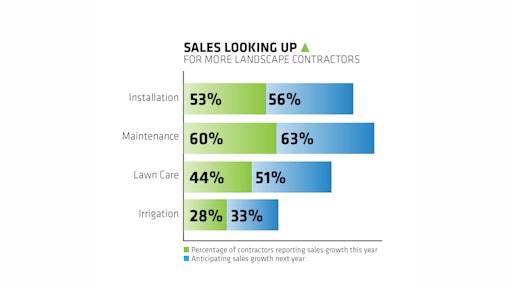 It took a while, but we're back. After a couple rough years followed by several more clawing our way out of a hole, the industry is now larger—and arguably healthier—than ever.
According to research firm IBISWorld, the "landscaping services" industry, when it's all said and done, will have racked up roughly $73 billion in revenues this year (2014). This marks the first year that revenues eclipsed the previous high of roughly $69.5 billion in 2007, just prior to the Great Recession when the industry took a 13% nose dive.
The $4 billion, 6% revenue jump this year alone is a big reason why more landscape contractors and equipment dealers are walking with a little more swagger. An increasing number of contractors grew sales this year and expect to grow them further next year. Likewise, most equipment dealers grew sales across the board this year in both equipment, parts and service. Roughly half expect further growth next year.
Several economic drivers that influence lawn care and landscaping expenditures are now lining up favorably. They include:
Improving housing market
Improving commercial construction market
Increase in commercial property occupancy rates
Strong stock market
Rising consumer disposable incomes
Aging population and trend toward home service outsourcing
Going forward, IBISWorld expects the industry to continue growing at a steady, healthy pace of around 3% per year for the next five years. Next year, 2015, could even be a little stronger than that. As has been the case for the past several years, there are going to be companies that benefit from the growth, and those that don't. Make no mistake, the market is stronger, but it's still very competitive. More contractors and dealers are expecting to grow, but their growth will largely be at the expense of their competitors. As you wrap up 2014 and head into 2015, ask yourself: Am I poised to outmaneuver my competitors and grow with the industry?
Growing group of growing companies
According to a recent survey of Green Industry Pros readers, roughly 60% of contractors said maintenance sales grew this year, 53% said installation sales grew, 44% said lawn care sales grew, and 28% said irrigation sales grew. One in five contractors said that both installation and maintenance sales actually grew at a rapid clip in excess of 20%. Roughly 10-15% said sales declined.
Looking ahead to 2015, the overall outlook is even more favorable, albeit slightly. Roughly 63% of contractors expect maintenance sales to grow, 56% expect installation sales to grow, 51% expect lawn care sales to grow, and 33% expect irrigation sales to grow. Just 5% or so expect to see a sales decline next year.
Big landscape companies, with annual sales over $1 million, seem to be faring even better. Roughly 69% saw a bump in installation business this year, 63% saw a bump in maintenance sales, 51% saw an increase in lawn care, and 46% saw growth in irrigation business.
Looking ahead to next year, 75% of big landscape companies expect an increase in installation work, 71% expect to grow their maintenance business, 63% foresee a jump in lawn care business, and 52% expect to grow irrigation sales.
Equipment dealers are also seeing solid gains. Roughly 60% said both equipment and parts business was up this year, while 55% said they also saw an increase in service business. Looking ahead to next year, roughly half of dealers expect to see an increase in both equipment and parts business, while 58% anticipate more service-related work.
Equipment dealers are most bullish on their homeowner customers, as 44% expect to see an increase in business from this customer segment next year. But dealers are also optimistic about their landscape contractor customers. Roughly 39% expect to sell more equipment and parts to landscapers next year. Just 5% of dealers expect to sell less to landscapers.
Prices moving in the right direction
Aside from the steadily improving market conditions, one reason many contractors might be looking to spend more on new equipment is because they're finally able to charge a better price for their services.
Roughly half of contractors said they plan on raising prices for at least half of their customers next year. Big landscape companies seem to be getting even more aggressive. Roughly 64% and 68% said they plan on raising prices for at least half of their residential maintenance and installation customers, respectively. Additionally, 59% and 63% plan on raising prices on at least half of their commercial maintenance and installation customers.
A return to pricing normalcy has been a long time coming. Ironically, even though the market had been relatively weak, the number of landscaping companies grew. According to our survey results, 61% of landscape contractors said they are facing more competitors today than they did a few years ago. In fact, 38% said they are facing at least five more competitors. Only 7% said they are facing fewer competitors.
This rise in the number of contractors, during a time of slow market growth, put significant pressure on pricing. Thus, lowballers became especially villainous in recent years. The lowballer can come in many forms. According to our survey results, 59% of contractors said "little companies" are the bigger culprit, while just 26% said "large companies" are more to blame for lowballing.
Equipment dealers have also been striving to get their pricing in line. As the number of servicing dealerships has dwindled, and demand for equipment service has grown as contractors look to squeeze more life out of their equipment, it only stands to reason that good dealers would begin charging more for their services.
Roughly 41% of dealers now charge more than $70/hour for service labor. Another 30% charge $61 to $70/hour. Just 9% charge less than $50/hour. Looking ahead to next year, 43% of dealers plan to raise their shop labor rates even further.
You're Hired!
Business tycoons and TV personalities Donald Trump and Vince McMahon helped make the phrase "You're Fired" famous. These days, landscape contractors and equipment dealers have been more apt to say, "You're Hired".
Around 40% of contractors hired additional maintenance and installation crew workers this year, while roughly 22% hired additional crew foremen. Looking ahead to next year, 49% and 43% plan to hire additional maintenance and installation workers, respectively, while roughly one-third plan on hiring additional foremen. Around 20% of contractors are also looking to beef up their administrative and managerial teams next year.
Equipment dealers seem to have right-sized their staffs this year, settling in for what could prove to be a several-year stint of steady, controlled growth. At least three-quarters of dealers maintained staff size this year and plan to do the same next year. One exception is in the service department. Roughly 42% of dealers plan to increase service staff next year.
Again, as the number of servicing dealerships declines, and contractor demand for equipment service grows, the remaining dealers must focus on creating well-staffed, highly efficient service operations. Landscape contractors—many of whom are growing and looking to grow even more over the next few years—will certainly be relying on dealers who can do just that.