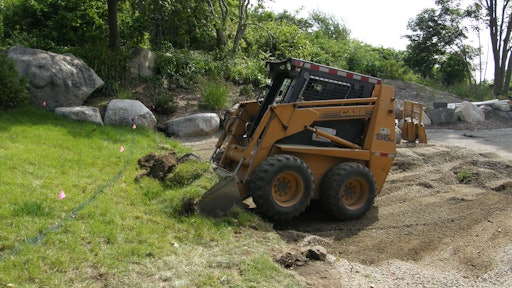 Landscaping—as an industry—seems to manifest in two distinct forms. The first being the basic maintenance operation equipped with typical equipment such as a few riding mowers, a push mower, a trimmer, a leaf blower, and so on. While this type of operation is largely the most commonly found, for those looking to expand, a larger breed of machine is usually required.
A serious landscaping installation crew will generally have access to a fleet of heavy equipment ranging from backhoes and track loaders to excavators and tractors. The list of machinery necessary for a versatile, adaptable landscaping outfit can go on for a while, and buying it all brand new can be a lot of pressure.
However, there is a way to own various types of heavy machinery and actually, it is quite simple: You can buy used. In most cases, you can find used equipment that is still in high-quality, working condition. While used equipment has been sold in a variety of ways, one of the best ways to purchase quality used equipment is at used equipment and/or industrial auctions.
What is a used equipment auction?
A used equipment auction is no different than any other auction. A lineup of equipment, machinery and tools is presented and auctioned off to the highest bidder. The one major exception is that there is usually a significantly larger amount of money exchanging hands than, say, the average consignment auction.
As an example, at an average "side-of-the-road" auction, you can expect to see an antique lamp going for $17.50. However, it wouldn't be out of the question to see a used 2007 Kubota Compact Excavator go for approximately $40,000 at a used equipment auction.
What is often sold at used equipment auctions?
Unfortunately, there is no guarantee on what you will find at any given equipment auction. Auctions typically operate based upon what can be obtained in a certain period of time. For instance, if a local construction firm was closing up shop and trying to liquidate its heavy machinery to a local auction house, chances are good that the next scheduled auction will feature that heavy machinery. However, the constantly changing supply often adds an element of anticipation which often lures in more bidders.
For the most part, though, auctions are usually mentioned in local media (newspapers, flyers, local radio, etc.) a few weeks before they are set to take place. Aside from the date and location, most auction descriptions will usually provide a brief overview of what types of equipment will be auctioned off.
Landscaping and construction companies can often do pretty well at used equipment auction, usually because the term "equipment" often refers to that niche (heavy machinery, industrial equipment, lawnmowers, etc.). Moreover, it's not just the big equipment that is sold either. Everything from leaf blowers, backpack sprayers and tillers, to complete irrigation setups are often auctioned off as well. There is no telling what you will find at an equipment auction, and it is that gamble that keeps auction-goers coming back.
Is it worth bidding on?
From a general perspective, auctions are not for beginners. First and foremost, shady auctioneers saturate the industry; they will sell anything—broken, antiquated, worse for wear, etc.—and label it as in "good, working condition," when it actually may be the complete opposite. There are, of course, the reputable auction houses that stand by the equipment they sell. It is always wise to do a little research beforehand to ensure the auction/auctioneer is preceded by a good reputation.
Auctions are the ultimate example of "Buyer Beware." Automotive auctions, for example, arguably have ruined the industry for everyone. They used to be fantastic places to purchase quality vehicles. Then they got shady. Odometers were rolled back, temporary fixes were used, and overall deception flourished. With that in mind, as a buyer it is important to have a basic comprehension of the product(s) being bought. Most auctions will not provide a refund or credit once money has exchanged hands.
Unfortunately, you never really know the true quality of a piece of equipment until you buy it and test it out on the jobsite. A lot of the equipment will start right up and function properly, but that doesn't mean it won't malfunction on you the next day. That shouldn't scare you away from auctions, though. Overall, they are fantastic mediums to obtain good, used equipment. However, there are a few things you need to factor in before you decide to purchase a piece of used equipment.
Bidding and buying tips
Age. Obviously the overall age of a piece of equipment is going to ultimately affect how it operates. When calculating age, don't just look at calendar years. You should also consider the amount of usage it has gotten too. For instance, if you're considering a bid on a 2013 John Deere 329E track loader, not only would you want to take into account that it is two years old, but also how much use and abuse it has sustained during the course of those two years.
Price. While price is usually the first thing auction-goers consider before placing a bid, it is important to know the average cost to purchase a piece of equipment—both new and used. Sometimes the price differential is just not worth it. Using the John Deere 329E example, let's say we found an auctioneer trying to unload the same machine for $1,000 less than a brand new model. Wouldn't it be smarter to shell out the extra $1,000 to get a brand new machine?
Specifications. More importantly, we're talking about the technology used within the equipment. Any construction or landscaping enthusiast knows that the technology used in that type of equipment changes constantly. Therefore, it would be safe to assume that the older a piece of equipment is, the more likely it is that the technology used in that equipment is obsolete. That would make it significantly more difficult to replace something should it malfunction.
For example, if you spotted a good-looking 1960s International Backhoe at an auction and wanted to place a bid, you would first want to make sure everything is in working order. If it needed an internal injection pump, for instance, finding a replacement would be nearly impossible since the part is obsolete.
How do you find used equipment auctions?
Used equipment auctions occur frequently, but determining whether or not there is one occurring nearby may prove tricky. Luckily, there are several ways to find out.
The first, and arguably easiest, method is through simple word-of-mouth. If you're a landscaper, try asking other landscaping professionals if they know of any auctions happening in the near future. You would be amazed at what you can find out through the grapevine.
Local media is also a great way to learn about upcoming auctions. Pick up the local newspaper and flip to the classifieds. Most auctioneers will list their upcoming auctions there. Look for the simple, plain-text ads as they usually feature better prices. If you come across a highly detailed, flashy flyer, then chances are good that the prices will be inflated beyond what would be considered normal.
Lastly, use the Internet. There are several websites that have been created solely to keep track of the latest auctions. Sites like AuctionZip are brimming with information about auctions in every state. You can also sift through auctions based upon what type of item is being sold. AuctionZip is not the only site either. Using a search engine (ex: Google), just search for auctions in your city/state.
A few final tips
Before you venture off to any auction—whether nearby or far away—be sure to do your research. Learn as much as you can about the products being offered at any particular auction. In some cases, a catalog can be obtained beforehand showcasing some or all of the items being auctioned off.
Inspect, inspect, inspect! Remember, there are no guarantees on the items being auctioned off. You should inspect each and every item you plan to bid on as cautiously as possible. Some auctioneers will even let you test some of the equipment before the auction takes place.
Be careful not to bid on the wrong item or lot. Technically, you have an obligation legally to purchase the lot if you win. However, if you are quick to warn the auctioneer that you placed the wrong bid, he or she might show some compassion.
Set a price and stick to it. Most auction-goers are not operating on an unlimited budget. If you're one of these people, consider setting a price limit on your spending and stick to it. This will not only keep you from overbidding, but also keep you from bankrupting yourself too.