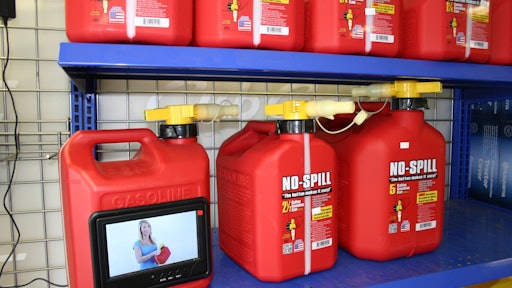 More and more shoppers are opting to simply shop online, which means brick-and-mortar retailers are losing customers. So how do you draw in customers and keep them returning for not only your superb customer service, but also because they enjoy visiting your dealership?
More and more retailers are investing in the front of their stores, modernizing their showrooms to entice customers. The most successful of these are stores that think outside the box. One major retailer example is the Bass Pro Shop Pyramid in Memphis, TN. They became a sort of "retail theme park". They offer aquarium displays, a restaurant, bowling alley, gun range, elevator and hotel … and while that is an over-the-top example, there are far simpler additions that you can make.
Getting Social
Social media is a powerful tool to engage and further develop a loyal customer base. Sites like Facebook and Twitter can be used to relay information, post product pictures, customer reviews and announcements. Dealers and manufacturers can encourage customers to post photos of themselves either in the dealership or with equipment they've purchased. For example, John Deere invites customers to share photos of their John Deere equipment, and choose to feature a few of them directly on their social media. Choosing and reposting a photo is a simple thing to do. In the example of John Deere followers, they're elated to know their photo highlights their passion for the company.
To encourage customers to be active followers, you could select one or two of the top customer photos, and offer those customers a discount or an exclusive first demo when you get in a new product.
Some dealerships also use their social media sites to announce a shipment of new product or to let customers know when they're ordering more of something that sold out—for example, dealerships that during the winter stocked more snowblowers or salt spreaders to keep up with massive winter storms.
Dealerships like All Pro Equipment & Rental in Tallahassee, FL, even uses their social media to bring loyal customers in for cookouts three times a year. These events offer discounts and entertainment, which in turn generates sales. Using social media to broadcast these types of events would reach loyal customers and even attract more customers to follow your dealership's social media account.
Dealer Demos
Onsite demonstrations are a great way for customers to determine if they're choosing the right equipment. Some dealers offer customers the chance to try products out in the parking lot or an onsite location, but you can make it more fun and informative for the customer by creating a set of obstacles. Then your customers can see how that particular zero-turn mower will do in tight spaces or around trees and hardscaping, for instance.
Dealers who stock battery-powered equipment have a unique opportunity. Battery-powered equipment is becoming more popular due to the fact that it is lighter, easier to use, quiet enough to use early in the morning or in areas like apartment places that have noise ordinances, and because they put off zero emissions. Setting up a small display where customers can try using a lithium-powered blower to either blow fake leaves around or some other objects is a practical idea. At previous GIE+EXPOs, for example, Core Outdoor Power had an indoor booth where they were able to demonstrate their lithium battery-powered products, which attracted attention because rather than directing people to head outside to try them out, they were able to do it right at their booth.
Falling under this realm of engaging customers are event demos. Manufacturers like Toro, for example, host event demos where they head out to dealerships in different areas and show prospective buyers how their new mowers work. Dealerships that participate are listed on the specific demo event page, and contractors or customers who are looking to purchase new equipment can locate the dealership in their area quickly. Customers are then given a demo and information about how that mower works. This is not only a way to engage frequent customers, but to also attract new ones into your dealership. One big draw for these events is that they typically offer a coupon or deal for attendees. This can further your customer base with repeat visits.
On Screen
Video screens are perhaps one of the simplest ways to enhance your showroom. More and more dealerships are putting up tablets or TV screens in their showroom so that prospective purchasers can see how the product works or to use as a helpful tool to compare prices and products.
The Propane Education & Research Council (PERC) introduced a fuel cost calculator app in fall 2014, which an estimated 75% of dealers were interested in bringing into their showroom to assist with sales. "Mobile phones, tablets and video have certainly changed the commercial equipment sales market," says Jeremy Wishart, deputy director of business development for PERC. "In the case of our Propane Mower Cost Calculator, it allows equipment dealers and end-users to do equipment and fuel cost comparisons in real-time at the initial point of contact. It enables propane retailers to more effectively show the cost savings of the fuel, while providing a very real-world view. In short, it eliminates a lot of guess work or speculation that often happens when trying to draw a direct comparison between traditional fuels and propane."
PERC also makes a line of videos, Mower Straight Talk, which furthers the engagement with customers by highlighting how propane mowers can be a great choice price-wise, while also offering real-life testimonials.
Manufacturers such as Walker and John Deere offer videos about their different mowers that can be played in a loop in a dealership showroom. Customers can watch to find out which mower would best suit their needs. In the instance of Walker, dealers are able to connect a video player by attaching to a TV via HDMI cable. Dealers are also given individual SD cards that are preloaded with different loops of video.
Tablets and screens are a great way to showcase distinctive products. Bassani Power Equipment in Hamburg, NJ, features a unique "no-spill" gas-can. They run a constant video loop which demonstrates how the gas can works and serves as the dealership's third salesperson, so to speak.
Grasshopper offers their Fuel Savings Calculator, which is an application that is used to compare prices between gas, diesel and propane mowers. The calculator factors in how many mowers the customer has and how many annual mowing hours per machine are put in. Customers can than see the difference they would pay yearly for each fuel type. For example, in year one of diesel vs. gasoline with diesel at $2.83 and gasoline at $2.79, $297,000 would be saved when using diesel. The Fuel Savings Calculator is an available resource to all Grasshopper dealerships and using it as a display lets prospective customers compare for themselves the differences in cost.
Even simple video screens can be beneficial. Bill's Power Center in Brookfield, WI, has a small screen that shows someone demonstrating a particular Toro walk-behind mower, while also providing information about operating the mower.
With technology more readily available, bringing it into your dealership to create a more engaging, interactive experience isn't that hard to do. Consider consulting your manufacturers or distributors to find out more information about available media, or try out the tech skills of one of your employees to create your own product demonstrations. Engaging your customers in-store and online can make the difference in fostering a loyal customer base that is excited to come into your brick-and-mortar dealership, even in today's increasingly digital world.