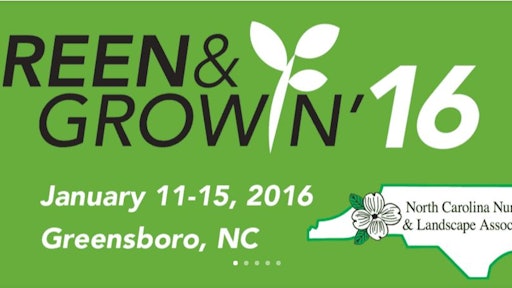 Registration is open for Green & Growin' 16. The annual Education Conference and Marketplace, which draws nearly 5,000 green industry professionals across the country, will be held January 11-15, 2016 in Greensboro, NC. Over the course of the 5-day event, Green & Growin' 16 provides attendees the opportunity to learn, buy and connect with peers and vendors.
The North Carolina Nursery & Landscape Association (NCNLA) says that this year's diverse Education Program, which takes place January 11-13, will provide more than 80 business sessions and 140 CEU credits toward 8 different accreditation at the national, regional, and state levels. The program is a mix of hands-on workshops, top speakers and specialty classes. NCNLA says that participants will gain invaluable takeaways from quality networking with industry leaders.
Green & Growin' offers industry businesses and professionals in a 150,000 square foot member-owned environment. NCNLA says that the Green & Growin' Marketplace has become known as the place "Where Plant Buyers Buy Plants." The Marketplace, which is open January 14-15, offers attendees the prime opportunity to see and buy quality products from a broad array of industry producers and suppliers.
More information about Green & Growin' 16 can be found at the new www.greenandgrowin.com.