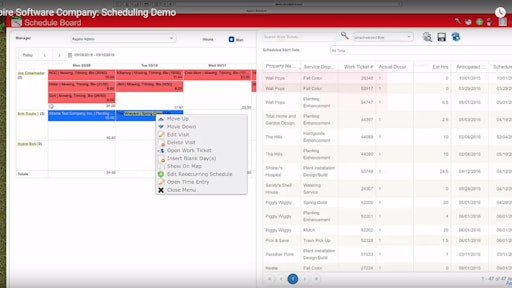 Landscape and lawn care contractors have a lot of choices when it comes to business software. Some software is more suited to recurring services such as maintenance. Other software is more suited to one-time, materials-intensive landscaping projects. Many contractors offer both types of services, which makes software selection all the more complicated.
Growing companies with numerous crews and complex scheduling often desire software that allows them to streamline even further. This is where industry-specific, fully integrated software packages can come into play.
Read next: 2019

Green Industry Pros

Software & Technology Report
What to look for in integrated systems
Cloud-based software platforms that charge on a monthly subscription basis have become common. Several that specifically serve the landscaping industry now exist, including Landscape Management Network, Jobber, Service Autopilot, and a newer one called Aspire. Aspire is the brainchild of longtime industry consultant Kevin Kehoe, which he introduced years ago at GIE+EXPO 2014.
Kehoe says cloud-based computing offers several benefits:
You don't have to invest in your own servers or IT experts.
You don't have to worry about software upgrades or backing up files.
You also don't have to worry about not having access to your files when in the field because cloud is completely mobile.
"Data is managed at the point of entry and is available to everyone all of the time," Kehoe adds. This greatly improves communication across your company. "The cost of poor communication is normally 1-2% of sales every year. This represents a big return on investment in and of itself."
Read next: Top Apps for Landscape Contractors
Kehoe says there is really no risk involved in using cloud-based software—if the software vendor is using a reliable cloud provider. "We manage in the Microsoft Azure cloud," Kehoe points out. "We have experienced no downtime and no data loss in three years."
Kehoe has some other general advice for contractors who are thinking about making a change in the business software department.
Keep an open mind
There is no software in the world that can cover everyone's specific system requirements. Software cannot do everything and cannot be completely customized unless you have unlimited budget.
When shopping for software, think about the key processes and reports you currently use. Ask the vendor how their software matches up to what you're currently doing. "The truth is, you must do your due diligence and focus on where a potential system will be the same as yours and where it will be different," Kehoe says. "Also recognize that it will require you to adapt in some ways to work with the system as opposed to against it."
Remember that in order to improve, you sometimes have to change. Kehoe says Aspire Software has industry best practices built into it based on his dealings with hundreds of top-performing companies over the past 25 years.
Read next: Business Management Software for Landscape Companies
Deployment and integration
Start out by asking the vendor the following questions:
Do I simply read a manual and learn how to use the software through trial and error?
Will you walk me through the installation?
Will you educate my employees?
How much time will you spend training me?
Next, determine how the software's built-in sense of logic has created business processes that may be in conflict with your current practices. "Will the software provider consult with me about how to keep as much of what we like while integrating us into the new software"? Kehoe suggests you ask. "You do not want to end up using the software incorrectly—or worse yet, using less than 30% of the features while you keep your old spreadsheets and systems."
A great example is in the area of estimating. You have to see the bigger picture, especially if your company is growing beyond a few crews.
Read next: Efficient Expense and Document Management for Landscapers
"It's a really bad idea to not use the estimating feature in an integrated system because everything depends on it downstream," Kehoe explains. "Estimating is also the function most unique to a contractor. I have worked with more than 350 contractors over the past 25 years and have never seen the same estimating system twice." Using a built-in estimating feature brings accuracy and consistency to your estimating process.
The bottom line is that switching to an integrated software system is supposed to save you money over the long haul. First, you should be able to do away with existing, less-efficient systems. Secondly, you should be able to save a ton of time by eliminating a lot of redundant data re-entry. Thirdly, slow and inaccurate reporting should be eliminated, allowing you to make better decisions that benefit both your employees and your clients.
Scalability
What about as time ticks by and your company grows? This is where a cloud-based system can come in handy. "Server costs can be significant if you have to back up, secure and store your own data—not to mention the expense and time required to install updates and fixes," Kehoe says.
Read next: 7 Signs You Can't Rely on Just Spreadsheets Anymore
Also think about the people behind the software, Kehoe adds. Are they from the landscaping industry? Are the owners committed to the landscaping industry long-term? What does their organizational chart look like? "Remember, it takes a lot of people to support software," Kehoe points out.
Other questions to ask include:
What additional costs might I incur as I grow?
Can the software function remotely across multiple branches?
Can the software function on phones and tablets as well as computers?
Support
Scalability dovetails nicely into the next key area: support. Can you get a live tech person on the phone? Do you have to pay extra for that? Do you have access to an online help system? Does the software have easy-to-use documentation? Can you connect with and talk to other users of the software? Does the software provider offer any webinars for additional training?
Cost
Finally, you always have to think about cost. "The cost of software is not just the price tag," Kehoe says. It also often includes:
Extra support costs
Upgrade costs
Hardware to run the software (i.e. new software versions may not run on your older hardware)
Server space
IT personnel
Cost of your employees to operate the software
"When it comes to software, you can pay too much, but you can also pay too little," Kehoe says. "In the software business, the reality is that it is relatively inexpensive to write the software. It is very expensive to train it, document it, support it, upgrade it and keep it working. If you pay too little, the software provider may end up underinvesting, leaving you frustrated with the support and stuck with an old system in just a few years."
The fact is, you get what you pay for. With business software, it's an investment. Realizing a good return on that investment requires you to do your homework—and invest in a reliable, well-supported system that matches your company size, services and business goals.
Companies in this article