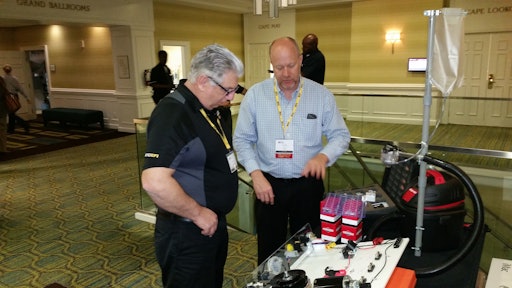 The Equipment & Engine Training Council (EETC) continues to drive forward with its mission of securing a stable workforce for the outdoor power equipment industry, pointing to several important milestones during its 21st annual conference held April 5-7 in Virginia Beach, VA. The meeting was hosted by local manufacturer and longtime EETC supporter, Stihl Inc.
Ron Jensen of Echo Inc., the outgoing EETC president, kicked off the conference with a summary of the association's accomplishments over the past year. The EETC now has the support of 23 manufacturers, an all-time high after hitting an all-time low of 12 in 2012 when Erik Sides took over as executive director. Additionally, the conference itself garnered the support of 13 sponsors, also an all-time high.
The EETC has also grown two key membership segments over the past year. Seven new high schools became EETC members in 2016, bringing the total to 109. Additionally, three new colleges became members, bringing that total to 48. "It is now important that we don't grow stagnant as an organization," Jensen said.
Updated education increases value
While much progress has been made on the educator front, there is more work to be done. Updated training materials are expected to play an influential role.
For instance, active EETC member Harry Senn of Texas State Technical College recently authored a new textbook, "Two-Stroke Engines", which is designed to provide up-to-date information to help aspiring technicians learn about the construction, operation, service and repair of modern two-stroke engines. "Over the next six to nine months, we plan to add a workbook and other supporting materials to go along with this great textbook, which is an industry first," Sides pointed out.
The EETC has also made great strides in the area of e-learning. Hector Velazquez, a veteran small engine technician and video guru who was added to the EETC staff at last year's conference, has been leading this effort. Numerous how-to instructional videos continue to be produced to help educate both students and dealership personnel.
"We're here to support you as educators by giving you the tools you need in today's learning environment," Sides said, while quickly adding that the videos and other e-learning tools are not meant to replace hands-on learning. Rather, they are designed to enhance and potentially accelerate the technician's overall learning experience.
Also on the topic of education, Sides had reassembled a special "educator's committee" last year after a several-year hiatus. The group met again at this year's conference with the goals of creating a more standardized syllabus for power equipment technology instructors around the country, as well as finalizing the marketing message for brochures, etc. that can be utilized to promote programs to students and parents.
Other conference highlights
Eight $1,000 scholarships were given out to high school and college students from around the country. Jensen said the robust scholarship program is yet another example of the EETC's resurgence and strong financial standing. The scholarship program actually had to be shelved several years ago.
Brian O'Neil of B3C Fuel Solutions will be taking over for Jensen as EETC president. O'Neil said he has been in the industry for over 30 years, starting at the young age of 15. "So many people are pushing college on young people today," O'Neil said. "That's OK, but learning a vocation isn't a bad thing either. We need to change the mentality as a society. Through the EETC, we as an industry are coming together to help do that. We're making things better."
Numerous awards were also handed out at the conference:
Manufacturer of the Year – Stihl Inc.
Distributor of the Year – Tidewater Power Equipment Co.
Service Manager of the Year – Scott Tindle of distributor Midwest Equipment & Supply Co.
College of the Year – SUNY Cobleskill in Cobleskill, NY
High School of the Year – Bucks County Technical High School in Fairless Hills, PA
Spirit Award – Harry Senn of Texas State Technical College (he'll soon be retiring but will remain active in the

EETC

)
President's Award – Jay Larsen of Blount
Director's Award – Ron Jensen of Echo Inc.
The 2018 EETC Conference will be hosted by Briggs & Stratton and held in Auburn, AL. The 2019 conference will be hosted by Blount and held in Portland, OR.