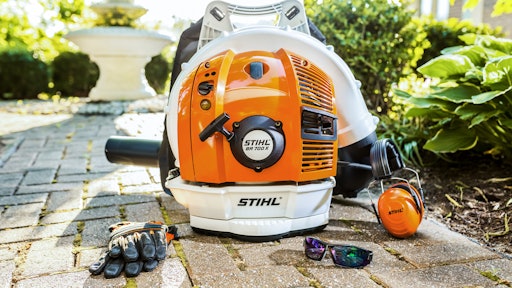 It's October, so if you're a green industry professional, the Green Industry & Equipment Expo (GIE+EXPO) is top of mind. And it just so happens STIHL Inc. plans on making a splash with some cutting-edge new equipment. Since it's one of the most expansive green industry trade shows, the company is also thrilled to converge and converse with many of its customers, both landscape contractors and equipment dealers, about new equipment, trends and techniques coming down the pipeline.
The Cutting Edge at
GIE+EXPO
"According to GIE+EXPO survey statistics, we know the number one reason our customers attend is to see the latest and greatest in new products. With an ever-growing product lineup, STIHL continues to offer one of the broadest ranges of diverse handheld gasoline, corded electric and battery products in the industry," says Steve Meriam, director of sales at STIHL Inc. "We're excited to give attendees a first-hand look at our newest products and STIHL innovations."
"This year marked the largest product launch in STIHL Inc. company history, including more than 40 new model designations," he teases. As a result, the booth is not only going to be jam-packed with many of these new products, but it is also going to afford STIHL customers the opportunity to "pick their power" with a broad range of gasoline-, electric- and battery-powered equipment.
Last year at the GIE+EXPO, STIHL offered attendees a glimpse into its upcoming line of professional gasoline-powered products. Since then, the company launched more than 20 professional models, including trimmers, edgers, pole pruners, multi-task tools and more. Meriam says these gas-powered products were not only designed for professional performance, but also "engineered for easier use, less maintenance and longer run times, offering landscapers opportunities to save time and maximize profits."
An example of one of these gasoline-powered products is the new STIHL BR 700 X backpack blower—one of the most powerful blowers in the STIHL range—which can deliver 34 newtons of blowing force. Even while packing all that power, the blower still weighs a half-pound lighter than the STIHL BR 700 backpack blower, thereby cutting down on worker fatigue on the jobsite.
Regardless of its strong lineup of gasoline-powered equipment, STIHL continues to support the diversification of power products to help landscapers best match their equipment to the task at hand. Therefore, the company continues to expand its STIHL Lightning Battery System line of products. "Battery continues to be a trend in our industry. STIHL battery products deliver high performance in an easy-to-use, low-maintenance battery package. GIE+EXPO attendees will see continued advancement within the STIHL Battery Lightning System line, as well as new technologies making their debut," hints Meriam.
For the record, the STIHL Lightning Battery System delivers three tiers of performance, so once again, landscapers can pick the perfect power for their particular application. These tiers include:
Occasional use (AI). AI products feature an integrated battery with enough run time to take care of small jobs on a single charge.
Frequent use (AK). The AK battery series pertains to products that are lightweight, yet powerful. Each product comes equipped with a battery and charger, so you have everything you need to start working.
Extensive use (AP). AP batteries bring commercial-grade performance to a range of products, from lawn mowers to chainsaws. The AP Series is designed for long run times in an easy-to-use, low-maintenance, gasoline-free battery package.
Wheeling and Dealing
Because STIHL values all of its customers, not only its end-user landscape contractors, but also its equipment dealers, the company is again offering its dealers exclusive access to the Oktoberfest-themed, dealer-appreciation event this year in order to provide them with a first look at the new products the company is unveiling at the trade show.
Meriam reaffirms, "At STIHL Inc., our servicing dealers are the lifeblood of our business. They are the faces of the STIHL brand in their communities and are largely responsible for our position as the number one-selling brand of gasoline-powered handheld outdoor power equipment among landscape professionals and consumers in America."
The Future of
STIHL
In order to ensure a future for STIHL Inc. and manufacturing in general, the company is forging ahead with its initiative to close the skilled trades gap. Similarly to the landscaping industry, manufacturing is facing a severe shortage of skilled workers. To combat that, the company hosted its sixth STIHL Manufacturing Technology Summer Camp at its U.S. headquarters in Virginia Beach, Virginia, in July. The camp is intended to promote careers in modern manufacturing by giving high school students hands-on experience in technology-based projects.
According to Meriam, "There is a significant skilled trades gap in the United States and, as manufacturing becomes more technology-focused, we believe it is increasingly important for us to foster interest in these careers. A study by Randstad North America found that 78 percent of college students in science, technology, engineering and math (STEM) majors knew that they wanted to pursue a career in STEM in high school or earlier, so it's crucial that we encourage students to pursue these fields at an early age."
This year, during the four-day camp, students used STIHL components to build electronic strength testers. Campers worked in teams of six to develop technical, production planning and budgeting skills to find the most efficient way to construct their devices.
"Each year, students are challenged to bring a new product to market—from initial time studies and electronics building to ultimately marketing their products for sale. Students learn the value of teamwork as they work together to develop and launch their product," details Meriam. "After careful judging and evaluation, a winning team is selected and each member is rewarded with a $1,000 scholarship from the Virginia Industry Foundation."
Man of
STIHL

Legacy

As most of the green industry is aware, 70-year-old Fred Whyte, former president of STIHL Inc., passed away in July at his home in Virginia Beach after a battle with cancer. While the news saddened the entire STIHL team and the green industry at large, he is still leaving behind a legacy to behold at the company.

Meriam says, "Going forward, we plan to honor his legacy through not only a commitment to investment in both new technology and products, but also our own employees, whom Fred thought of as family. No one was a more passionate advocate for the servicing dealer, and we will continue to strengthen our relationships and provide the tools they need to succeed" as well.

Whyte was a dear friend and mentor to not only Meriam, but also all of those he worked with at STIHL and beyond. Meriam concludes, "Anyone associated with STIHL knows Mr. Whyte was truly a Man of STIHL."

STIHL Inc. invites GIE+EXPO attendees to visit Booth 5074 to see the company's latest product innovations and speak with its experts.