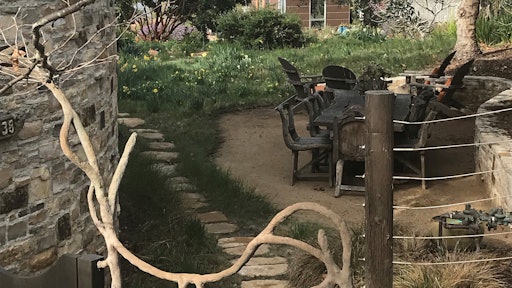 Robert Olsen founded Goldenstate Landscapes Inc. in 2008 in Camarillo, California, on the cornerstone of an empowered company culture, and on the principles of superior service and attention to detail. As a result of his experience as an operations manager for three different companies prior to becoming Goldenstate president, Olsen says he "sought the opportunity to create a company culture based upon learning and self-improvement which—when implemented—would lead to a superior product and service for customers, as well as a positive workplace with good employee benefits and retention."
Even though Olsen was armed with a good strategy, he admits the last decade was a learning process because the green industry is continually maturing and changing, as is his business. In 2008, Olsen led a crew of two employees with one pickup truck, three maintenance accounts and a small hedge installation contract. Fast-forward to today and he leads a management team staffed by five people dedicated to the daily operations of the business. When the company was just getting off the ground, Olsen says it was easier to keep up, so as the business blossomed, he had to learn how to delegate.
"I had a lot of learning to do when our sales exceeded my ability to manage everything myself. That changed everything," he says. "[That's why] my relationship with Steven Cohen of GreenMark Consulting Group has been very valuable. I first contacted him in 2015 after reading one of his articles about developing systems to move your business to the next level. I was very adept at building and running a small business, but translating that success into a larger operation is not something that I had any experience with.
"With his guidance, I've been learning how to help other people within the organization realize their own potential by providing them with very real career opportunities. Getting this growth transformation going was tough in the beginning, but what we are experiencing now—in the third year of the process—is that others within the organization are feeling empowered, and taking initiative to actually accelerate the growth and improvement process."
Now Goldenstate Landscapes serves a client roster that's divvied up between residential and commercial accounts with 45 employees and 16 trucks. The company covers from downtown Los Angeles, Beverly Hills and Santa Monica to throughout the San Fernando Valley, Santa Clarita and Ventura County, California. Olsen expanded the original location in Camarillo from 10,000 square feet to 1 acre to help accommodate this geographical sprawl over the years. Plus, he plans to launch another location this year.
A One-Stop Shop
Goldenstate offers landscape installations, maintenance and enhancements for residential estates and commercial properties. Residential services include, but are not limited to:
Lawn maintenance.
Irrigation management.
Licensed and certified pest and disease management.
Organic gardening.
All phases of planting—from large trees to ground covers.
Sod and turf installation.
Landscape lighting.
Vineyard construction for the wine enthusiast.
Synthetic landscape turf installation.
Commercial services consist of:
New construction.
Irrigation installs and retrofits.
Turf installation, including sodding and hydroseeding large turf areas.
Parking lot and median strip maintenance.
Color installation.
Licensed and certified pest and disease management.
Irrigation management for large (more than 15 acres) and complex systems.
According to Olsen, "We try to be a one-stop shop for our customers' landscape needs. We want them to trust in our broad expertise when it comes to the landscape industry. This convenience is part of how we provide superior service. It also allows us to expand our sales revenue without having a huge customer list."
High-End Service for a Sophisticated Client Base
Goldenstate Landscapes caters to a small, but sophisticated client base, which helps the company differentiate itself in the market as a purveyor of high-end landscape installations and maintenance. This, in turn, helps keep the customer pool small, but profitable. "In the Los Angeles area, there is a big demand for a landscaping company that can install and maintain premium-quality landscapes with specimen trees, and advanced irrigation and lighting systems. Our customers are willing to make sizeable investments in their gardens. We developed a reputation for being good stewards of those investments—sourcing the best available materials, and installing and caring for them with industry best practices."
Because Goldenstate Landscapes is able to target high-end customers with a focus on superior quality, Olsen instituted a three-properties-a-day policy for his maintenance crews. He says, "From the beginning, the primary goal was to establish a clear qualitative difference between Goldenstate Landscapes and most other companies. If you're going to be better than a mow-and-blow company, the first rule is that your customers have to be willing to pay for your crews to spend more time on their properties. That's the first part of the commitment.
"The second part is that we have to make sure that our staff is doing more, and getting involved in the details and techniques that make our service superior. The end result is that all parties are more invested in the relationship. It takes courage and dedication to ask for more, promise more in return—and then deliver on a daily basis. We have very high retention rates, of both customers and employees. I believe that the heightened commitment level is the reason."
Olsen says that he frequently finds himself bidding against competitors who are promising additional visits a week as if more visits equals better service. But he warns that the only guarantee customers who agree to more visits gets is: "They will be paying for more drive time—more time spent sitting in traffic (a massive operational expense in Los Angeles) and less time getting work done. Fewer visits for longer durations is the fairest and most efficient way to serve our customers."
A State That Cares About Sustainability
Olsen began his career working in a nursery while he was in college, so it's only fitting that Goldenstate eventually created an on-site nursery to bring Olsen's work life full circle. The nursery houses all low-water plants, such as succulents, vines, and palo verde and fruitless olive trees, to satisfy the demand for more sustainable landscaping.
The nursery is not only logistically practical for business by cutting down on plant procurement and transportation, but also a sanctuary for Olsen and his employees. He says, "Our office staff loves the nursery. They often take strolls through the plants to clear their minds on their breaks—a stark contrast from the buzz of the nearby highway and the sterile cubicles of the corporate world. We haven't opened it to the public and don't have immediate plans for that. We are just growing for sales to our landscape customers when they have a need for what we are growing."
Olsen explains that, because people move from all over the world to live in Los Angeles, many have their own ideas about what a landscape should look like, but they are not always sustainable in the southern California climate. So he must educate his customers on the low-water plants from his nursery. He says, "Southern California is mostly an arid Mediterranean region and yet you can grow just about anything here if you add enough water. The lesson is that, just because you can, doesn't mean that you should. We—as a community—are learning that our tropical gardens and sprawling manicured lawns are not always a good idea. Landscape design is undergoing a radical change in southern California right now toward lower water plantings, more efficient irrigation systems and smaller lawns. We at Goldenstate Landscapes are advocates for these changes."
Meeting a demand for sustainable products and services is not just smart business for an increasingly eco-conscious population, but almost a necessity. Due to its systemic problems with a lack of water and drought, southern California is a hotspot for water conservationists. To better meet the demand, Goldenstate Landscapes distinguished itself as a sustainability-conscious irrigation and low-water plant expert.
"Irrigation installations, retrofits and maintenance are our specialty," confirms Olsen. "The other side of that comes down to plant selection. We use lower water plantings and other water-saving techniques as much as possible. We also try to make a difference in other areas. For the sake of the bees, we don't apply insecticides to blooming plants and trees. We recycle our green waste. We purchased several battery-powered leaf blowers. And we also have a goal to eliminate the use of glyphosate before 2019."
Other Differentiators That Make Goldenstate Shine
Goldenstate recently went digital in an effort to become even more efficient. "We started using GPS satellite technology in combination with Internet-based time-tracking software to allow us to know when and where our crews are—and how much time they are spending on jobs. It helps to eliminate guessing when it comes to crew management and job costing."
Speaking of crew management, Olsen says the landscaping company is currently trying "a little bit of everything" to survive the tough labor market out there, including:
Employee referral bonuses (which only pay out after a new hire completes 90 days productively and reliably).
Advertising on the Internet, in newspapers and even on bumper stickers.
The use of staffing companies to help bring the company a steady stream of labor.
When the staffing companies find Goldenstate good employee matches, the company makes sure to hold on to them permanently and grows its ranks that way. "But we can't rely on one method," Olsen says. "We have to keep trying and looking for possibilities everywhere."
Goldenstate conducts 30-, 60- and 90-day reviews for all new hires, and sets specific goals for their development. "In other words, the reviews are not just a formality for human resources purposes or behavior correction, but a valuable training tool," according to Olsen. Like in the beginning—when it was just him, two others and a truck—Olsen is still committed to continuous improvement of his business, and one way he can do that is to continue to empower and educate his employees.
He concludes, "We are committed to promoting a culture of growth and opportunity for every team member. We are explicit about this with everyone we recruit, repeatedly telling them that they can learn and improve themselves as they work for this company. It is a deeply personal approach in which we encourage everyone to share knowledge and train one another. As we grow, the preference is always to promote qualified individuals from within. When our team members buy in and commit—the result is a shared victory for our staff and our customers."