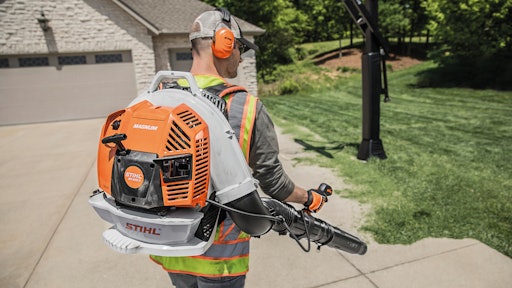 Within the area of debris handling, leaf and debris blowers are constantly evolving and gaining strength, whether they are carried on your back, wheeled or otherwise.
There is more demand for the backpack style models as they become more powerful and maneuverable.
"Backpacks are definitely more common, and it seems to be the more preferred tool," BlueBird Turf Products vice president sales and marketing Chris Durig said.
In conjunction with the shift from wheeled to the backpack blowers, it appears the debris or truck loader segment of the business also is rapidly growing.
"Outside of the blowers, especially if we're talking debris clean up, in the fall or leaves and that leaf season, the truckload or debris loaders have become a big part of that," he said.
Durig said crews for contractors with backpacks or other blowers will be at multiple properties in limited area blowing debris to the curb and then another crew coming through with the debris loader to suck it up, mulch it and get it into the back of the truck.
Backpacks on a roll
Sales managers representing multiple manufacturers appear to agree that the use of the walk-behind or wheeled blowers among landscape contractors is a slowly declining market.
"It's because of the onset of such heavy-duty backpack blowers pushing out 1,000 cfm or more," said Dave Willis, field sales manager for the New England region for Steven Willand Inc. Distribution, which sells and services approximately 1,500 lawn and garden dealerships throughout the Mid-Atlantic and New England regions.
Landscapers use backpack blowers to navigate around buildings and features, such as shrubs and flowerbeds, quickly moving leaves to the lawn. A backpack leaf blower gives operators the flexibility to weave in and out of these tight spaces with ease, clearing small areas of dry leaves and lightweight debris.
The walk-behind or wheeled blowers are designed for larger area wide open, big yards, acreages or baseball fields and soccer fields.
Billy Goat Industries blowers have been utilized to clear off tennis courts for NCAA tournaments and other events. Little Wonder models are utilized by the grounds crew at Fenway Park.
A significant segments of sales for the wheeled models is to pavement contractors.
"Paving versus landscape contractors is a much lower volume of business, but you're going to see a much higher take rate on wheeled blowers with pavers, than you will landscapers," said Randy Heller, district sales manager Northeast for Billy Goat Industries Inc. He added that the paving contractors favor the wheeled blowers for the maximum performance.
"They're on a level surface most of the time and wheeled blowers roll very easily," he said. "Cleaning the parking lot or the driveway is the least profitable part of that job, so the faster you can do it, the better."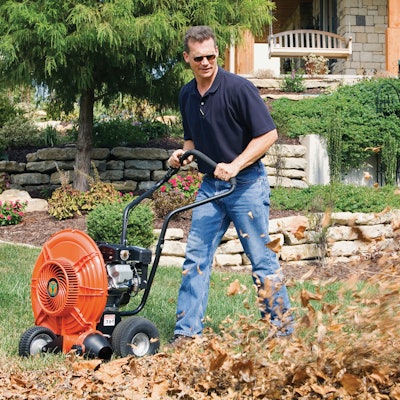 Overall, sales of the walk-behind wheeled blowers have reportedly declined as much as 40 percent among the landscape contractors as the new bigger and more powerful backpack blowers made by STIHL, Echo, RedMax, Husqvarna and others have hit the market.
"The strength of the backpack blowers has just increased sufficiently where it's just more efficient to use at this point than the wheeled ones," stated Stewart Markotwitz, sales manager for the Mid-Atlantic region for Steven Willand Inc.
Although still not as powerful as a walk-behind wheel blower, the backpack units in quantity are adequate to get the job done in most environments.
Sometimes it depends on the weather and the time of year. Leaf and debris cleanup is very seasonal, something that happens in October, November and December.
"If it's a wet cold fall, where there's a lot of leaves and the walk-behind blowers seems to be a little more positive because we push out more and if it's hot and dry and you don't need all that much power so the backpack blowers take over," Willis said.
Twenty years ago landscapers used to take the larger wheeled blower off a trailer after cutting the grass to clear the sidewalk. Markowitz said they were utilized throughout the summer, even during the cutting season to blow the sidewalks clear of grass clippings after mowing.
"It's so easy to just throw a backpack on your back and clean up after mowing," Markowitz said. "It used to be years ago where you would see a landscape contractor's trailer in the fall, it would have, six or eight push blowers on it and today you see trailers that have six to eight backpacks and maybe one wheel blower on it."
Who has the power?
A blower's overall performance comes down to more than just wind velocity (mph). You also want to consider air volume (cubic feet per minute, or cfm) and engine power (hp and cc), not to mention user comfort features that improve ergonomics and boost productivity.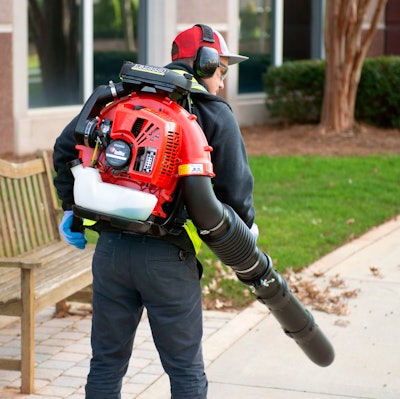 Heller notes the shift in sales is somewhat misdirected in terms of the power difference perceived by contractors. He said a 13 hp wheeled blower will still do the work of two to four backpack blowers.
"I'll see five guys working a property walking in line with backpack blowers and you can eliminate at least two, if not three of those guys if you had a 13 hp wheeled blower and he's moving the main pack and the other two were just bringing the strays in," Heller said. "People like backpack blowers because they're more maneuverable and you don't have to push something that's right in front of you."
Heller also acknowledged that while the cost is reduced, "the smart guys still have a wheeled blower in their mix."
From a power perspective, Heller contends there is no comparison between the backpack blowers and a stand-on unit such as Billy Goat's Hurricane X3000 or Z3000 models.
"You've got unmatchable power," Heller said. "If you're running them wide open, you could do an acre in 20 minutes on the smaller one and in 15 minutes on the bigger one."
Pricing on such units leads some contractors to hesitate on a final purchase though.
Heller usually counters by asking how long, on average, it takes their crew using backpacks to clear an acre. The answer often is an estimate of around an hour or more, depending on how large a crew is available.
"You could do it in 15 minutes with one person," he said, citing the labor savings of using a stand-on blower. "You are eliminating operator fatigue and crews can work longer and faster with a stand-on unit."
For landscapers, that time equates to more jobs billed at the same rate, completed in less time, resulting in more revenue. That results in significant revenue.
Finish the job
Whether by backpack, wheeled or stand-on model, once the leaves or the grass clippings are blown to the curb line, another crew is usually tasked with coming through to finish the job with a debris or truck loader.
Markowitz said some of the truck loaders have become more versatile, specifically citing the Little Wonder Monster models that are self-contained with an enclosed trailer.
"Contractors can buy a unit like that and in the spring take the actual truck loader portion off with four bolts and they have a beautiful hydraulic dump trailer for mulch, stone or whatever," he said. "They're able to use that product, 12 months out of the year instead of just a minimal window in the fall season."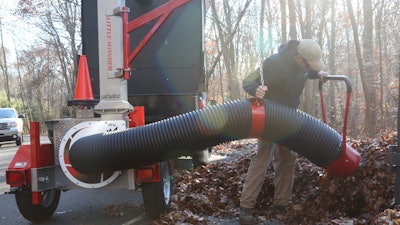 The Little Wonder Monster truck loaders feature a patented impeller with serrated edges designed to break down the leaves at ratio up to 15:1.
Markowitz said it used to be years ago the debris loaders that were selling were the smaller units with the 14 and 18 hp engines.
Now, the three sales managers generally agreed that professional landscape contractors are trending toward the larger 29 and 35 hp engine models.
Heller has seen more sales in the 18 hp and above range with the Billy Goat line.
"By far we sell the most in the 18 hp range, for two reasons, it fits a nice price point and it will support multiple crews and you can mount it on a hitch on the back of your truck," Heller said.
For those mid-size units, Billy Goat also offers a custom swing away hitch so the unit can swing away from the truck to allow for easy dumping. Anything bigger than that due to weight and size requires a trailer mount.
Heller said for many private contractors the 37 hp is a really nice size because it picks stuff up so fast and the reduction rate on any of them is up to 12 to 1 decrease in the debris size if the conditions are right.
"It seems like more and more your average contractor is migrating into these bigger towable type units versus one that would just mount on a tailgate of a truck," Markowitz said. "That seems to be more due to the, the labor market. The bigger unit you can buy that's going to cost you, it may cost more up front as far as the investment, but it's going to save you money because it's a little bit less labor use over time."
Overall operation of any of the debris loaders is always a two-person job with one man driving the truck and another manning the hose of the debris loader itself.
"One of the biggest challenges in the industry right now is these contractors being able to get help," Markowitz said. "Anytime you can buy a piece of equipment that's going to make you more efficient and make your job easier and maybe take the place of an employee or two is a huge asset to their business."
Willis agreed.
"That's the whole game. Anybody can go out there and pick up leaves," he said. "The whole thing with truck (debris) loaders is getting as much debris on a truck as possible in the shortest amount of time." ❯
Companies in this article