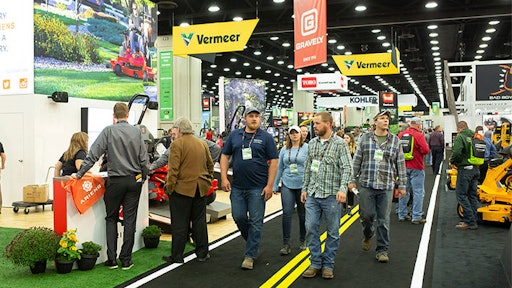 The landscape industry's largest annual gathering – GIE+EXPO 2019 – is set for Oct. 16-18 at the Kentucky Exposition Center in Louisville.
Kris Kiser, managing partner of GIE+EXPO and Outdoor Power Equipment Institute president, says the combination of new products, demos, networking opportunities and dynamic education make the show a must-attend event for industry members.
"GIE+EXPO is the place to be for landscape professionals and dealers who want to take their company to the next level," Kiser said. "Plan to land in Louisville this October for the industry's biggest show. It's the place to be if you're in the outdoor living and equipment business."
In addition, for contractors looking to diversify, Hardscape North America's co-location with GIE+EXPO provides the opportunity to learn about expanding into the hardscape market. Although an independent show, Kiser said the hardscapers take up the north wing and those registrants get entry into GIE+EXPO and vice versa.
"Bring comfortable shoes, it's a big show," Kiser said.
Parking at the event is free this year to avoid the back-ups at the main gate.
The show floor will open for dealers Wednesday, Oct. 16 at 11 a.m. Dealers, distributors, retailers and the media are invited to the exclusive preview. All attendees are invited beginning at 3 p.m. which includes a welcome reception until 7 p.m.
Hours for Thursday, Oct. 17 indoors and out are 9 a.m. to 5 p.m. Friday, Oct. 18 the indoor exhibits will be open 8 a.m. to 2 p.m. and outdoor exhibits will be open from 8 a.m. to 1 p.m.
Who Goes There?
"It's the place to be if you're in this business," Kiser said, encouraging landscapers to bring their teams with them.
"Landscape crews operate as a team and team building environment," he said. "One of our speakers is just talking about teams to understand that a lot of the education program is about building your team integrating team aspect in the work force."
Through the years, expo officials have found that landscapers come year after year and circulate their teams. One of Kiser's favorite GIE+EXPO stories is about the landscaper from Guam that flies 7,000 miles every year to attend the show with a member of his crew to look at the new machines and test them out because it's a unique opportunity and venue to seek out recommendations.
"It's not just the big landscapers, which are there in force, but it's those who are starting out and figuring out what do they need to know and what their opportunities are," Kiser said. "It's a learning opportunity that's not recreated anywhere else. You can't learn this in a classroom or in a book. You've got to go to GIE+Expo."
Kiser admits that for first timers, the show can be overwhelming due to its sheer size and number of exhibitors.
"The latest products whether it's robotics or remote control or GPS mapping software, zero turns battery electric, you name it, it's there," Kiser said. "If you want to get the see, handle or drive the latest, it's the place you've got to go."
Education Opportunities
In addition to the plethora of equipment on display, there will be many educational sessions for landscapers and dealers.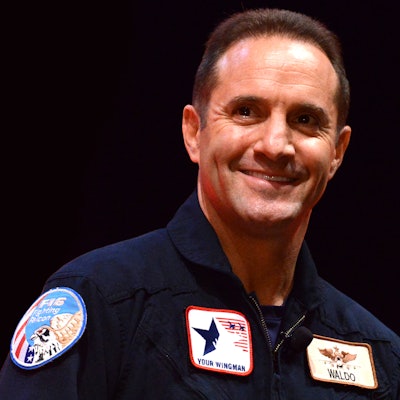 Lt. Col. Rob "Waldo" Waldman will present the opening keynote, "Never Fly Solo: The Power of Partnership to Reach New Heights in Business and Life," Wednesday, Oct. 16 at 2 p.m.
Waldman is a highly decorated fighter pilot with over 65 combat missions and a valuable message about placing trust in your wingmen and building high-performance teams.
Friday, Oct. 18 at 9:30 a.m. attendees will hear from Brian Beaulieu, one of the country's most informed economists and CEO of ITR Economics for a Special Friday Report.
His keynote, titled "More Growth - More People - More Business," will provide insights on the state of the economy and how it relates to our industry to help attendees plan their businesses for the future.
Dealers looking to pick up profit-boosting tips can attend workshops led by Bob Clements International, technician training and UTV University.
Also, the National Association of Landscape Professionals will prevent a series of sessions at Landscapes 2019. Kiser pointed out that there is a shuttle service from the hotel to expo for the participants.
New this year the Irrigation Association will host Secrets of a Successful Irrigation Business, a panel discussion featuring irrigation contractors, landscape professionals and manufacturers, while the NALP will present a special session on snow and ice management
Kiser noted that many of the workshops are predicated on the workforce challenges within the industry.
"Our industry like most in the country are facing very real workforce challenges, getting labor and personnel and so one of the ways landscape companies are addressing that is trying to get year-round folks," he said.
A new feature on the workforce side this year will be a 40-foot tree highlighting tree care inside the Kentucky Exposition Center.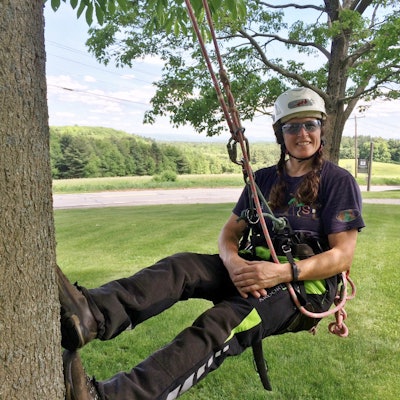 "Landscapers are doing more and more and more tree work and we're seeing more and more women brought into the workforce in our industry, where historically it's been low," Kiser said. "We're seeing much more of that and we're devoting a lot of time and training information to that."
For the 2019 GIE+EXPO, Davey Tree is sponsoring the "Climb Trees, Expand Your Horizons" program at GIE+EXPO, in collaboration with the Women's Tree Climbing Workshop. Three certified arborists, Melissa LeVangie, Bear LeVangie and Rebecca Seibel-Hunt will provide climbing instruction while aloft in a tree set up within the expo center's Freedom Hall.
Why Louisville?
GIE+EXPO is one of the largest trade shows in the country based on its footprint. Louisville has been home to the show for its entire 35 years.
"Louisville is very strategically located," Kiser said. "Geographically we have a very significant drive in audience and it's pretty easy to get to and a reasonable city to do business."
Also, he said it's fairly easy to fly, as the airport is literally across the street from the Kentucky Exposition Center, which itself is only a few miles from downtown.
"It's a good city and frankly, there are very few venues large enough there's about a dozen in the country that are large enough to hold us," Kiser noted. "We're a large show, so we need a big building."
A unique component to GIE+EXPO and its location is the 20 acres of outdoor demonstration space.
"What our manufacturers let you do is see the stuff inside in a climate-controlled environment and then frankly, go outside and work it," Kiser said. "Louisville is unique in that it offers those 20 acres literally out the back door that allows us to rip, cut and dig."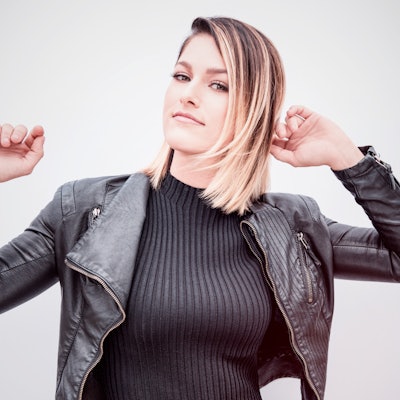 In the evening, attendees at the 2019 GIE+EXPO will be treated to three nights of free entertainment. The after-show-hours entertainment will kick off on Tuesday, Oct. 15 with the popular party rock band The Crashers. Easton Corbin will take the stage Wednesday, Oct. 16 with his traditional country music sound. Lastly, Cassadee Pope, winner of season 3 of "The Voice" will bring her music to Louisville with JD Shelburne as an opening act on Thursday, Oct. 17. The concerts are sponsored by Stihl Inc. and Mercedes-Benz Vans.
As a result, Louisville has simply been a win-win for the show. Kiser cautioned attendees to watch the weather due to the nature of the indoor and outdoor portions of the show.
"It's just an opportunity to interact between the dealer, the manufacturer, the buyer, landscaper or user, in a social environment where a lot of information is shared, contacts are made and frankly, a lot of business gets done," Kiser concluded.
For more information and online registration for the trade show and education program: www.gie-expo.com. Other contact points: Facebook, [email protected], Twitter @GIE_EXPO, Instagram @GIE_EXPO and 800-558-8767/812-949-9200.