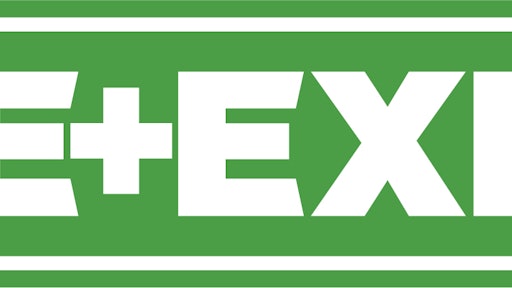 Industry members who want to stay on the cutting edge will find new products and technology trends at the forefront when they attend GIE+EXPO. The annual trade show is set for October 16-18 at the Kentucky Exposition Center.
The New Product Spotlight will feature more than 80 new products from 61 companies. In order to qualify for the spotlight, products have been introduced within the past year, and some will have their unveiling during the show. In addition, new products will be introduced during more than 20 press conferences scheduled during the three-day show. Attendees can find details about all exhibitors and products/technology on display with the Go EXPO mobile app sponsored by Turf Mutt.
Free Seminar on Finding Balance with Today's Technology
In addition, a free technology seminar has been added to the education lineup on Thursday, October 17, 4-5:30PM. Avoiding the Temptation of Enabling our Robotic Overlords, presented by Anthony Gondick, IT Business Strategy Manager – Kawasaki Motors Corporation, Engines Division, will review current trends in IT related to: Artificial Intelligence (AI)/Machine Learning, the growth of mobile technology and the amount of information being collected by the "Internet of Things." Through humor, social media and pop culture references, he will look at whether the world is adopting a responsible approach to using these technologies or simply giving up too much decision making to our robotic overlords. This session is sponsored by the Professional Grounds Management Society.
Company Product Name Booth Number
Accelerated Systems Inc. Cedar Motor 9043
Altec Industries STG Series Trucks 4004
Arborjet/Ecologel TREE-äge R10 264
ARI Network Services PartSmart 20185
AriensCo Atlas JSV 3400 SD 7120
AriensCo Pro-Turn Mach 10 7120
AriensCo Pro-Stance 7120
ASV Holdings, Inc. VT-70 High Output 2202
Bahco Pruning Tools Bahco Chopping & Splitting Axes 8233
Bradley Mowers 61″ Bradley Stand-on Mower 27090
Branson Tractors 2505h Branson Tractor 2210
Brilliance Glacier 29016
Broadway Sod Farms Inc. Multi-Use Power Bucket 9204
Chief Enterprises, Inc. Mini BRIC 358
Combined MFG EZ-Pour EZ-Pour Rigid 369
Delta-Q Delta-Q Technologies' Stackable Charging System 10024
Dust Tech LLC Dust Tiger 28006
EasyPro Pond Products Cabrio Compact Stainless Steel Color Changing LED Light 26011
Echo Incorporated SRM-2320 T 5112
Echo Incorporated EGI-2300 5112
Echo Incorporated TM-2000 Turf Mower 5112
Echo Incorporated PW-3600 5112
Echo Incorporated EGI-4000 5112
Echo Incorporated PW-3100 5112
eparts.shop Seating Options 8042
FINN Corporation MBX Material Blower 9104 & 7700D
FINN Corporation Titan HydroSeeder 9104 & 7700D
Flambeau Fluid Systems 2.25 INCH TWIST GRIP™ MULTI-PURPOSE THREADED CAP 10025
Flambeau Fluid Systems 4-Gallon Express Service Fuel Tank 10025
Foamstream: Herbicide-Free Weed Control Foamstream L12 11205 & 6226D
FX Luminaire HP-48 In-Grade Paver Light 24056
Goizper Spraying North America Matabi Evolution 15 LTC (4 gal) Battery-Operated Backpack Sprayer 23108
GT General Transmissions ME 512 Generation 2 10104
Hannay Reels, Inc. Spray Non-Corrosive (SNC) Series Reels 3040
Hillside Planter Hillside Planter 21085
Honda Engines iGX V-Twin 3118
Honda Power Equipment Honda HRN Series Lawn Mowers 6046-D
Hunter Industries EZ Decoder System 24056
Husqvarna Professional Products Automower® 435X AWD & 535 AWD 11094
Husqvarna Professional Products 550iBTX 9094
Husqvarna Professional Products 520iHT4 9094
Husqvarna Professional Products 325iLK 9094
Husqvarna Professional Products Z400/Z400X 9094
Husqvarna Professional Products K 535i 9094
Intradin (Shanghai) Machinery Co., Ltd 3 IN 1 Woodchipper Shredder 580
K-Rain Manufacturing Corp. RPS Select 26085
Kinetix Extreme Duty Bar & Chain Lubricant 23102
Kinetix Mechanics-Grade Nitrile Gloves 23102
King Innovation Pipe Cutters with PTFE coated steel blades 260
Left Hand Robotics RT-1000 368
Mean Green Mowers RIVAL – 52/60 11080
Nexcel Plug & Play Oil System 21090
Nufarm Americas Inc. Cheetah Pro 22110
Ohio Steel Industries Steel Welded ATV Cart 8220
Pine Hall Brick PaverTiles 29042
Pressure-Pro, Inc. Dirt Laser SH40004HH 25078
Prime Source X-Out 575
Prime Source Triad QC Select 575
Pro-Tech Sno Pushers Fusion Edge Sno Pusher 29091
Rogue Snow Maverick 30046
RotoShovel RotoShovel 26104
Savannah Surfaces Wholesale Old World Tabby Coral Paver 27005
Scenic Road Manufacturing 8 Cube Dual Wheel Wheelbarrpow w/Flat Free Turf Tires 28079
Scepter Scepter SmartControl
Schiller Grounds Care, Inc BOB-CAT QuickCat 4000 Kaw FT730 EFI 61in Side Discharge 3052
Schiller Grounds Care, Inc BOB-CAT Predator-Pro 7000 B&S Vanguard EFI 61in Side Discharge 3052
Solo Incorporated 424-Li 4 Gallon Battery Backpack Sprayer, Lithium ion 22082
Spyker Spreaders Spyker ROS 5 Ride-On Spreader 3126
Steel Green Manufacturing SG52 Zero-Turn Sprayer-Spreader 9208
Steel Green Manufacturing SG36 Zero-Turn Sprayer-Spreader 9208
Stens Franzen BS1000 Belt Sharpener 9075
Super Lawn Technologies Automatic Hiring Machine 5210
Super Lawn Truck, Inc. Debris Dumper with Easy Flip Top Hinged Lid 5210
Super Lawn Truck, Inc. Solar Lawn Truck 5210
Switch-N-Go Winter Edition Subframe 10218
The Toro Company Toro 22″ 60V Recycler Cordless Personal Pace Mower 7148
Umount, Brought to you by Tacony Corporation Umount 4009
Ventrac Ventrac Wide Area Mower 3112
Wright Stander® B 3094