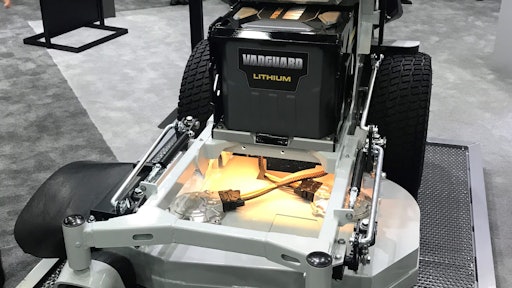 Briggs & Stratton has taken its step into the electrification of outdoor power equipment with its intention to remain a provider of power, no matter the source.
"We are a diversified company," said Todd Teske, chairman, president & CEO of Briggs & Stratton Corporation during GIE+EXPO 2019.
"We think about innovation and innovation is well overused word," he said. "We think about it as user driven problems solving. Ultimately, it's all about that user experience and we want to make sure we're at the front end of being the leading company in terms of providing power to get work done."
Historically, Briggs & Stratton has been known as a residential engine company.
Through the years, Briggs & Stratton has gone through a transformation from being a being more of a residential company, when a lot of people would see that diamond and bar logo as being residential. Now, the diamond bar logo means residential and Vanguard means commercial and Ferris means commercial.
"So if you think about that commercial business and products, that market is growing at twice GDP here in the U.S. and it's the result of generations, Baby Boomers and Gen Xers who are becoming more affluent and want their lawns cut, they want to do something else," said Harold Redman, Briggs & Stratton senior vice president, noting that they want their lawns aerated, they want the leaves cleaned up in the fall, and they're willing to pay for those services.
"The result of that is more commercial businesses and the ability for companies like us to take advantage of that growth by doing things like innovating our products, providing engine features that more commercial cutters buy and then acquiring companies like we have the last few years," he added.
In the past five years Briggs & Stratton has make multiple acquisitions including Billy Goat, Ground Logic and Hurricane blowers that have expanded its portfolio across the commercial landscape market.
Commercial Cutting Growth
2019 marked Briggs & Stratton's sixth record year of commercial cutting growth, particularly with the Ferris brand.
"We've really targeted and selected that Ferris brand to invest more marketing efforts in," Redman said. "It's growing in awareness and we're growing nationwide and we're complimenting that product, with Billy Goat brand products which is a market leader in leaf clean up.
Subsequently they have added a lot of spring products, aerators, over seeders and sod cutters to that product line.
"All commercial durability and of course that helps our bottom line helps the cutter provide more services," he said. "It's really about maintaining the profitability of that residential business and take advantage of the growth with the market in commercial with more commercial engines, more commercial products and a bigger portfolio."
Redman said the strategy is fairly straightforward.
"It's a good opportunity for us and that is on the engine side, design the engines and earn our way into the commercial product space with durability, longevity and productivity," Redman said. "On the product side, we take advantage of that work with the engineers with those engines by designing new products and then acquiring our way into a portfolio that we can provide more cutters and more landscapers more product that they can use to generate more revenue."
It's Electrifying
The company has recognized the additional opportunity opening the market to lithium ion products.
"We saw that conversion happen pretty quickly in the handheld side," Redman said. "We saw it happen quicker than it is in the U.S. in Europe because the lawn sizes would allow battery enough power and time to cut their grass."
He notes that a lot of the decisions by customers on batteries involve convenience of power, such as using the battery for a mower and then taking the battery out for handheld trimmers, chainsaws or another piece of equipment. However, there are still lots of lawns in the U.S. that are too big for the power that are currently the ion battery provides.
"We continue to believe that will be a good market for gas engines, but there will there is a market for battery- powered lawn mowers and along with the convenience that that block provides to be able to put it in a different piece of equipment," he said.
On the larger side, is the cell manufacturers seeking to sell to the auto industry to create more electric vehicles versus gas.
"Now, what we see is, our expertise has always been applying power," Redman said. "We're good at taking an engine, figuring out what comes out of the crankshaft and how to get to the power to the product. We can do the same thing with batteries."
Over the last few years, the research and development department at Briggs & Stratton and Vanguard has delved into how lithium ion batteries work and how they provide power with an investment of several millions.
Redman said this research has taken them to a point of identifying markets within the lawn and garden industry and outside of it where Briggs & Stratton can help companies apply the lithium ion power solutions to their vehicles to get work done.
"Our strategy is to become a provider of power and not just a residential engine company," Redman said.
He noted that there is certainly an emphasis on providing power for commercial-level equipment.
Through the process of the collaboration, Redman said Vanguard found that it could focus on three to 20 kilowatt sized batteries.
"There are many other companies that can apply power in that range," he noted. "We have the expertise we've done it through gas engines, but we can apply batteries in similar sizes and we've been working a lot on that. That gives us a lot of potential just outside of the lawn and garden industry as the market for battery power products expands in both commercial and residential."
On the commercial end, Redman said the landscaper knows what he must invest and how the product is going to pay him back. Potentially a lithium ion power product could allow that cutter to start earlier in the morning or cut later in the evening because of the reduction in noise versus the gas-powered mower.
"The key is, does a lithium ion power product meet his needs? Can I use it can I cut the whole day before it needs a recharge?" he added. "What we're doing before the cultural adoption happens is creating products and learning and you'll see us likely next season, get some samples and get some market tests out there was some completely electric products in the commercial cutting space to get some feedback and acceptance on the investment side and the performance side on how that product compares to what the cutters have today."
A lot of time and effort has been invested in development of not only the battery but the full system.
"I think the real opportunity in the way that we apply power in is how does that product feel as a complete electric product versus all the hydrostatic and hydraulic power products that we have today, if they feel an act the same, the acceptance is going to be there if the investment prices right, so we're going to get out there and word over the next few years what we think is coming," Redman said.
The other opportunity is for development of hybrid products, powering a mower with one power sources and the PTO with the other source.
"We believe technology will certainly play a role longer term," Redman said. "We don't know how it will evolve and how customers will adopt but we want to be there when that trend starts to happen."
It Comes Down to the Customer
Currently, Briggs & Stratton gets to market through the dealer channel via distributors or direct.
"The selection process there is the way that we can provide the best localized service and support to that customer," Redman said.
Briggs uses distributors to be able to scale the business out to dealers and provide the right mobile service.
The company's direct method involves 45 salespeople that have territories around the country and are responsible for Ferris, Snapper, Simplicity, and Snapper Pro brands.
Redman said the salespeople select dealers in the area.
"We look to them to balance the selection of the brands in the dealers in that area so we can get the best saturation and growth and residential and commercial," he said.
Similar to the services a distributor might provide, Briggs has added product specialists to be available for bringing demos right to the end user.
"They won't go to the dealer, they'll go back to the cutter and they'll do a demo with that cutter who then says 'Yeah, I like that piece of equipment. It seems like it would make sense in my life' and we already know we have a local dealer aligned that we can send that cutter to be able to sell and service that product," Redman noted.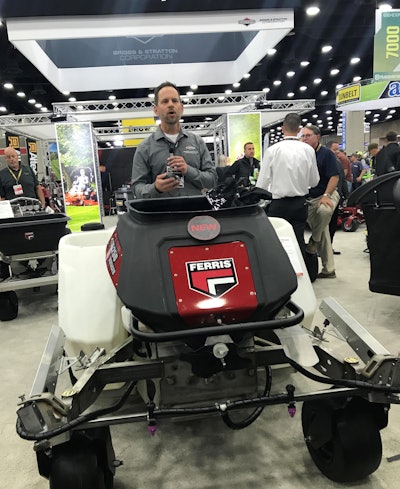 The strategy has worked well enough that dealers are asking for more product specialists because it has helped them find those landscapers that were not yet customers.
Sanders added that by bifurcating the responsibility and letting the product specialists focus on the demonstration, it helps Briggs reach more landscapers and commercial cutters rather than territory sales managers trying to balance time demonstrating and supporting the dealers.
In addition to the one-on-one demonstrations, the product specialists also provide localized training with the dealers.
"It's really become a great engagement mechanism for those guys to learn their territory, work with the dealers and then also drop the business back to them," Sanders said.
In the end, it comes come to the customer.
"The challenge with the cutters and the landscapers is do they have the available labor to be able to get the jobs done that they have for the customer," Redman said. "That leads us to try and make products more productive."
He cited recent innovations and acquisitions such as the Voyager spreader/sprayer and the Hurricane blowers.
"We're actually allowing the landscaper or the cutting crew to better manage labor, especially if it's not available," he said. "It's an asset investment, but that would be for us to look to add more products in the portfolio that are like that stand-on product or blower that we had an interest in depending on the markets that we serve."