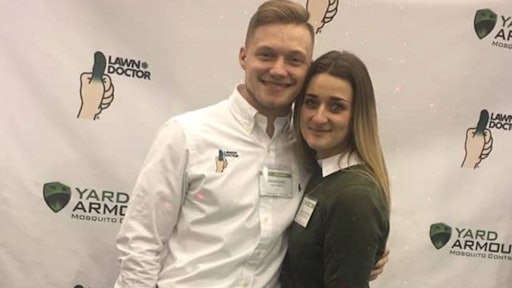 Lawn Doctor
For over 20 years, Lawn Doctor of Grand Rapids has been servicing the Greater Grand Rapids area. Since 2014, the company has experienced significant growth, increasing its customer base to over 2,000 homes and businesses including the Gerald R. Ford International Airport, City of Grand Rapids properties, areas of Ada Township, and many other high-profile properties.
New owners, Jordan Hines and Angelica Hough are taking over the business.
In 2018, Henry Eggers and Hines' older brother, Kendall Hines, purchased the franchise, which has been a part of the Hines family since the early 2000s. As CEO and president, Kendall began working on revolutionizing the way homeowners buy home services and has since experienced tremendous success with his product, Lawnbot.
In order to pursue this growing business opportunity, Hines and Eggers made the decision to sell Lawn Doctor of Grand Rapids.\
"Kendall's heart was being pulled in the technology direction and Henry was not able to run the business from New York, where he lives. Jordan and I made it clear that we were ready to take the reins, and they accepted our offer to purchase the company," Hough said.
At just 23 and 24 years old, this change in ownership makes them the youngest franchisees in Lawn Doctor history, and Kendall believes that the business could not be in better hands.
"Jordan has been doing this his whole life," he remarks. "He was meant to grow into this role."
Jordan began working for the company when he was 16 years old, first working as a service technician. He quickly learned how to operate every piece of equipment and began to understand the many different facets of the lawn care industry. Over the years, he has trained many new employees, developing leadership skills and the respect of his team along the way. Last season, while Kendall was focusing his energies on building Lawnbot, Jordan oversaw the production department and took the initiative to familiarize himself with the laws and regulations required to operate a lawn care firm.
In their new roles as co-owners of Lawn Doctor of Grand Rapids, Jordan Hines will continue to manage the physical lawn care services and training of new employees while Hough will handle the administrative side of things. Together, they will oversee the day to day operations and ensure the needs of their customers are met.
When asked if being the youngest franchisees in Lawn Doctor history seemed daunting, Jordan replied, "We have a fire in our bellies and are surrounded by knowledgeable and experienced people every day. Although we are young, we have a strong foundation and the ambition to take off with this business."
In discussing his decision to walk away from the company, Kendall Hines stated, "I have only known Lawn Doctor my whole life. Going out on my own was a difficult decision, but I am a big believer in doing the thing that you're afraid to do in order to realize your full potential. For me, I believe my full potential lies with Lawnbot. I want to thank each and every person who gave me the opportunity to work on their lawn these past few seasons. I fondly remember the days when we worked out of the upstairs bedroom of my parent's house and we now have a fleet of 12 trucks and a 5,000 square-foot warehouse we operate out of. None of this could have been possible without our loyal clients."
Kendall believes that with the momentum the company has seen in the last 5 years, Lawn Doctor of Grand Rapids has the potential to become the largest lawn care company in West Michigan. "I am confident that Jordan and Angelica will do the Hines family legacy justice and continue to deliver green, thick, and weed-free lawns to the residents we serve," he said.
"Current and potential customers can look forward to a renewed commitment to providing superior customer service," Hough said. "Jordan and I are gaining as much knowledge and as many allies as possible to really ramp up our customer service to the next level. We aim to maximize our sales by referrals and the best way to do that is to have happy loyal customers. We are so excited to serve Grand Rapids and see where this first year will take us."