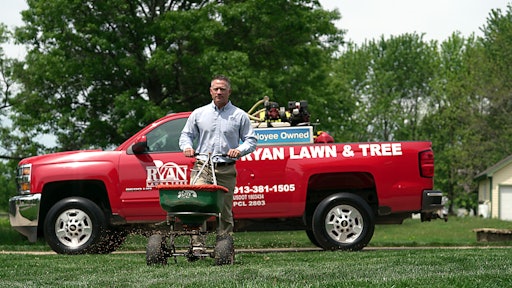 Ryan Lawn & Tree
With unemployment rates reaching almost 10% a decade ago, it wasn't that tough to get employees to work in the lawn care industry. Fast forward 10 years to pre-pandemic unemployment rates cut in thirds and staying steady at around 3.5% and many companies in the green industry struggling to keep fully staffed with competent employees.
One Kansas City-based company has figured out the secret sauce for maintaining a full staff of high-quality employees. Larry Ryan has taken his company, Ryan Lawn & Tree, from a one-man shop operating out of his home garage to a $40 million company with five locations. As the company's president, Ryan said he has always thought outside the box when it comes to staffing. He has worked to create a company for the employees – and they have responded.
Lessons from a restaurant background
Ryan gives credit for his staffing to his 10 years in the restaurant business. There he learned that in hiring, you hire the right person, not any person.
"Better people attract better people," Ryan said. "It's a Catch-22 in the right direction."
What did restaurants have to do with hiring?
"If you think you have employee problems, go into the restaurant business," Ryan said. "Thirty years ago, my bosses told me how much I could pay employees, then didn't understand why no one was interested in the job. I vowed that if I ever was in a position to set pay and write job postings, I would work to be a different kind of company. That opportunity came in March of 1987. I had lost my restaurant job and I started Ryan Lawn."
Ryan reveals in detail the three primary ingredients in the secret sauce to his success in getting the right people and growing his company.
Continual recruiting.

Developing the right culture.

Offering a pay & benefits package that will attract the person you need.
Sounds easy? Ryan says it's not. It is more than a simple one, two, three. It must become a culture, a way of life, or as Ryan has coined it — the "RYAN Way."
Secret #1: Continual Recruiting
For 33 years, Ryan Lawn & Tree has been recruiting employees one at a time. At first, they recruited directly from colleges, but today that is a small percentage of their hires.
"We can attribute much of our hiring success to our internal recruiters — our employees," Ryan Lawn & Tree Staffing Coordinator Debra Warner said. "Like attracts like. Word of mouth, industry hiring platforms such as turfjobs.com and local golf course job boards, employee acquisitions when we merge with other companies, and Indeed are also tools we use."
Ryan said he found that what was important was offering a job that made the employee or co-worker feel good. They crafted titles and job descriptions, gave employees more authority and offered higher pay.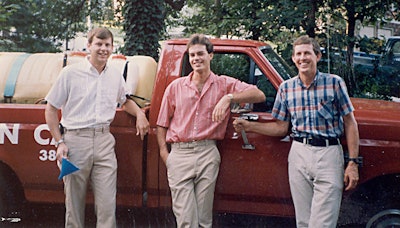 With a degree in park and natural resource management from Kansas State University, Andy Green began working for Ryan Lawn & Tree almost 28 years ago. He was recruited by a college fraternity brother, Tim Jorns, to start the company's plant health care program. Jorns is also still working for the company. Green worked his way up and around the company from that job to turf manager to now a trainer for new hires and a consultant to turf field staff at all five Midwest locations. Green said he has remained with the company because of its owners, his customer relationships, the company culture and his fellow employees.
"First and foremost is Larry and Kathy's commitment to family and faith," Green said. "They have provided a fun, carrying work environment that makes it easy to go to work every day. They take great care of the employees and I could never see myself doing this for anyone else. The relationships I have made with my customers over the years and continue to make each year is another reason for staying. I have many customers I consider friends now. Working outside every day is what I enjoy and seeing so many different homes and landscapes. My fellow employees are awesome to work with and again make it fun to go to work. We all have a passion for what we do, to provide a high-quality experience and results for our clients."
A higher quality of applicants followed. As the company grew, hiring needs also grew. Warner said maintaining high standards is key to keeping applicant quality high.
"We do not hire in desperation, we hire based on culture fit," she said. "We will wait for the 'right fit' to come along. We are continually looking for the next best owner even if we do not have a specific job posted."
Secret #2: Developing the Right Culture
Developing the right company culture is important in any company, but Ryan has taken bold steps to set his company apart from others in his industry.
Appearance and branding
A successful tactic early in Ryan's company development was setting the company and its employees apart by deploying bright red trucks prominently displaying a professionally designed logo and driven by clean-shaven employees wearing khaki pants & a RYAN-logoed, collared shirt. Ryan said many aspects of his company culture came from Tom Peters' book "Search for Excellence," the Disney brand and by accident.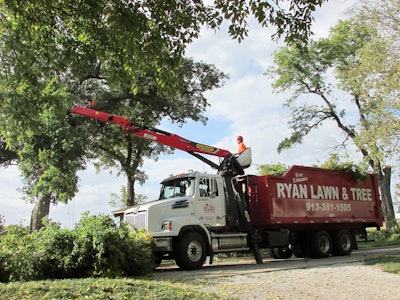 "The clean-shaven and neat uniform came from Disney," Ryan said. "I interviewed a man early on who had interned at Disney. He showed me their employee manual. I had studied Disney and was even more impressed — I wanted to adopt that 'All-American' look. I came upon the khaki pants by accident. I had no money when I started the company. A supplier when I walked in to buy my first products took a liking to me. He told me to go to such and such a uniform outlet and get their khaki pants. He said they were a good deal. Do you think God did not have a hand in each step of the development of our company? On shirts, I started out wearing plaid shirts with those khaki pants. Our customers really liked it. They said I looked dressed up for the job. It made me feel good. I wanted our people to feel the same way. Dressy was what I went after instead of the old blue-collar uniform of green pants and khaki shirts which looked like your big corporate new hire."
Ryan's plan for spreading positivity to his employees works, according to Green.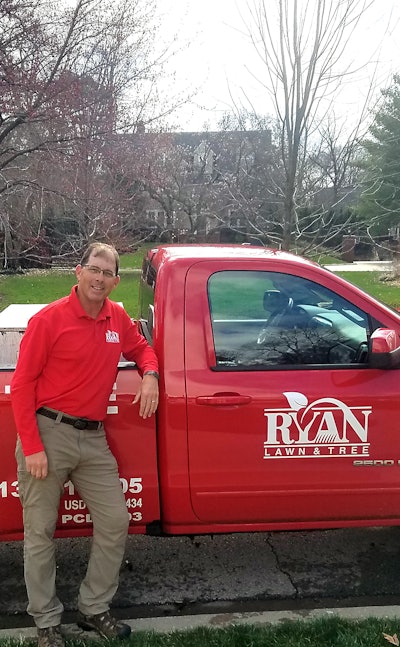 "Driving a clean red truck gives me pride I share every day with my fellow employees," Green said. "The RYAN culture is awesome. We are all here to help each other and grow the business. It is not about one person or another or one department over another."
The culture has evolved into the term used company-wide to describe employees — the RYAN Pro.
"A RYAN Pro is someone with outstanding work ethic, pride for the company in everything they do, a positive attitude, and a great communicator," Green explains. "Someone who cares about their clients and provides a positive, high-quality experience. One who cares and respects their fellow employees and supports them as needed. And someone who solves problems and brings new ideas to the table."
The brand recognition of the red trucks and the feedback from customers on how friendly and professional RYAN service experts are speaks volumes as to the effectiveness of these branding strategies.
Focus on Christian values
Another big step came about 12 years ago when Ryan boldly changed the company mission statement to start with the words "Serve God by helping our clients…" Vocalizing his commitment to living his faith in the workplace made a dramatic lift in the quality of applicants.
"Most quality employees go through your website and read your mission before applying for work," Ryan said. "At least the employees we want to hire do that. Almost immediately, a higher caliber person started applying."
It's one of the values employees like Green hold dear.
"Having faith as a part of our environment I feel is very healthy and much needed," Green said. "Not only in times like we are in now but every day as we are here to help others. We have very strong support for each other in our culture. Many times, someone needs help and the outpouring of support within Ryan Lawn & Tree is second to none."
Ryan said the most difficult thing about stating you are a Christian company is living it every day.
"If you claim to have that as a value but then take advantage of employees in pay or benefits, they see through it quickly," he said. "Every aspect of what Ryan Lawn & Tree does must be lived out in our mission to the smallest detail."
Secret #3: Offering an Attractive Job Package
Bringing his desire to provide an attractive pay & benefits package to attract the best people, Ryan made a few notable decisions that are unique to most green industry companies.
"We have built a strong reputation," Warner said. "We pay well, we have a competitive benefits package which includes employee ownership, higher salaries and year-long employment. Most importantly, we offer careers, not jobs."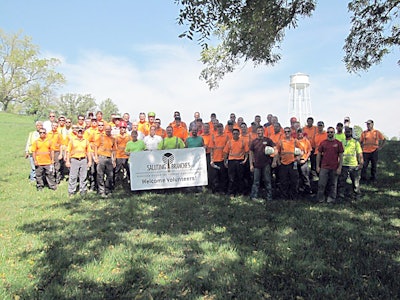 Adding employee ownership options
Adding employee ownership was a big decision but one that has paid dividends to everyone who now owns a part of Ryan Lawn & Tree. Offering ownership to employees gives them the right to share in the company's success and make decisions about how it is run. Today Ryan Lawn & Tree is 100% employee owned. Using employee ownership as an employee benefit has helped attract high-quality employees and reduce turnover. There are several long-term employees with over $100,000 in stock in the company. Ryan said that has created company pride. Ryan Lawn & Tree Vice President and Chief Financial Officer Daryl Nutt agrees.
"Employee ownership benefits the company because our employees think and act like owners. They understand that every action and decision affect the company's outcome," Nutt said. "It transfers into building great relationships with customers — when we talk with customers, we represent Ryan Lawn & Tree as an owner."
Nutt said from an income tax perspective, there are also company benefits.
"We are an S-Corporation," he said. "Paired with being 100% ESOP owned, Ryan Lawn & Tree basically isn't required to pay federal or state income taxes."
From his perspective, Green said employee ownership reduces turnover and provides a way to save for retirement.
"Ownership is a big deal to me," Green said. "As the stock price goes up, it is easy to see the value in growth and why it is so important. Not only growing new clients and services but also to watch spending and cut expenses. This helps everyone hold each other accountable for our actions."
Providing full-time, year-round employment
As an employer, Larry Ryan always felt he had a social responsibility to his employees and their families to provide full-time employment.
"How can a person feel good about employees working nine months a year and living on unemployment for the other three months?" Ryan said. "How does a person raise a family with seasonal work?"
At Ryan Lawn & Tree, all employees are all full time and have full benefits. It sometimes puts a financial burden on the company, but the pay is spread over the full twelve months.
"RYAN's goal from day one in 1998 has been to make career full-time positions in the green industry," Nutt said. "Owners must be willing to accept this model versus seasonal and part-time employees. The owner is willing to share the ownership and profitability with the employees — willing to fund a retirement plan. This is a short-term cost, but we have found it to be a long-term benefit. We want to raise the entire green industry."
For now, Ryan is satisfied running his five locations in Kansas City, Springfield, St. Louis, Tulsa and Wichita and always being on the lookout for continued growth through acquisitions.
"It is hard to find companies that share similar values," Ryan said. "But we are looking again at acquisitions and are working on a plan where we would give the acquired company a number of years to grow into the RYAN culture."
That culture and commitment to shared values — the RYAN Way — have proven to be the secret to successful recruitment and retention for Ryan Lawn & Tree even with the lowest unemployment rates and Ryan hopes other green industry companies consider the same.
"It's simple. Do more for the customer, provide a greater-valued service to earn a higher price. Then, pay your people more," Ryan said. "When you pay more, you get a better-quality employee. Now, it may not be in that order. At Ryan Lawn & Tree, we got the better employee first, did more, then charged more. If other businesses started really caring about quality, they'll end up raising their prices too. In turn, we'll hear fewer complaints from customers about how we cost too much. The cost will be the new industry standard and the quality of services will be higher. It's a win-win."