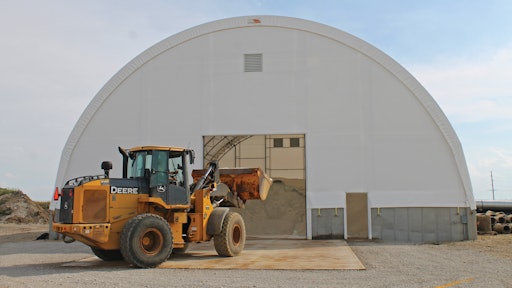 ClearSpan Fabric Structures
State and local governments are largely responsible for maintaining and clearing roads of snow and ice during the winter months.
If state governments or local municipalities are unprepared for snow removal and the maintenance of roads and other infrastructure, it could result in dangerous driving conditions that could likely have a significant negative impact on travel and commerce throughout the affected area. To maintain roadways effectively and efficiently, these operations need a reliable structure to keep deicing agents, such as sand and salt, shielded from the elements, as well as having a space to store and maintain vehicles and equipment, so they can successfully deliver the deicing agents and clear roadways. There may be no better structure to accommodate all these needs than a fabric structure.
Over the past several decades, fabric structures have been rapidly rising in popularity and are becoming the standard structural solution in many industries. This is largely due to the fact that they provide a versatile design and a low cost per square foot that allows operations to obtain a building that best compliments their operation without the large investment in time and money that often accompanies traditional buildings. Fabric structures have proven to be especially effective for municipalities and larger snow and ice contractors looking to store sand and salt, as well as manage and maintain their fleets. ­­­­­­­­­­­­­­­­­
It is incredibly important that materials like salt and sand be stored in a safe and dry environment. If exposed to the wind and precipitation, these materials could be rendered useless and can even contaminate streams, wells, and groundwater, negatively impacting the surrounding environment. There are many direct operational benefits from using a fabric structure that are experienced right away, such as a lower price point compared to traditional solutions, faster project timelines and an abundance of customization options to suit specific needs. Fabric structures feature many structural benefits, like the cover, frame, and clear span design that provide an advantage for storing sand and salt.
Cover-Up
When contractors or government entities are looking at investing in a fabric structure, they should be looking for a structure that is clad with a strong polyethylene fabric cover. A polyethylene fabric cover offers protection for sand and salt from high winds, rain, and snow, keeping the material together, dry, and ready to use year-round. These durable covers allow light to filter through, creating a well-lit environment that is soft on the eyes, while also increasing visibility and creating a comfortable atmosphere for crews to work in. Since natural sunlight can permeate through these fabric covers during the day, operations can reduce the amount of supplemental lighting needed to preform regular job duties, resulting in lower energy bills and a greater return on investment.
Frame and Design
What operations want to look for under a fabric cover is a sturdy galvanized steel frame. A galvanized steel frame not only provides strength and stability to the structure, but it is also resistant to corrosion, making it ideal for storing salt and any other types of corrosive materials that can degrade a structure over time. Depending on the layout, some fabric structures can even provide natural ventilation that limits moisture and condensation from affecting any material stored inside of the building.
Many fabric structures feature a clear span design, meaning that the building is designed in such a way that it features no internal support posts. The lack of support columns on the inside of the structure provides operations with the maximum amount of usable space for storage. In addition to wide open space, fabric structures often feature high clearances making it easier for large vehicles and equipment to access the material, leading to a more fluid operation
Drive-Thru
Fabric structures can also benefit government and contractors by being used for fleet management purposes. Fabric structures can offer greater storage space than a simple garage can provide, and some manufacturers even offer warranties on covers and frames, extending the longevity and usable life of the structure. Storing vehicles inside of a fabric building prevents unnecessary expenses by reducing the need to constantly repair damaged equipment. Keeping vehicles indoors is the easiest way to stop any preventable wear, extending the length of time between costly repairs. Without proper storage, noticeable damage in the form of corrosion, rust, and rot can begin to occur. When these vehicles are in use during the harsh winter weather it is normal to expect some wear, but damage from improper storage is completely preventable and can negatively affect any operation's bottom line.
Quick Solution
Fabric structures can even be built in a faction of the time it takes to construct a traditional building. The time it takes to build a 15,000 to 20,000 square foot fabric structure from the start of the design process to the end of installation can take some companies as little as 60 days, allowing governments and contractors quick access to a structural solution that can be provided to them at a much lower cost per square foot.
While they are famously versatile, reputable companies that manufacture these structures can custom design a structure down to the tiniest details and engineer them to withstand local snow and wind loads, allowing for greater durability and smoother operating efficiency. Fabric structures can be customized to fulfil any fleet management need, whether it's a dispatch office, maintenance facility or even just a storage garage. Businesses can see huge returns on the purchase of a fabric building, as they can keep vehicles sheltered, organized and well-maintained inside of one structure.
­­­­­­­One of the greatest benefits of using a fabric structure is that although they are strong enough to be permanent, they can be easily relocated without sacrificing any strength or durability. A variety of foundation options can be used, and they can be built just about anywhere, like open ground, in a parking lot or even atop an existing foundation. More traditional foundation options include concrete blocks and pads, wooden posts or blocks, pony walls and more can all be used with fabric structures designed for a range of foundations. Some manufacturers also offer more innovative options, such as helical anchors and shipping containers.
Fabric structures provide governments and larger contractors with many more benefits than other structures traditionally used. With all their benefits, fabric structures should be considered the go-to building solution for any operation that manages roadways during harsh winters.