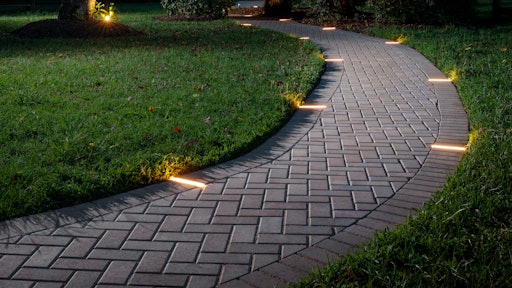 Tru-Scapes Landscape Lighting
Over the past year, backyards and other managed landscapes became a haven for social gatherings. Home improvements, particularly those in backyards, skyrocketed in 2020. Exterior kitchens, fireplaces, patios and decks are able to be used well into the evening hours, provided that they are well lit.
With technology such as LED lighting making landscape lighting more efficient and affordable, more and more consumers are asking for it to be included in their overall landscape design.
To shed some light on the subject, we reached out to a handful of industry experts.
Q: What is your assessment of interest in landscape lighting in 2021?
Todd Goers, national sales manager landscape lighting/green industry, WAC Lighting: We have seen a spike in interest in landscape lighting demand since the pandemic reared its ugly head. I have heard many landscape lighting contractors say that with many homeowners now working/operating from home, they have assessed improvements that they have deemed appropriate for their residences and fortunately landscape lighting has risen high on their list of improvements they are wanting.
Sarah Auyeung, associate product manager, FX Luminaire: During the initial months of the pandemic, homeowners reduced their overall spending. By autumn the landscape lighting industry, along with the rest of the green channel, saw sales recover and even experienced sales growth. This phenomenon extended through the winter and we are still seeing an increased demand for landscape lighting. It's like the busy season never ended in 2020.
In hindsight, the spike of homeowner interest in landscape lighting makes complete sense. Homeowners are spending more time in their outdoor living spaces, from simply enjoying their property to making lists of home improvement projects. Landscape lighting allows homeowners to make their yards more accessible after sunset. The motivation to spend more time in their yards, especially after a full day of homeschooling, working, and living within the same walls, day after day, has propelled strong growth in landscape lighting industry.
Joe Raboine, director of residential hardscapes, Belgard: The pandemic created a significant shift in how homeowners view their homes and the features they are incorporating into their designs and renovations. Lighting has become an integral feature to increase the functionality of outdoor spaces. They need more lighting to be able to work, exercise and carry out other daily tasks at home safely, plus landscape lighting increases curb appeal of the home.
Jim Frederick, sales manager, Tru-Scapes Landscape Lighting: It seems the pandemic has increased interest across the entire outdoor living industry, and we saw unprecedented growth in 2020. The number of homeowners working from home offices grew exponentially, so the outdoor living industry boomed. People stuck at home and using vacation money to make improvements to home and property have benefitted our industry in ways we never expected.
As a partner with Belgard we share the common goal to provide useable outdoor living spaces that bring value to the consumer. Landscape lighting is a valuable upgrade to an outdoor space as it extends the hours of use and even provides value in the off season by highlighting the investment year-round.
Q: What makes the transition smoother for a landscape professional to add lighting services to their business?
WAC Lighting: WAC Lighting has developed a line of landscape lighting products that offers tremendous flexibility. We have engineered products that allow designers/installers options to perfect their work. Fixtures prior to our entry into this space were rigid in design with fixed beam angles and lumen outputs. WAC's development of products with variable lumen output at the fixture as well as beam adjustability on board has changed the industry. Competition is fierce in the landscape lighting space and everyone has their eye on what we're bringing to the market.
FX Luminaire: Landscape contractors are increasingly seeing the value of adding lighting to their services. As contractors enter the landscape lighting business, manufacturers have been helping them along the way in all aspects of their operations, from product knowledge to customer engagement. FX Luminaire provides tips for marketing outdoor lighting solutions as total systems or packages, offers free virtual trainings, and develops new tools to simplify bidding, specification, and installation. These methods allow us to provide continuous education to support our contractor customers.
Belgard: At Belgard, we've partnered with Tru-Scapes Landscape Lighting to offer high-quality, reasonably priced lighting solutions. Contractors can forge partnerships with lighting solutions providers to make installation simple and easy and offer more options to meet any homeowner's style and needs.
Tru-Scapes Landscape Lighting: I believe several factors have brought landscape lighting into the spotlight in our industry. I was introduced to landscape lighting nearly 20 years ago. It was not a common upsell at that time due to complexity and fear from the common installer. I saw the opportunities and have always enjoyed the training of this category, helping fellow landscape pros grow their business and offer lighting. One factor in the growth we have seen the last number of years was the introduction of LED technology, providing a simpler installation solution, as well as a much more reliable system with less call backs/issues.
Also, as more homeowners are made aware of the value and beauty of landscape lighting, we see more requests and sales. Manufacturers such as Belgard have realized the value of the wholistic approach when proposing a project to a homeowner featuring lighting in catalog and marketing campaigns as well as design and sales tools. Homeowners can see the added beauty of lighting in a 3-D design proposal prior to breaking ground.
Q: What are the mostly commonly requested forms of landscape lighting?
WAC Lighting: Generally, I see most residential projects utilizing the following landscape lighting techniques: up lighting, path lighting, deck lighting, step lighting along with hardscape lighting if the project has these focal points.
FX Luminaire: From product design to end-user functionality, we are seeing a movement toward next-generation technology. Fixtures are becoming more streamlined and sleeker. And last but never least, the movement toward connectivity and control across multiple technology platforms is growing rapidly. Expanding outdoor living spaces no longer means merely brightening up areas for nighttime use. It also means being able to control and sync indoor and outdoor spaces.
Belgard: The most common lighting elements we see among customers are hardscape lights, paver lights and pillar lights. These options provided needed lighting while also creating a stylish touch within the existing hardscape and landscaping elements.
Tru-Scapes Landscape Lighting: I would say the number one product installed in our industry is the under cap/hardscape light. Most commonly a 6-7-inch light bar that is easily installed under the cap of a retaining or seat wall. You can find many variations of this fixture, but the effect is similar. If you page through any hardscape catalog you will see many images of projects with hardscape lights. This also tends to be the easiest upsell, and it is ideal to install this style light when installing the project as they can be very difficult to install after the fact. Hardscape lighting adds ambience and safety for transitions such as steps. I am also seeing more projects with in-ground lights, such as a paver light or dot lights set in the hardscape. This style of light adds some creativity to a project. Accent and Path lighting requires more skill to design and install correctly. Beam spreads, lumen output and placement are key factors when accenting the home or key landscaping features. The type of installation can also require longer wire runs and more advanced installation techniques.
Q: What are some of the common mistakes in landscape lighting?
WAC Lighting: I have seen landscape contractors jump into the landscape lighting space with zero to little training. Training on both the mechanics of the system as well as fixture design throughout a project is essential in becoming a skilled craftsman in this field.
FX Luminaire: Mistake #1 is choosing quantity over quality. This applies in both mechanical design as well as light output. Lighting products have a lot stacked against them. They are electrical products exposed to harsh outdoor environments for long periods of time. Contractors should strive to select products that are made with high-quality materials. This strategy will pay back over the long term in saved costs related to warranty and replacement work. As for light output, more is not always better. Some contractors tend to overestimate the amount of light needed for a job. The human eye is quite slow at adjusting to light, so having high contrasts of dark and light can make a landscape difficult to look at or feel comfortable in. On the flip side, light can also be too dim. Using dimmable fixtures makes on-site adjustments much easier.
Mistake #2 is not spending time at the beginning with client interview and design. Contractors should always collaborate closely with homeowners to determine how they use their outdoor living spaces and what their priorities are when installing the lighting system. Doing so will greatly reduce guesswork and help ensure lighting effects that the homeowners want. Lighting is subjective, so the more in sync you are with your clients, the better off you'll be.
Belgard: One of the most common mistakes for companies adding lighting is that they don't do enough research. There are so many options on the market, which often overcomplicates things. Having a pared down assortment of go-to items, such as our Tru-Scapes line, makes it much simpler. Following best practices for installations will help reduce the learning curve and make you more money. You can always add complexity but try to keep it simple in the beginning.
Tru-Scapes Landscape Lighting: I have been pondering this question more in recent months. I think one concern I have for our industry is we have over-simplified landscape lighting. There is still a skill to the installation process and training is key. We are providing the industry with professional grade products and asking homeowners to pay good money for the product and installation. We need to embrace the value of proper training and techniques. Also, we can lose track of the value of design. Installers can provide simple systems but even the most basic installation requires a level of design and skill.
What advice would you share with those seeking to add landscape lighting to their business? S
WAC Lighting: Seek out professional training from an accredited source such as the Association of Outdoor Lighting Professionals (AOLP) or the International Landscape Lighting Institute (ILLI).
FX Luminaire: Photography, photography, photography! With landscape lighting, showing is always better than telling. Having a portfolio of photos to properly showcase your design and installation skills is invaluable to the marketing and advertising of your lighting services. Light is hard to capture in photo or in video. A smartphone or tablet camera will not cut it. If you don't have your own equipment, always invest in a professional photographer who can expertly shoot and edit landscape lighting photos.
Belgard: Research and ask questions. The best thing you can do if you're thinking of adding lighting it to ask questions of those that are already successful. Our partners at Tru-Scapes are also contractors, so they are installing lighting daily and can assist with install and bidding questions. Lighting today with LED is easier than ever, and there is a great deal of opportunity. Once you educate yourself, the sky is the limit. Also remember the evening is the time when most outdoor spaces are used, so having them properly lit greatly enhances the customer's overall experience.
Tru-Scapes Landscape Lighting: I believe in partnerships. There are plenty of professional manufacturers and dealers in our country that are here to help. I think alignment with a pro is key. Learn the right way to do it, ask questions and work with quality products and manufacturers that stand behind their products. Subscribe to social media groups that can answer questions and assist when needed. We are all constantly learning. The opportunities are there, so don't miss them.
What trends within landscape lighting are you expecting to see in 2021?
WAC Lighting: I expect the continuation of product flexibility to be a trend as we move through 2021. Designers and installers of landscape lighting are demanding products with options to perfect their landscape lighting creations. WAC Landscape Lighting has an array of key products that offer just this. We have products that have multiple kelvin temperatures on the fixture along with beam angle variations and brightness controls.
FX Luminaire: The demand for modern fixtures continues to rise, mimicking architectural and interior design trends. Contractors are stepping up their installation skills and implementing clean, built-in applications that require slim or flush options, like strip lights or in-grade lights.
Belgard: Lighting will continue to be more popular and integral to outdoor projects in 2021. Various LED lighting is becoming a prevalent style, as homeowners enjoy being able to adjust levels and colors to accommodate any setting or activity. Tru-Scapes, as well as other landscape lighting providers, are offering these options with Bluetooth capabilities so customers can easily control lighting through their smartphones.
Tru-Scapes Landscape Lighting: I see more creative application of lights in hardscapes and manufacturers such as ourselves are working to provide creative solutions for installers. We are seeing interest in more control, such as Wi-Fi and Bluetooth technology, color changing lights, full rainbow as well as Kelvin temperature adjustment and dimming capabilities. We continue to see growth in the outdoor room concept with lighting as a key element of the design.