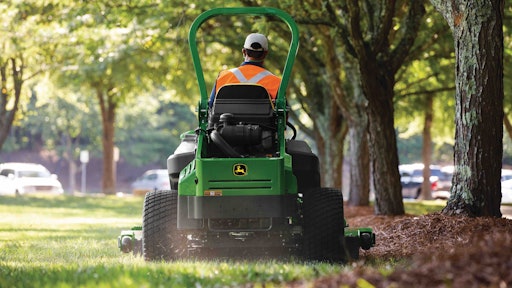 John Deere
Contractors, manufacturers, and green industry experts agree on at least one thing this year, it's critical that the GIE+EXPO 2021 and Hardscape North America shows move forward Oct. 20-22 at the Kentucky Exposition Center in Louisville.
The largest green industry trade show has not been held in-person since October 2019. The industry is eager to come together again to learn new methods, share stories and see and touch new products.
"Returning to Louisville for GIE+EXPO 2021 is going to be a fantastic experience," says Jamie Briggs, director of marketing, Exmark. "Nothing replaces the experience of seeing, touching, and trying out the latest new equipment."
Jim Clayman, vice president of marketing for Aspire Products, ServiceTitan, notes that while virtual events became the norm during the pandemic, they simply can't replace the networking and learning offered through in-person events.
"While it will be great to see all the new and exciting products being introduced, the fact that we all will be able to be in person is the most critical," says Nick Minas, go-to-market manager, John Deere. "The vast array of relationships built over the years that are vital to the industry's success can be maintained in a virtual setting but to grow them requires being face-to-face, which is why returning to GIE+EXPO is so important."
There seems to be a renewed energy about the 2021 show and the stats are already bearing that out. At the time of this writing, registrations for the show were on pace to exceed those of 2019, the sixth record-breaking year in a row for the show.
"We're excited to go back to work," says Kris Kiser, managing partner of GIE+EXPO and OPEI president, also acknowledging that it has been challenging amidst the uncertainty of the pandemic.
"I think we'll be able to have the event in a very responsible, safe way," Kiser says. "We just want to encourage people to come. We're going to be reasonable and responsible, and your safety is in mind. The manufacturers are excited, the landscape contractors are excited, our partners are excited, and we're planning on being there. "
Safety remains a paramount concern for many, while the excitement of reconnecting with retailers, dealers and industry professionals also is high for the upcoming event.
"We are excited to participate in-person at GIE+EXPO 2021," says Scott Sittler, marketing manager professional products, Husqvarna. "The safety of our employees is a top priority and to that end our presence will be in accordance with CDC guidelines and local rules and regulations."
GIE+EXPO will be following CDC guidelines and the direction offered by the facility itself, the city of Louisville and the state of Kentucky.
"Right now, what we're doing is recommending that vaccinated people attend and that if you're unable to be vaccinated that you wear a mask," Kiser says. "We don't want to be in the mask policing business, you can't with that many people."
However, he says organizers are being mindful of compression of people in food service areas and entrances and exits. "We'll take steps to keep more doors open," Kiser notes. "The nice thing about this at the facility, it's big, it's open and we're not particularly crowded other than getting in and out."
Fortunately, there are a handful of events being held at the Kentucky Exposition Center prior to GIE+EXPO 2021, which can give them additional guidance in how to proceed.
"We will have some good experiences ahead of the show to get a sense of at what they're doing well, what the facility doing and how we can implement the latest protocols to make it as safe as possible," Kiser says.
From his perspective, moving forward with the show is simply in the industry's DNA.
"I always call it a family reunion and I mean that because its where everybody that knows one another or is related to one another in a business sense, comes back together to share stories and experiences and peer-to-peer learn," he says. "I really got a sense of it at our annual meeting in June where there was just this palpable relief that we were sort of back."
Manufacturers recognize the importance of the show and the opportunity to meet face-to-face with customers.
"The past year and a half have demonstrated something we've known for a long time, just how innovative, adaptable and resilient green industry professionals are," says Christina Propst, marketing manager, KIOTI Tractor. "From manufacturers like KIOTI Tractor to trade professionals and beyond, we've all taken away different lessons about how to successfully operate in the green industry during an unpredictable period."
Echoing other exhibitor representatives, she said it's time to come together, share lesson learned and get excited about new products and services coming to the market.
"We've all been through a lot during the past year, and it will be incredible to reconnect in person and continue moving the green industry forward," Propst says.
Trade show are a significant aspect of the green industry that allow landscapers the ability to view and learn about the newest equipment from a variety of manufacturers in-person.
"While learning about machines over the phone or online can be efficient, actually being able to see a machine up close, get your hands on it and discuss it with product experts is a much more thorough way to learn about machine solutions," says Brank Kukuk, compact equipment product manager, Ditch Witch. "From a manufacturer's perspective, trade shows also allow us to hear from customers and become more educated on industry pain points and what contractors need to be successful."
Furthermore, he says beyond machine information, trade shows offer the best networking opportunity for landscapers to learn from their peers.
"The ability to learn how other landscapers approach jobsite challenges, business challenges or other industry issues is incredibly valuable, especially as the industry works through a labor shortage," Kukok notes.
In addition to being the show's return since 2019, it also marks the last time the event will be co-sponsored by OPEI, Professional Grounds Management Society (PGMS) and National Association of Landscape Professionals (NALP). In 2022, OPEI will take 100% ownership of the show.
"In 2022, the structure of the show changes, the name of the show changes, we're rebranding it," Kiser says. "We've got some new things coming that we hope to share with you at this year's show about 2022."
A new website, new name and logo will be unveiled at this year's show.
To kick things off, OPEI is opening a branch office in downtown Louisville, with a ribbon-cutting on Oct. 19.
"Historically we've had an outside management firm run the show since its inception 40 years ago," Kiser says. "We're now bringing all that in house. There are a lot of synergies between what the association does, the work of the show and the work of the foundation. It's a second OPEI association office principally focused in the short term on the show."
Located on Main Street, it's a space that reflects Louisville and OPEI but remains a modern space designed for what he describes as the future of the show and the future of the association.
"We're going to see a bigger spend with that, and some additional events that we're going to bring to 2022," he says. "We need 2021 to happen for the show and for the business, but also so we can go ahead and talk about the next year and the next 40."
What to expect
Without question it has been a challenging year. Many manufacturers have faced logistical issues related to obtaining parts and material and as result held back on some new product rollouts.
Kiser says to anticipate plenty of new products at the show.
With expanded education on real-world topics such as drones, robotics, and connectivity, as well as features that put attendees behind the controls, this year's show will offer a wide range of opportunities, including:
Hands-on Drone Zone where attendees can fly drones with expert trainers
Technology Summit presented by the

National Association of Landscape Professionals

UTV Test Track
Remote Pilot Certification Course presented by the Indiana State University Aviation and Unmanned Systems Program
Expanded In-Tree Arborist Demos and Classroom Courses, including CEU opportunities
Opening keynote, "Leadership and a New World Order: The Need for Resilience," featuring Retired U.S. Navy 4-star Admiral James Stavridis
Free dealer workshops by Bob Clements International, including a discussion on Bulletproofing Your Business
Kiser notes that even the facility and grounds have been improved. Known for its outdoor exhibition space, asphalt rods have been added in that area and drainage has been greatly improved.
"We don't want to have inclement weather, but if we get it, it certainly drains better. With the roads, I mean literally there are asphalt roads through there now, there won't be those dirt paths, so your shoes will be a lot cleaner."
He continues to emphasize the significance of returning to the show and how important it will be. However, for a change, it seems the exhibitors have been able to summarize it better than he is usually able to.
"As companies shifted to work from home and people embraced the changes, most landscape professionals found they were busier than ever," says Chris Vogtman, director of marketing, Toro. "People turned to outdoor spaces to connect with friends and family, and demand for landscape services soared. That's why it's more important than ever for the green industry to get back to GIE+Expo to connect with one another on the state of the industry while exploring all the new offerings out there. As we all know, innovation is what drives the industry forward, and we can't wait to share some of our new innovations at the show that will enable professionals to grow and thrive."
Ironically, despite the challenging year, even Kiser knows that the only thing that is likely going to keep potential attendees away is that they're so busy this year.
"It's a great problem to have," he says. "We'll take that all day long where our attendees are busy."
Companies in this article