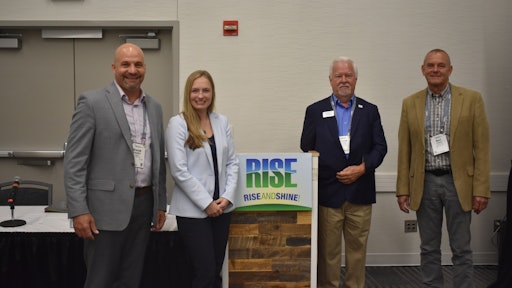 RISE
Responsible Industry for a Sound Environment (RISE) hosted its annual Industry Issues Update over breakfast at Cultivate '22 in Columbus, Ohio, where attendees discussed the benefits of advocating for the specialty pesticide and fertilizer industry on the local, state and national level.
"We have to show up for the specialty industry," said Blaine Pinkerton, vice president of Turf and Ornamental Sales, Nufarm, and treasurer, RISE Governing Board. "That could mean going to a local hearing on a bill that would affect what pesticide products you can use; engaging with your neighbors about the benefits of pesticides in our world; or getting more involved with RISE or American Hort. Getting involved in these kind of issues really makes a difference and supports the work all of us are a part of."
Megan Provost, RISE president, encouraged attendees to advocate for the industry and emphasized the importance of engaging with RISE's Grassroots Network and other industry grassroots networks to get the word out about bills that would affect the specialty pesticide and fertilizer industry.
"If you know about the bills that could affect you, it's easy to step in and contact your elected representatives and share your voice," Provost said. "Advocacy is a critical tool that does work. It's important to keep using this tool and continue to engage with elected representatives so we can all have our voices heard for the specialty pesticide and fertilizer industry."