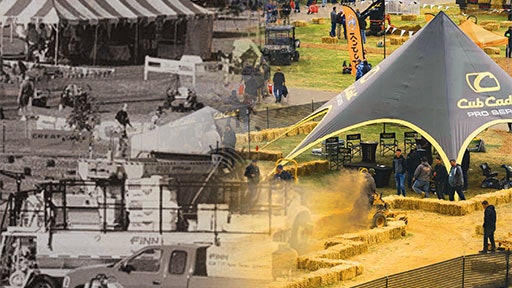 Equip Expo
A mainstay of the green industry, the Outdoor Power Equipment Institute's (OPEI) Equip Expo (formerly GIE+EXPO) has been going strong for four decades.
"The show continues to grow and evolve," says Kris Kiser, CEO and president of OPEI. "Last year was the biggest show ever, and we already know that this year's show is bigger. This year's show is a combination of business, peer-to-peer opportunities and social engagement."
In celebration of those 40 years, OPEI, exhibitors and attendees gave their take to compile the 40 items landscape professionals should know about the 2023 Equip Expo Show.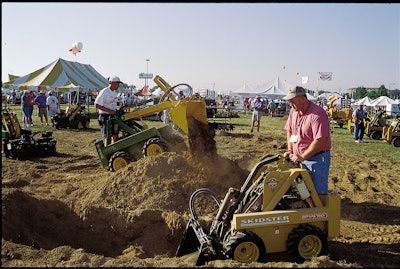 The Four Es
1. Equip
Mowers, blowers, chainsaws, tractors, vacuums, spreader-sprayers, compact equipment—you name the landscape equipment segment, and Equip Expo likely has it.
What's more, each year's Equip Expo comes with surprises in terms of new equipment.
"Last year, our client asked if there were battery-powered tractors, and we didn't think there were any, but then, we showed up to Equip, and there was a vendor (Solectrac) that had battery-powered tractors," says Jenneka Temkin, co-owner of J&J Property Pros in Duchess County, N.Y.. "We're very excited to see some of the up-and-coming equipment of the industry (this year)."
2. Educate
Equip's education offerings include sessions on lawn care, landscaping, tree care, pool and spa installation, trenching, business advice and much more.
"We've added space for those new education sessions, but I would direct attendees to look at the guide as there is an awful lot to choose from," Kiser says.
3. Entertain
Attendees can spend the night out on the town at 4th Street Live! in downtown Louisville on Wednesday, Oct. 18 and listen to the The Juice Box Heroes take the stage.
Third Eye Blind will headline a "thank you" concert at the KFC YUM! Center on Thursday, Oct. 19, for the event's first-ever arena concert, with singer-songwriter Dylan Scott opening the show.
4. Engage
Landscape pros should be sure to take time to network and mingle with others in the industry.
"It's kind of like a big family reunion and a great chance for everyone in the industry to get together," says Sarah Nicolaisen, marketing manager with Toro. "Last year was my first year, and just the sheer number of people I was able to talk to—it was truly remarkable."
Kiser adds that the show's repeat attendees attest to the show's value.
"It shows it's valuable to their business that they come year over year," Kiser says.
Equip Expo

New this year
5. In-house management
Previously, Equip Expo was managed by a third-party vendor. This year, OPEI brought show management in-house.
"That way, we have the freedom to try new things, and we can manage it ourselves," Kiser says. "We've spent a lot of money on the show, and we've tried to improve the whole system, but the show is worth it."
6. Expanded exhibit space
For the first time in its history, the show has pushed into the Kentucky Exposition Center's (KEC) West Wing.
"We've added the remaining hall to our inventory because we've sold out the South Wing, North Wing, East Hall and Freedom Hall," Kiser says.
The West Wing will include golf simulators, a Drone Zone and daily giveaways.
7. Welcome reception in new area
This year's opening reception will be held at the Kentucky International Convention Center in downtown Louisville.
"Last year's opening reception was cold, so this year, we're indoors, and it's a beautiful venue," Kiser says. "We'll have a band there, and we want to celebrate our 40th anniversary and give back. We've invited the city and the mayor."
8. Arena concert
On Oct. 19, for the first time, Equip Expo will include an arena concert with Third Eye Blind headlining and singer-songwriter Dylan Scott opening the show.
9. The inaugural Women's Leadership Reception
More than 200 women in the industry are slated to attend the first-ever Women's Reception on Thursday evening, Oct. 19. The networking event is sponsored by SiteOne and Belgard.
Equip Expo

Returning this year
10. UTV Test Track and Drone Zone
Equip Expo's UTV Test Track allows attendees to drive the latest vehicles on curves, hills, rocks, bumps and maybe even a little water and mud. At the Drone Zone in the West Wing, attendees can freshen up their skills on the joysticks and fly a drone.
11. Co-location with Hardscape North America
Once again, Equip Expo will be co-located with Hardscape North America.
12. Mulligan's 5K Fun Run & Walk and Mulligan's Mutt Madness
At Mulligan's 5K Fun Run & Walk on Oct. 18 at 6:30 a.m., registrants can be part of the filming of the CBS Series Lucky Dog. Additionally, Mulligan's Mutt Madness, an annual dog rescue event, will bring rescue dogs to Freedom Hall on Thursday from 11:30 a.m. to 2:00 p.m.
13. Tree Care Workshop
Arborists will provide climbing instruction while aloft in a tree set up within Equip Exposition Center's Freedom Hall.
Trends
14. Battery Power
Temkin says she expects battery power to be emphasized at this year's show.
"While gas-powered equipment still has its place, I feel like we'll be seeing more battery-powered upgrades and improvements this year," Temkin says.
Nicolaisen agrees.
"It's no secret that battery power has been a trend within the last few years, and it's a trend we expect to stay as we see enhanced technology allowing for commercial-grade electric equipment to be available," Nicolaisen says. "Government programs and even customers are driving the use of battery-powered equipment on properties. That said, there's still demand for gas products, and I think we'll continue to see innovations in that space as well."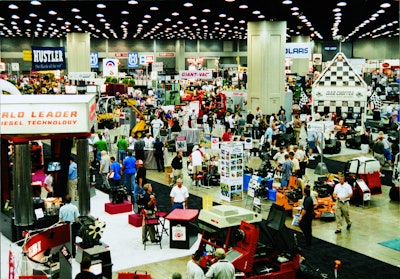 15. Autonomous solutions
In addition to innovative battery solutions, robotics are set to take the stage at this year's show, says Chase Tew, production systems and business unit manager at John Deere.
"Electrification and autonomy are both new technologies in which everyone is interested to see progress year over year," Tew says. "While adoption will be slow for both, everyone wants to see what's new and different from last year and if there are any new technology players starting to emerge."
16. Sustainability
This year's Equip will also include an emphasis on sustainable solutions, predicts Carlos Haddad, vice president/general manager, North America Professional Business Unit at Husqvarna Group.
"There are also new regulations pertaining to emissions in some parts of the country and increasing sustainability focuses among many customer groups," Haddad says. "Equip Expo provides commercial landscapers with the opportunity to see and experience the tools they'll need to future-proof their businesses."
17. Workhorse machines
As the world continues to return to normalcy post-COVID, manufacturers will place an emphasis on the "workhorse" machines within contractors' fleets.
"It's focuses such as what's new with zero-turns? What's new with stand-ons? What's new with traditional equipment machine forms?" Tew says. "What are OEMs doing to connect those machines to make them more user-friendly, more reliable, more durable and more productive? That's what most attendees want to see and experience."
18. Connectivity and software
To keep track of all that new equipment in their fleets, Nicolaisen says many manufacturers have developed software solutions.
"It's really about creating solutions, not just creating equipment, and we want to be the business partner to help contractors improve profitability and make business easier to conduct," Nicolaisen says.
19. New equipment players
Tew predicts that this year's Equip will include the continued presence of nontraditional and offshore companies competing in the green industry.
"The green industry is a large market opportunity that the rest of world's companies are just now starting to understand," Tew says. "As a result, they are displaying and placing specific emphasis on brand awareness along with customer reach. And what better place to accomplish both than at Equip?"
Equip Expo

Advice
20. Plan ahead
It's easy to feel overwhelmed by the sheer amount of ground to cover, so planning in advance can help attendees tackle the show.
Attendees should decide on what they want to see, and from there, figure out their purpose and mission for the show.
"If you're interested in tech, get the exhibitor list, figure out who you want to see and go there first, and if you're interested in shopping for ZTRs, figure out with whom you want to have a discussion and go there first," Tew says.
21. Break up the show floor
Temkin recommends picking one day to focus on all the indoor operations of the expo and the next day for the outdoor. The third day can be reserved for visiting any booths that were missed.
"This is too big of a show to do in one day," Kiser says.
22. Don't succumb to distractions
Try not to get distracted by the large number of "shiny new tools" from vendors toward the bottom of the priority list, says Matt Mientus, turf division manager at EMI Landscape.
"I'm not saying to ignore them, but treat them as a bonus after you make it to the vendors you really wanted to see," Mientus says.
Tew adds that time slips away quickly if attendees simply turn up to the show and just walk.
"Be intentional and purposeful with your time," Tew says.
23. Ask questions
As exhibitors are always open to questions and suggestions, landscape professionals should come prepared.
"We welcome questions from landscapers who are interested in learning about the capabilities of our products and how our solutions can help them power their businesses for the future," Haddad says.
A pro tip of advice: write questions down instead of only relying on memory, Mientus advises.
24. Provide feedback
In addition to coming to exhibitors with questions, landscape pros should come equipped to provide feedback on existing products if they have any.
"One of the things we value a lot about the show is making those one-on-one connections with contractors and taking that back to focus on it for upcoming years," Nicolaisen says. "It's important for them to be able to candidly share their feedback on a product as well as ask specific questions on how something works."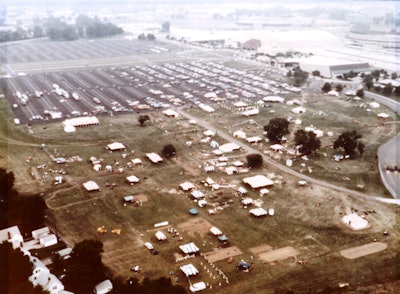 25. Test before you invest
In what other world can a landscape pro try out dozens of new products from dozens of manufacturers within the span of a few hours?
The outdoor demo area allows green industry pros to do just that.
"For those who want to get a hands-on experience, our outdoor space will offer a variety of demos where you can see and feel our products in action," Haddad says.
Kiser agrees.
"You can see a lot of the equipment inside, nice and shiny in a climate-controlled environment, but then you get to go outside and drive and test the equipment before you invest in it," Kiser says.
26. Get into the show quickly
In addition to express badge stations available on-site at the KEC, kiosks are also available at select hotels and the airport. Attendees can scan their registration QR code (bring the email confirmation) and print their badge. Preregistrants also can pick up their badges in "express" lanes in the North Wing lobby.
27. Download the Equip Expo App
Attendees can map out their day, look up booth numbers and education session rooms and create an agenda right from the Equip app.
The app can be downloaded for free from a mobile device in the Google Play Store or Apple App Store.
28. Get a feel for the exhibit hall
Equip Expo is a big physical show, but it's not insurmountable, Kiser says. He recommends visiting EquipExpo.com and getting a feel for the layout of the show.
29. Partake in social opportunities
Kiser notes that attendees shouldn't scoff at the social opportunities, no matter how inviting the couch can be at the end of the day.
"If you're going to make the trek to Lousiville, avail yourselves to the social opportunities to socialize with people just like you in your business," Kiser says.
30. Dress appropriately
Because the show cover such a large area of square footage, attendees should plan to bring comfortable shoes—and shoes they don't mind getting muddy.
Check the weather in advance and come prepared for outdoor attire.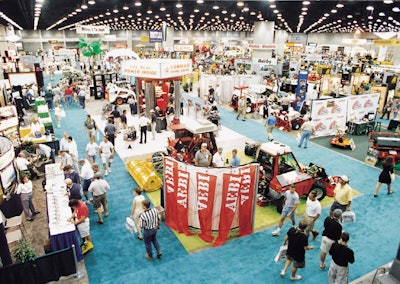 31. Enjoy the experience
With an exhibiting floor, education sessions, entertainment opportunities and more, it's important the attendees remember to savor the experience.
"All in all, just have a good time and being open minded," Mientus says.
Attendees can expect to:
32. Meet new people within the industry.
33. Catch up with colleagues and friends.
34. Discuss products with vendors and share opinions on existing equipment.
35. See what the future holds when it comes to equipment and technology.
36. Learn new ways to conduct business in the dozens of education sessions.
By the numbers
37. 3 days of trade show exhibition.
38. 30 acres of outdoor exhibit space
39. 1 million square feet of exhibition space
40. 25,000-plus attendees