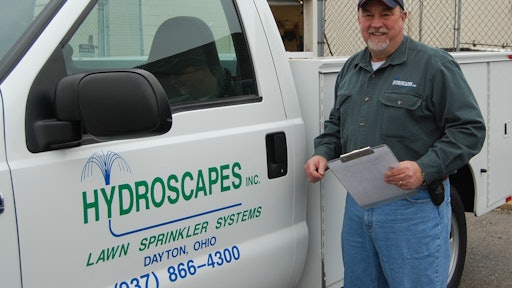 Unlike places such as Florida, Georgia and the Southwest, the water conservation movement hasn't fully swept southwestern Ohio yet. When it does, Marty Thomas will be light years ahead of the curve.
Thomas says his company, Hydroscapes Inc. in Dayton, OH, has included rain sensors with every sprinkler system it's installed since 1987. "It's been a standard part of our installation since day one," Thomas says. "Yeah, it causes our prices to be a bit higher than some of our competition, but our goal is to install irrigation systems that lower the total cost of ownership for our customers."
SELLING 'TOTAL COST OF OWNERSHIP'
Selling the concept of "total cost of ownership" is sometimes easier said than done, however. "Demand for more efficient irrigation systems is not all that strong around here—at least not yet," Thomas relates. "Water costs are still quite reasonable for the average person, so it's hard for them to grasp the concept of 'total cost of ownership.' Most homeowners are primarily concerned about the upfront cost of putting in the system."
That's why Hydroscapes focuses on the higher end of the housing market. The company also specializes in athletic field sprinkler systems. As far as commercial goes, Hydroscapes did more commercial installs than ever in 2008. Thomas attributes this to partnering with a landscape construction contractor in the area.
But both new home and commercial construction slowed in 2008, and irrigation contractors such as Hydroscapes began to feel the effects in the latter months of the year. That's why the company's sales mix has shifted slightly more in the direction of irrigation service. Last year roughly half of Hydroscapes' irrigation business came from service. Thomas is expecting an even higher percentage this year.
"We're planning for more service business this year," Thomas says. "The housing market has gotten really bad down here. So we're hoping people will want to say in their existing homes for awhile—and will want improvements made to their irrigation systems."
CREDENTIALS SPEAK LOUDLY
Thomas says there are a fair amount of outdated sprinkler systems throughout his market area. When homeowners begin to recognize uneven "shades of green" and certain areas of the lawn that are wetter than others, his hope is that they give him a call. And they often do.
Thomas is a certified irrigation contractor (CIC), certified landscape irrigation auditor (CLIA) and Rain Bird Select Contractor. His company has installed more than 1,200 lawn sprinkler systems in the Dayton area since 1987. Hydroscapes offers a complete design/build service on everything from a single flowerbed by the front door to complete housing developments receiving water from lakes.
Thomas is also an EPA WaterSense partner (epa.gov/watersense). Although he concedes that the concept of water conservation isn't a huge issue in his market at the moment, he feels that attaining the WaterSense certification is just another credential that helps put him one step ahead of the competition.
"There is tremendous marketing potential when it comes to the EPA WaterSense program," Thomas says. "I'm always looking forward, and water issues are becoming more and more important. Eventually it's going to affect us here in Dayton, probably sooner than later with water now being talked about as a finite resource."
Thomas has been talking about that for more than 20 years. This forward-thinking approach has helped Hydroscapes build up the right reputation with the right customers. And when the rest of the population jumps on the water conservation bandwagon, this irrigation contractor will be poised to swim rather than sink.