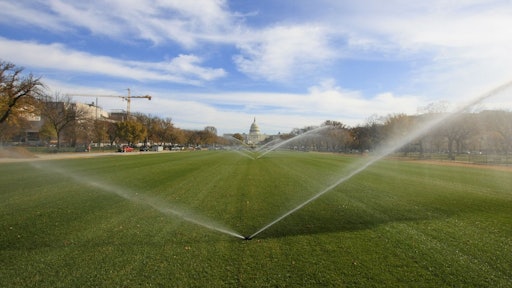 Over the past nine years, the highly visible grassy areas along the National Mall in Washington, D.C. have been undergoing renovation to help reverse the impact caused by up to 3,000 permitted events and 33 million visitors per year. Running from the Capitol building to the Lincoln Memorial, this newly restored 18-plus-acre area now includes a state-of-the-art Rain Bird irrigation system to help it remain beautifully green and healthy year round.
After evaluating the needs of the site and new turf, a water-efficient Rain Bird IC System with Stratus II software was installed. The IC system is ideal for large projects since it requires less wire and fewer components to run the self-flushing Eagle 900 series rotors. The system uses no above-ground equipment that could be susceptible to damage or vandalism while making installation and long-term maintenance easier.
Utilizing exclusive Rain Bird technology, the Stratus II central control operates the IC system at the mall over a secure internet connection from a main office several miles away from the mall. For remote operation and diagnostics, the grounds crew uses the Rain Bird MI Series mobile controller for precision watering while on site. Other advanced Rain Bird technologies being employed at the National Mall to conserve water and resources include Smart Pump, Rain Watch and Smart Weather with a sophisticated weather station. All of these technologies are capable of making decisions that conserve water while providing the control needed to maintain healthy turf. Ultimately, the entire system is designed to increase water efficiency and decrease electricity usage and maintenance.
To learn more about the National Mall renovation project, please read the article shared in the Washington Post.