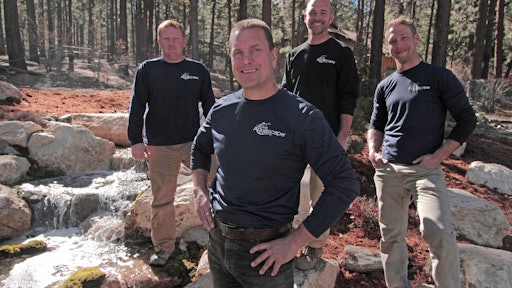 The new "Pond Stars" program from Nat Geo Wild features a group of pond builders who turn barren plots into attractive and inspirational paradises. From the wetlands of Northern Florida to the mountains surrounding California's San Gabriel Valley, Nat Geo Wild's latest series introduces viewers to a new type of behind-the-scenes adventure and a number of furry, feathered and scaled critters. Led by longtime pond expert Greg Wittstock, or "The Boss," the team uses its unique expertise and appreciation for the outdoors to tackle these challenging assignments.
Wittstock, who has successfully developed a childhood hobby into Chicago-based Aquascape Inc., a supplier of water gardening supplies, is joined in season one by co-workers and outdoor enthusiasts Ed Beaulieu ("The Scientist"), Brian Helfrich ("The Foreman") and Chris Hanson ("The New Guy"). Together, the team has more than 75 years of experience in the business, having spent decades both training and educating on backyard redesign. Each team member brings a distinct expertise and personality to the series' transformations and plays a pivotal role in reconnecting clients with the nature around them.
"Pond Stars" premieres Friday, September 9, 2014 at 10 p.m. EDT and 7 p.m. PDT.
For more information on the show, please visit NatGeoWild.com.