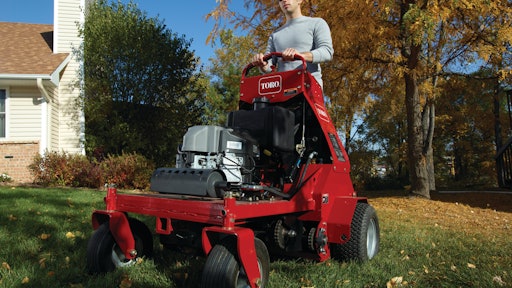 The Professional Landcare Network's (PLANET) 16th Annual Renewal & Remembrance landscaping event is coming up on July 9. Toro, along with distributor Turf Equipment & Supply Company in Jessup, MD, will provide PLANET member volunteers use of its ride-on aerators to help restore the grounds of Virginia's Arlington National Cemetery. More than 400 volunteers are expected to spend the day aerating 200-plus acres, as well as mulching, cabling and installing lightning protection for trees, pruning, planting and liming.
"This event is a way for the landscaping community to show respect to the military men and women who have served defending our freedom," says Ross Hawley, marketing manager at Toro. "We are proud to put our turf renovation equipment to work for such an important effort."
Toro's 30-inch stand-on aerators are designed for high productivity and are compact enough to go most anywhere. With zero-turn maneuverability, variable speed, and reversible traction drive, they can easily get into, and out of, tight areas.
More information on the event can be found at www.landcarenetwork.org/renewal/.