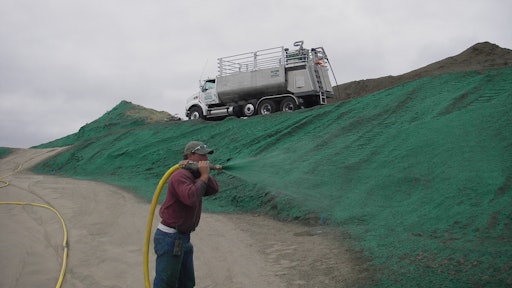 Hydroseeding has been around since the 1950s. Back then, the mix comprised simply grass seed and water. Then the concept gradually grew to include different types of seed and thicker slurries. But despite the mix advances, equipment changed little over the years, many would argue.
Siteworx Global, a new name in the hydroseeding industry, has pulled together a team of industry experts with more than 50 years of combined experience in the hydroseeding market. The Ohio-based company purchased Apex hydroseeders and then used customer feedback, industry experience, and mechanical know-how to re-engineer the product so contractors can take advantage of expanding application opportunities—and the greater profits and stability that come from diverse offerings while using the same equipment.
"Hydroseeding continues to evolve in requirements and applications," said John Imm, director of sales at Siteworx Global. "There are so many slurry options and application ratios designed to meet the specific requirements of each job. Mixes can consist of grass, seed, fertilizer, hydraulic mulch and a multitude of other varieties, and typically the thicker mixes maximize results."
The problem is that materials often pose challenges with hydroseeding equipment.
Abrasive materials, corrosion and tank durability
Adding fertilizer and clay-based materials makes the slurry abrasive, taking its toll on the tank and other components. The smallest chip in a traditional carbon steel tank's coating will inevitably result in corrosion. Even water can damage a steel tank over time.
You can avoid those problems by using durable stainless steel tanks, which won't corrode and last considerably longer than traditional tanks, regardless of the type of materials being applied. "Rust kills hydroseeding equipment, which is why having a tank made almost entirely of rust-resistant materials is a huge factor when considering any machine," said Michael Mark, vice president of operations for Mark Seeding Services, a hydroseeding and erosion control company that serves California and Nevada. "For us, it was a no brainer because the stainless steel tanks meant no more biannual tank maintenance to keep rust at bay."
Having equipment that withstands harsh conditions also helps ensure higher resale values.
Keep in mind that not all stainless steel tanks are created equal. The difference comes into how it's welded—a feat that can be challenging for manufacturers to master. "If stainless steel welding isn't done right, it creates weak points in the tank, which reduces its lifespan," said Mark Middendorf, Siteworx Global president. "However, if it's done right, you'll have a tank that will hold up to just about any type of material you're pumping."
Siteworx Global partners with Lebanon, OH-based Fecon and its team of engineers who specialize in developing heavy-duty forestry and mulching equipment. Together the companies have several decades of combined experience in the hydroseed industry, from landscape contracting to sales and engineering. With Fecon's backing, Siteworx has its own welding engineer dedicated specifically to address the innate challenges of stainless steel.
When working with slurries, there likely will be material that drips onto the outside of the equipment. That's why the Siteworx team has incorporated stainless steel on the outside of the tank as well as the inside. Additionally, the team powder coats railings and uses aluminum for the operator platform—making sure that any area that might come in contact with the corrosive mix is protected. They also design the units to prevent water from collecting around the tank and platform.
Ease of use, extended life
Durability aside, eliminating challenges associated with loading materials into the machine also contributes to operator safety and overall uptime.
"We liked the tank shape because it allowed us to store 20% more material on the top of the deck on the same length machine," Mark said. "And it's not just the specs we liked. It was also the little details Apex built into the design. For instance, the loading hatch height is a little more ergonomic than other equipment we've owned. And its oversized bearings and hydraulic components extended replacement and service intervals."
In the past, contractors often struggled with hydraulic lines overheating in their hydroseeders, and cooling the lines by using complex mechanisms contributed to maintenance costs and downtime.
"The Apex applicators are designed to make the most of the layout with hydraulic lines routed through the applicator's slurry tank," said Jeff Stanley, Fecon vice president of operations and engineering. This effectively cools the hydraulic lines and improves the efficiency of the hydraulic system as well as eliminates the need for a hydraulic cooler and its related maintenance, such as unplugging fins and replacing fans. The superior system design results in improved fuel economy, more horsepower available for work and an all-around better performing machine.
The innovative design changes and component-focused approach addressed another longstanding hydroseeding challenge: equipment lifespan. Before, a blown or non-compliant engine, worn out discharge pump, or damaged hydraulic system could be a death sentence for equipment. Now, new designs integrate the power/pump system as a separate component from the rest of the unit, allowing it to be replaced easily and contributing to the life and resale value of the applicator.
Pay attention to the pumps
Older equipment with centrifugal pumps that have open-face vein impellers, for example, can't effectively handle some delicate warm-season stolons, which become damaged and clogged in the pump's impellers. On the other end of the spectrum, the growing need for thicker mulches to withstand wind, rain and steep slopes also challenges older designs. Having the capability to use engineered hydraulic mulch gives contractors an alternative to seed and straw blankets. But if they're using traditional pumps, the application won't be as efficient or easy.
"Engineered hydraulic mulches help contractors cut costs and time spent on a project," said Wally Butman, vice president of sales at Profile Products, one of the world's largest manufacturers of hydraulic mulch. "The mulches, however, can be difficult to pump because of their high viscosity and thickness, which is why hydroseeding equipment had to evolve with better pumping systems, agitators and hydraulics."
Open-face vein impellers propel the fluid as they spin, which is effective for moving thinner slurries. But thicker mulches simply can't grip the pumps' impellers. Air bubbles form, the pump slips and power drops, causing the mulch spray to cover less distance than thinner slurries.
The centrifugal pumps with a vortex impeller on Apex applicators, on the other hand, move the mulch in a circular direction, so slurries circulate along the perimeter of the pump and have little to no contact with the impeller. This allows delicate seeds and nearly any viscosity of material to flow freely through the pump, giving contractors the ability to complete a wide variety of applications for a diverse range of customers.
The vortex pump combined with minimizing twists and turns in the suction pipe allow for discharge of nearly the entire tank of material without clogging, ensuring steady flow over long distances, greater efficiency and consistent, high-quality results.  And because the pumps discharge practically all the material, there's minimal risk of it affecting the next batch's ratio. Thus, operators save time from having to determine new ratios and make adjustments during the day.
Tank capacity and job size
It is now cost-effective for contractors to tackle large-scale projects due to the development of extremely large tanks.
For example, Mark Seeding Services used a 4,000-gallon machine on an erosion control project at Cold Canyon Landfill, near San Luis Obispo, CA. The contractor recommended using a bonded fiber matrix because the material's high solid-to-water ratio made it ideal for the length and grade of the slope. That meant the job required hydroseeding equipment that could handle the heavy weight while keeping labor costs to a minimum in order to enter a winning bid.
The 4,000-gallon machine allowed the service crew to spray the 150-foot-long slopes, easily reaching the peak and sides. Its service crew completed the 13-acre project in about two days; it might have taken them as long as three days with other, smaller equipment.
Siteworx Global recently launched a 5,000-gallon tank, which will give contractors even more versatility and job opportunity.
Poised for growth
"Expanding into new markets is one of the biggest opportunities for contractors today," Middendorf said. "And now that the mixes and equipment are up to today's business needs and continue to evolve as the industry does, there hasn't been a better time for contractors to jump on this opportunity."
Just as an investor diversifies his or her stock portfolio in order to minimize financial downfall, a contractor can do the same when his or her equipment doesn't pose limits. Picture a hydroseeding contractor that applies relatively thin slurries on small to mid-size residential and commercial properties. Work dips sharply during the middle of summer when it's too hot and dry to spread seed. Providing other services, such as dust control, helps the contractor stay profitable during that time—as long as the equipment can handle a multitude of materials and viscosities.
Since dust control requires thick slurries, it's in high demand during summer, particularly on construction sites. Contractors with the right pump, tank type and capacity can stay on construction projects from the start to finish to minimize dust and erosion, line ponds with bentonite, and then develop vegetation.
"With all the new uses and applications available, the term 'hydroseeding equipment' just doesn't do these machines justice anymore, " Middendorf said. "Most customers think of them as applicators, which helps open new opportunities for revenue."
It's not just grass seed and water for yards. Machines, mixes and applications evolved to take on jobs in fire suppression and in applications at drill pads and pipelines, golf courses, landfills and sports fields, to name a few.
Beyond the advancements in mix and equipment, new opportunities in hydroseeding are enhanced with new technologies that help contractors determine the ideal mix for a project. Profile Products' PS3 material selection software, for instance, uses job parameters that are entered by the contractor to calculate application ratios and offer suggestions for ideal material selections. The system also provides a high-level risk analysis so contractors are prepared for any challenges they may face.
As hydroseed materials evolved, applications expanded. Now machine designs have caught up, from a pump that can move a wide range of materials to long lifespans despite the harsh materials and applications. The foundation is laid and as the industry continues to evolve, contractors are more poised than ever for success.