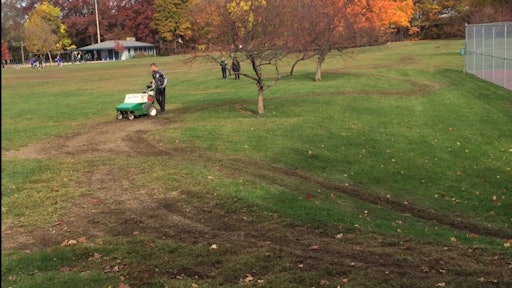 Lawn Doctor
Lawn Doctor of Grand Rapids came to the rescue in the restoration of Wilcox Park after Fall Fury CX bike race caused lawn damage. The Fall Fury event has been held in Wilcox Park in Grand Rapids, MI, for the past three years, and typically the post-event cleanup involved cleaning up debris. However, due to saturated turf, the race caused significant stress on the lawn. In response to the damage, family-owned and operated Lawn Doctor of Grand Rapids donated a hundred pounds of seed and their power seeding services to repair approximately 32,670 square feet of land in Wilcox Park.
Rain showers prior to the bike race left park ground vulnerable, and lead to unanticipated damage. Neighbors reportedly contacted local news stations to express concern in the aftermath of the two-day bike event.
"Typically, Fall Fury doesn't cause much damage to the park, but the rain waterlogged the area and left it extremely susceptible," said Kendall Hines, Lawn Doctor of Grand Rapids manager. "This is a highly trafficked area with restaurants, breweries and businesses surrounding the park. We knew it would remain an eyesore to the local community, even into the spring, if this wasn't addressed. So we had to do something."
Lawn Doctor of Grand Rapids, along with residents in the area, volunteered their time to clean the area of debris and restore the grass. Lawn Doctor used their proprietary power seeding technology to prepare the turf for healthy new growth come springtime. The park, while still heavily damaged, is now better equipped for a lush growth of grass after winter dormancy.
The bike race organizers came out to the park the next day to help fix the damage. "It was very much a joint effort," said Hines. "And it's clear that the Grand Rapids biking community is a tightknit group. They thanked us with 170 new Facebook likes."
"As a family-operated business for more than 15 years, Lawn Doctor of Grand Rapids contacted the event's organizer to restore the park's landscaping as a part of a community initiative," said Scott Frith, CEO of Lawn Doctor. "The dedication of the Hines' family and their drive to give back to their community is impressive. We're very proud that they are part of the Lawn Doctor family."
Lawn Doctor of Grand Rapids offers custom lawn care solutions to residential and business consumers, including lawn services, pest control, and tree and scrub care. The company says they provide homeowners with the latest in lawn care technology and they emphasizes customer service through its satisfaction guarantee.