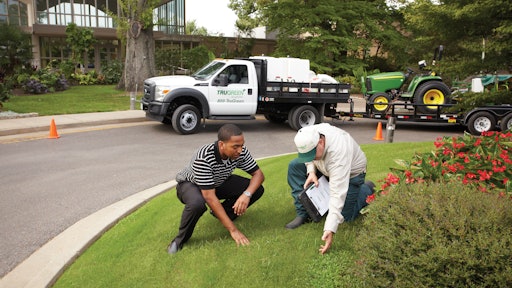 It's August, sun blazing, breezes few and far between, and I've spent about $50 in gallons of gas and upwards of 10 hours a week mowing my two-acre lawn. But when I compare my situation to that of a contract landscaper, my plight pales. I imagine how many commercial and residential properties each business cares for, all with a rapidly dwindling pool of laborers, and spending a few hours on the rider doesn't seem so bad.
It's no secret that the green industry is increasingly struggling with a labor shortage. What remains less clear is a long-term plan of action to fix the complex problem. For the time being, however, TruGreen is looking to help overburdened businesses during a crucial point in the season.
Building Local Relationships
Brent Armstrong, vice president of TruGreen's commercial sales, emphasizes that TruGreen can help landscape contractors when they are busy or short-staffed. "We are not competing against landscapers in our market; rather we come alongside and support them. We don't want to displace anyone; we want to be partners. We can provide support by doing the work that isn't the real reason they got into landscaping," explains Armstrong.
Based out of Memphis, Tennessee, with approximately 260 locations throughout the country, TruGreen recognizes the importance of local connections. "We're able to build a local relationship with a person, not a call center, and deliver what those folks need. We're flexible enough to provide those services and do it with relentless consistency," Armstrong asserts.
TruGreen works to build local relationships through business development employees who meet with landscapers and landscape contractors to determine a plan of action. "We've got boots on the ground everywhere across the country," Armstrong admits. "We're about making sure we're taking care of our landscape partners wherever they need us."
A Team of Scientists and Expertly Trained Staff
Not only does TruGreen work to develop local relationships, but the company also offers custom-designed landscape programs developed by specialists and scientists. Armstrong notes that landscape design varies greatly throughout the country, so plans are designed to fit the particular geographic area. "We design a program that fits within the grass type, climate and budget," he says.
To determine those specifics, TruGreen brings 26 scientists to the table. "If there is a question or concern or program to be developed, we're consulting the best in the industry to bring agronomic knowledge," Armstrong states.
In addition to the development of landscape design, TruGreen also uses a scientific approach to training its lawn specialists. Ph.D. agronomists created an intense program designed to teach specialists to properly perform lawn and landscape treatments. "Our certified lawn specialists are trained, licensed, bonded and insured. Rigorous training sets them apart from well-meaning do-it-yourselfers who often inadvertently overuse lawn care compounds," Armstrong says.
Furthermore, all lawn specialists go through a mentoring program with veteran TruGreen employees. According to Armstrong, "TruGreen specialists participate in the TruGreen AdvantEDGE training series, which is an industry-leading program that consists of intensive multi-week training in the classroom and on-the-job mentoring."
Armstrong mentions that this training not only mentors new associates, but also provides the hands-on experiences necessary for successful specialists. "They learn how to properly inspect and treat customers' lawns by first inspecting and then treating the lawn based on the specific needs of that lawn. Lawn specialists also learn how to educate homeowners about cultural maintenance practices like watering and mowing tips specific to each lawn."
Providing Turf Services with the Environment in Mind
While TruGreen doesn't trim or mow, the company helps create turf, cares for it and provides turf services, such as plant nutrition, and weed and pest control. "We make sure that turf is green, weed-free, and dense through fertilization, micronutrient treatment, fungicide application and aeration, all which facilitate strong turf," Armstrong says.
TruGreen isn't just focused on getting the turf started; it's also committed to any necessary follow-up care. "We want to put a program together with landscape partners to take care of turf from beginning to end. If they call us because they find a problem with weeds, for example, we'll come back and take care of it, no question. We're going to make your life easier," continues Armstrong.
Not only does TruGreen want to make life easier for its clients, but the company wants to make it safer as well. "TruGreen is committed to the development of new and better methods for taking care of the space that our customers call home," Armstrong notes. "This constant innovation and investment in research helped us pioneer a number of common practices in the lawn care industry."
In order to lead the way in the lawn care industry, TruGreen focuses on allowing customers to enjoy their outdoor space while keeping their health in mind. "We actively participate in a wide array of forums, committees and panels focused on methods of enabling our country to enjoy the environmental benefits of healthy turf, while minimizing pesticide and fertilizer use," Armstrong confirms.
TruGreen also makes a point to work with government policymakers on the local and national level, and most recently joined with the Arbor Day Foundation to provide free trees for communities in Buffalo and Syracuse, New York; Detroit, Michigan; and Boulder, Colorado; all of which were affected by the emerald ash borer beetle.
Irrigation Repair and Maintenance
In the past few years, TruGreen started getting requests for irrigation system repair and maintenance, so the company added that service to its repertoire as well. "We heard consistently from our landscape partners that they weren't able to keep up with demand for the repair and maintenance of irrigation systems," Armstrong says.
Forty TruGreen locations throughout the United Sates now offer irrigation system repair and maintenance to commercial and residential customers. According to Armstrong, "Landscape partners use us in the summer months or during a month without rain. They have to mow and keep up with irrigation requests, and because of the sensitivity and need for water, this has to be done quickly."
Community-Centered Commitment
Just as TruGreen touts its commitment to local relationships, the company also commits to those communities it serves. "At TruGreen, we feel that it is our responsibility as a good corporate citizen and good neighbor to give back to those in need when we can. This means we reflect our commitment to the health and well-being of our communities in both our professional services and our corporate culture," Armstrong says.
One way TruGreen gives back is through its Lawn Stars program in which the top 63 offices donate to the local charities of their choosing. "Giving back to the neighborhoods we serve and the people who help build them is at the core of our business," Armstrong says. Each year, local charities receive thousands of dollars from TruGreen branches.
Additionally, TruGreen funds the Green for Givers campaign, which provides grants to local volunteer organizations. "We recognize associates' personal community involvement with grants on behalf of associates to the volunteer organizations they support," he says.
TruGreen also joins local branches of organizations, such as St. Jude Children's Research Hospital, Boys & Girls Clubs of America, Wounded Warrior Project, Children of Fallen Patriots, American Red Cross, The Salvation Army and Habitat for Humanity.
TruGreen helps landscape contractors suffering from the labor shortage by working with them to care for turf and irrigation systems, supported by a scientific approach, expertly and professionally trained associates, and a focus on community.
Angie Mellor teaches communications and writing classes at Western Technical College in La Crosse, Wisconsin, while freelance writing and editing.