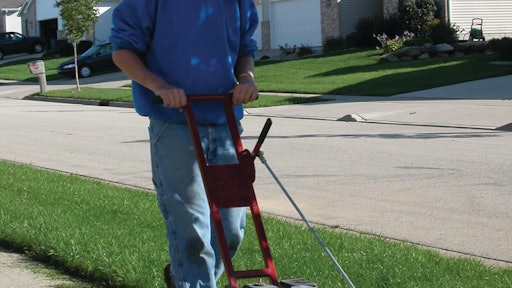 Landscaping that features clean edges is a sign of quality work and attention to detail. For the homeowner, a string trimmer flipped on its side may produce a good enough edge for their standards, but for the more serious weekend warrior or the landscape contractor, a dedicated edger is the best solution for a clean line.
"A lot of consumers just choose to use their trimmer line to edge," says Ben Taylor, a sales associate at Countryside Small Engine Service in Lawrence, KS. "You get somewhat of the same effect, but it is not as crisp and clean as an edger."
For the serious homeowner—or the contractor who is performing a service for their customer and wants to impress with a clean edge—there are multiple edger options to choose from. Walk-behind edgers are great for creating that first clean cut, but when it comes to maintaining the clean line after time, more and more users are choosing a multi-use tool with an edger attachment.
Walk-behind wheeled edger
When looking to first establish a clean edge or shape a bed, a four-wheeled bed edger like that from Brown Manufacturing is a good tool for the initial creation of a clean line. Relatively speaking, not too many of these units are sold, but dealers often have them available for purchase or rent.
"The four-wheeled bed edger is ideal for edging around trees and flower beds," says Sandy Wood, sales associate at Boones Creek Outdoor Power Equipment Center in Gray, TN. "Contractors will purchase them, but they also have the option to rent. It is nice for them because if they don't need it for everyday jobs, it's just a small rental fee."
Taylor says his dealership sees a mix of homeowners and commercial users renting the four-wheel edgers, but use is weighed more heavily on the commercial side. Features that lend to easy cleanup after an edge is clipped help save contractors time on the job.
"With the Little Wonder BedShaper, the sod can be shredded or left in a strip that can either be removed and discarded or replaced when the trench work is done to leave a pristine finish," explains Linda Beattie, brand marketing manager for Schiller Grounds Care Inc., manufacturer of Little Wonder products. "This unit is preferred by commercial landscapers, turf care professionals and superintendents who perform large property care and maintenance."
Some walk-behind edgers have additional-use features. NorthStar offers an edger-trencher combination unit that can be used to install irrigation systems and wiring. While safe for general landscaping, it should not be used near sidewalks.
Stick edger
Handheld or stick edger models are lightweight and easy to maneuver. They are best suited for touchups after a clean edge has already been established by a walk-behind or bed edger.
"Handhelds by design are lightweight, smaller engine/motor units that are great for quick touchups and can tackle new growth in an existing edge," says Beattie. "For example, a landscaper or homeowner may use a line trimmer or handheld stick edger to quickly clear new grass growth from sidewalks or tree ring edging after each mowing."
There are some added comfort features on certain edger models like the Stihl FC 90 Pro Edger with curved shaft for easier operation. For the most part though, the stick edgers are not designed for extended use, and could cause fatigue if used to tackle a larger, lengthy edging job.
"Unit vibration and weight eventually cause user fatigue with extended use," says Beattie. "It's just not the ideal tool for large-property or all-day use, and they often lack the power to cut new edges through existing established turf at a deep level. They certainly cannot cut a new tree ring, trench, or follow intricate shapes without a guide wheel, and that is only available on units with a long enough wand to reach the ground."
Multi-tool attachment
Since stick edgers serve one purpose only, they are not the best sellers at most dealerships. Customers more and more are looking for equipment that offers many uses and both landscape installation and maintenance solutions.
"We do sell handheld dedicated edgers, but having just that one purpose really deters users so we don't sell many," explains Taylor. "We sell more of the handheld multi-tool edgers than we do the stick or wheeled. Commercial cutters are usually the ones to purchase the units with various attachments. They want the versatility of having more options rather than having one complete unit where all it does is edge."
Many contractors and even homeowners are turning to multi-use tools. Power sources that accept different tool heads allow the user to buy different pieces as they fit into their landscape needs. Matt Post, owner of Precision Outdoor Power & Sharpening Inc. in Riverton, WY, carries both stick edgers and the Shindaiwa Multi-Tool System that accepts different attachment heads.
"More people are starting to choose the adaptable option," Post explains. "It is an easy add-on to what they have, and they don't have to spend another $500 to buy the unit. They can spend $90 on the attachment and they already have the power unit."
For contractors, the multi-tool unit may be the best option when out on a property-maintenance job that requires multiple tasks to be completed. "Commercial landscapers like the edgers that can go on the end of the unit," says Wood. "You can use it as an edger, trimmer, pole saw or hedgetrimmer."
For a contractor on the job, being able to easily switch out attachments on the power head is paramount. For example, with the Stihl KombiSystem, you just twist and slide out the old, then slide and twist in the new.
If you are trying to decide on a new edger, consider if it will be used to create or maintain an edge. There are many products to help you along the way. A multi-tool unit could be the best bet for your investment if you want to be able to do more with less.