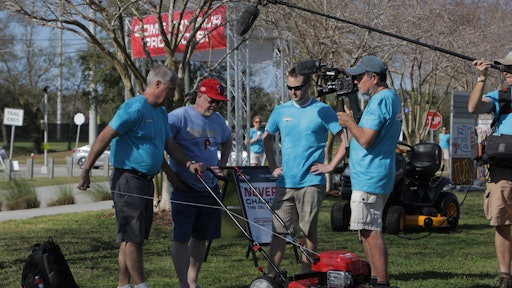 For the second year in a row, Briggs & Stratton has taken to the road to showcase power equipment innovation heading into the spring season. And based on reviews from more than 200 consumers, the products were a hit.
The engine manufacturer recently spent two days in Clearwater, FL, talking with consumers and giving them the opportunity to test out an array of outdoor power equipment, including:
EXi walk-behind mower that never needs an oil change. With Just Check and Add, only add oil when necessary. (Under normal use conditions. To see complete details, refer to your Operating Manual.

Briggs & Stratton

standard warranty terms and conditions apply. Just

Check

& Add does not extend the warranty period.)
Quiet Power Technology featuring Just

Check

& Add for a walk-behind mower that not only never needs an oil change, but also is up to 60% quieter than comparable gas-powered mowers,

Briggs & Stratton

assures.
InStart featuring Just

Check

& Add technology that features a lithium-ion starting system for easy, reliable starting and never needs an oil change.
Snapper 360Z residential zero-turn mower with an integrated cargo bed, providing much more utility than a traditional zero-turn mower.

Briggs & Stratton's

Pro Series Pressure Washer with commercial strength and durability for the toughest jobs.
Troy-Bilt All Steel Base pressure washer brings strength to the residential pressure washer category.

Briggs & Stratton's

new surface cleaner pressure washer attachment with a wider surface area to scrub surfaces up to four times faster.

Briggs & Stratton's

Ready Start for Ride technology means no priming or choking on your lawn tractors, just turn the key or push the button.

Snapper's

line of 60-volt interchangeable battery powered tools including a leaf blower, hedgetrimmer, chainsaw, walk-behind mower and string trimmer.

Briggs & Stratton's

new Gas Off product, the only product designed to remove the odor and residue of gas and diesel from your hands, clothes, car and outdoor power equipment.
After trying the equipment, visitors had the opportunity to tell Briggs & Stratton what they thought on video or via an online rating or review. Many took up the offer and results were exceedingly positive. Of the 213 reviews collected over two days in Florida, the average score was 4.78 out of 5.
"There is no substitute for getting to talk face-to-face with the people who use our equipment," said Carissa Gingras, marketing director for consumer engines and service at Briggs & Stratton. "Hearing what they like and don't like is what fuels our innovation and ensures we're developing products that answer a need in the marketplace."
Companies in this article