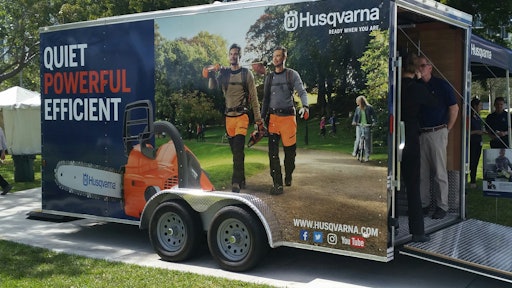 Imagine a day when your equipment requires no gasoline, and sometimes not even an operator. Imagine a drone delivering trimmer line or a forgotten tool to a jobsite. Imagine a significant increase in sustainable urban green spaces. Imagine a day when landscaping is viewed differently with a much higher degree of respect.
Equipment manufacturer Husqvarna held an event in Miami on February 23 to take a look into the future of landscaping. The basis for discussion was Husqvarna's Silent City initiative, which originated in Europe but takes a global look at the future of urban parks and sustainable green spaces.
Michelle Sordi, Husqvarna's director of marketing, walked through several revealing statistics from Husqvarna's "Future of Urban Parks Report" as well as its "Green Spaces Survey":
56% of U.S. consumers visit a park once a week
71% think parks will occupy a larger share of cities in 2030
78% want to see eco-friendly outdoor power equipment being used
65% would prefer to choose a landscaper who used it
72% would be willing to pay more for said landscaper
57% would be willing to pay more for a landscaper who operated quieter equipment
Is lawn and garden equipment technology on pace to meet this growing, in some cases shifting demand? "I'd say it is very close," Sordi shares.
Leading landscaper outlines shift to battery
Jeff Sebert of Sebert Landscaping was invited by Husqvarna to discuss his firm's transition to battery-powered handheld equipment. Sebert Landscaping is a 350-plus-employee firm serving Chicagoland and southern Wisconsin with seven branches.
"I've always had a strong passion for the environment," Sebert shares. That's why he has made sure his company's headquarters in Bartlett, IL, is a LEED-certified facility. It's why his company has transitioned 60% of its mower fleet to propane. And it's why 20 of his 72 crews will be operating out of solar-equipped trailers this season.
Sebert's has actually been running solar-equipped trailers for the past six years. Ralph Meyer, fleet manager, says they have learned a lot and now have things dialed in pretty tightly. "We've been able to determine our real needs and scale some things back," Meyer says. "For instance, we've cut back from five solar panels to two. Overall we've been able to reduce the cost of outfitting a trailer from around $8,000 to just under $5,000. Over the typical 12-year life of a trailer, our initial estimates show a positive ROI of at least a couple thousand dollars."
The solar panels are helping to keep batteries charged—batteries used to power a growing arsenal of handheld equipment. Steve Pearce, general manager, says convincing some of the crews to operate battery equipment was a challenge at first because they were so entrenched in the "macho gasoline culture". "It's different today," Pearce points out. "Now many of our crews are disappointed when they are told they will be operating gasoline equipment."
Although less than a third of Sebert's crews are operating battery equipment, that number is growing. In fact, five additional trailers are being outfitted for solar this season, bringing the number of crews from 15 up to 20. That number should continue to grow. "When you think about things like emissions and emissions regulations, it just makes sense to start moving away from that type of equipment," Sebert says.
Of course, it also has to make financial sense. For Sebert's, the numbers add up. It takes time—several years—but they add up. Some smaller contractors might wonder if the numbers would add up for them.
It's important to understand that the transition to battery is scalable. Take Sebert's, for instance. A given trailer shows a couple thousand-dollar positive ROI over the life of the trailer. That is one trailer. It just so happens that Sebert Landscaping has 72. But if you only have one trailer, the same ROI calculation would apply. Thus, battery could prove to be financially viable for a smaller operator, too—perhaps even more so because the upfront investment in batteries, chargers and solar panels is considerably less.
Ralph Egües, executive director of the National Hispanic Landscape Alliance (NHLA), was one of the event's industry panelists. He believes that for more landscapers to embrace battery technology, it really comes down to education. Dealers can play a huge role in that, since most small to mid-size landscape companies are getting the majority of their information from the dealers they buy from.
Dealers must play a very important role in the adoption of battery power for another reason: When battery comes in, the aftermarket sale of oil, filters, spark plugs and service labor goes out. That's money out of the dealer's pocket. That said, dealers would have the opportunity to generate sales dollars upfront via batteries and chargers. Perhaps dealers could even play a role in the outfitting of trailers with solar panels and other required accessories. Additionally, some dealers might be more than happy to wave bye-bye to the headaches and hassles associated with ethanol-inflicted two-cycle engine repair.
Robots and equipment that talks
Another topic discussed at the Miami event was Husqvarna's robotic Automower. Giovanni Crespi, Husqvarna's director of product management, says there are already close to 1 million satisfied consumers globally who have purchased an Automower. This has set the groundwork for a push into commercial applications. "We are ready to approach the commercial market now," Crespi says.
Sebert Landscaping has a robotic Husqvarna Automower cutting the front lawn of its Bartlett, IL, headquarters. It has certainly captured a lot of peoples' attention and generated some buzz. Sebert thinks the robotic mowing concept has a real opportunity to penetrate the residential market—particularly where smaller lots are concerned.
There are also applications in commercial, Sebert adds, such as green roof maintenance. Husqvarna research also identifies hard-to-access, high-traffic applications such as roundabouts and medians.
Finally, Husqvarna also discussed its Cloud-based Fleet Services program, which enables contractors to affix small devices to their equipment to monitor idle time, service needs and overall performance. Husqvarna Fleet Services then provides contractors with critical insights into machine health, crew habits and productivity, and more. Subscription pricing details are still being worked out but an announcement should take place later this year.