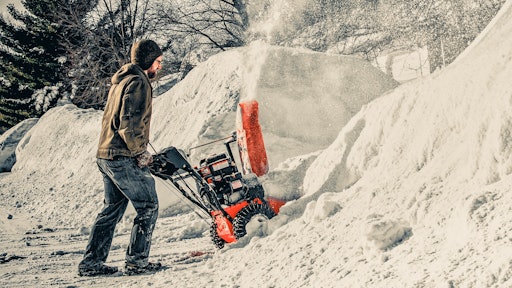 Photo by Todd Trapani on Unsplash
Fall is a busy season in the yard for home and business owners. After the lawn gets its last cut before winter, it will be time to put away spring and summer outdoor power equipment, like lawn mowers, leaf blowers, chainsaws and trimmers. And you will need to get snow throwers, generators and other small engine equipment out and ready for winter use.
"Doing good maintenance in the fall means that your lawn mower will be in ready when spring arrives and you are eager to tackle landscaping projects," says Kris Kiser, President and CEO of OPEI. "As you get ready for winter, now is also the time to do snow thrower and generator maintenance. You should also review safe handling procedures so you know how to use your equipment and are ready when snow falls."
Here are some tips to help you avoid unnecessary damage to your equipment and ensure your safety as winter arrives:
Review your owner's manual
Re-familiarize yourself with how to handle your equipment safely and any maintenance needs. If you lost your manual, you can usually find it online. Save a copy on your computer if possible, so you can consult it when needed. Be familiar with your equipment and all its features, including how to turn it off quickly and safely.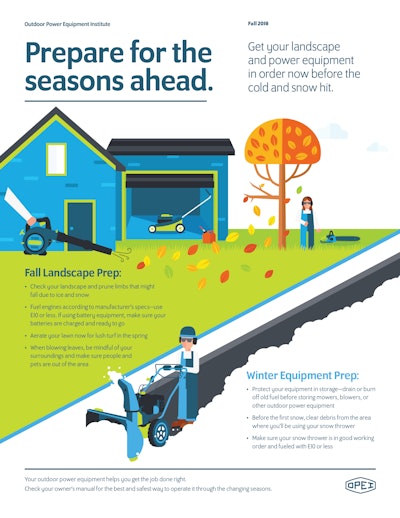 Service all of your equipment
Before storing equipment you won't need during the winter months, clean and service it yourself or take it to a small engine repair shop. Drain and change engine oil and dispose of old oil safely. Service the air filter and do other maintenance activities as directed by your service manual. Check all winter equipment and see what maintenance and repairs are required.
Blade Maintenance
If you have any high-quality trimmers, pruners, or other bladed lawn equipment, you should be sure to clean and grease the blades and store them properly at year's end. Cleaning blades will remove residual sap or bio matter leftover from yard work, which is important as any residue that freezes onto the blades will be difficult to remove in the spring.
Oiling your blades will help protect them from rust. Even water-tight storage can see fluctuations in humidity over several months, so the added moisture protection will help extend the life and quality of your blades. Linseed oil is a good universal oil for blades, but check the manufacturer's recommendation to see if there is a specific type of oil or grease that should be used on your equipment.
Once your blades are properly cleaned and oiled, be sure to sheath them or wrap them in wax-sided cloth to preserve the oil and further prevent rust.
Handle fuel properly
You should never store any equipment with untreated gasoline inside. This is because ethanol-based gasoline goes bad quickly, and when it does, it can damage the inner workings of your equipment.
Buy the type of fuel recommended by your equipment manufacturer no more than 30 days before you will use it. You should use fuel with no more than 10% ethanol in outdoor power equipment.
Unused gas left in gas tanks over the winter can go stale. It can even damage your equipment. For equipment you'll store, add fuel stabilizer to the gas tank. For winter equipment, be sure you know what fuel your manufacturer recommends be used. Most outdoor power equipment is designed, built and warranted to run on ten percent or less ethanol fuel.
Charge the battery
If your equipment has a battery, remove and fully charge it before storing. It's important batteries not be stored on metal shelves or touching metal objects. Store the battery on a plastic or wood shelf in a climate-controlled structure.
Find the Right Storage Spot
Store your spring and summer equipment in a clean and dry place such as a garage, barn or shed.
Garages are usually the sturdiest and most protected places to store equipment, but a shed or separate storage container can work too. A good tarp can also work in a pinch but is not recommended as it's easy for the elements to still affect your equipment. The main goal in choosing a good storage spot is to keep water from rusting your equipment through a repetitive cycle of freezing and thawing.
Winter equipment should be kept away from the elements, but be easily available for use when needed. Always keep your outdoor power equipment out of the reach of children and pets.
Organization
Once you've picked a good place to store your lawn equipment and have everything cleaned, prepped, and ready to be put away, it's time to figure out the best way to organize your tools.
Start by considering the likely timeline of use. If you generally use your trimmers before you need to cut your lawn, you should store them closer to the front of your garage or storage shed. This way, you're not clambering over equipment you won't need for a few weeks to get to the tools you need now.
You should also elevate as many things as possible. Shelves, peg boards, and ceiling hooks and racks are relatively easy to find and install and will keep your equipment off the floor. This will maximize the space you have to work with and will prevent heavier equipment from leaning on and potentially damaging smaller or more delicate tools.
Do a yard cleanup
Clear the paths you use regularly in your yard, especially during the winter, when snow can "hide" things. Put away warm weather items. Make space in your garage or basement before the weather changes, so you have room to store larger yard items, like patio furniture, umbrellas and summer toys.
Have weather appropriate extension cord for generators
Keep heavy duty weather proof extension cords on hand to use with your generator.. Ensure the length of the cord is necessary to operate the generator a safe distance from the house or building. Never operate a generator indoors, in a garage, breezeway or under an open window.