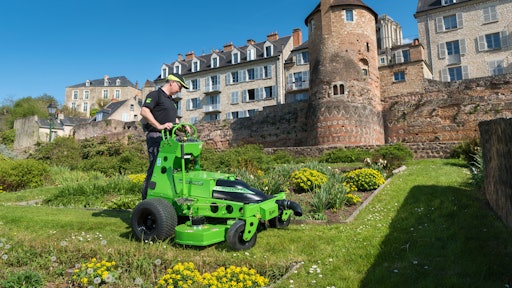 Mean Green
Unit sales of lawn and garden equipment in the United States are thriving right now and will make 2021 a very nice year for the market. The products included in this article are:
Commercial Walk-Behind Mowers,
Zero-Turn Mowers,
Walk-Behind Rotary Mowers,
Snowblowers,
Lawn and Garden Tractors,
Chainsaws,
Edgers,
Hedge Cutters,
Leaf Blowers,
Leaf Vacs and
Trimmers.
These products are split into two categories: mowers/snowblowers and handheld equipment. This is a very large market in terms of the sales volumes sold in the United States each year, and this market is growing.
Sales projections for 2021 are edging towards 16 million units, with handheld equipment accounting for almost 60% of that number. With more people working from home because of COVID-19, the need by consumers for more equipment has boosted the sales increases.
The other interesting aspect when looking at this market is how much of the product is electric (either battery or corded) and what is changing about the adoption from internal combustion (IC) products to electric units.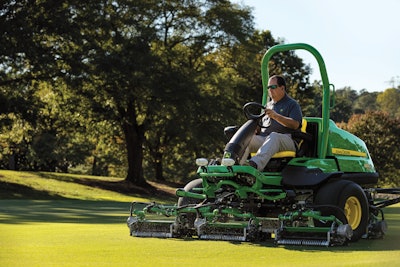 Mowers and snowblowers
The mower and snowblower products within the lawn and garden equipment market in the United States include commercial walk-behind mowers, zero-turn mowers, lawn and garden tractors, walk-behind rotary mowers (consumer) and snowblowers.
Adoption rates toward electric drives for the riding mowers and commercial mowers are less than Power Systems Research (PSR) is projecting for handheld products.
Commercial walk-behind mowers
Commercial walk-behind mowers (heavy-duty hydrostatic drive) are seldom used for residential applications. These mowers are expected to see a sales increase of about 7.5% for 2021. Sales growth will start to level off around 2023 and 2024. The main players are Scag, DR, John Deere, Ferris, Gravely, Exmark and Hustler.
Mean Green Mowers is currently making an electric commercial walk-behind mower, but that market has not really taken hold yet.
Zero-turn mowers
Zero-turn mowers are very popular among homeowners for residential use and contractors for commercial duty. These are riding lawn mowers that have a turning radius of zero when the two wheels rotate in the opposite direction. Some of the leading brands sold in the United States are Bad Boy, Cub Cadet, John Deere, Toro and Kubota.
Electric models are not as popular at this point, and PSR is projecting only 25% of the market to be non-IC by 2026. The main electric players currently are Ryobi, EGO and Mean Green Mowers. This total market is expected to increase by close to 9% this year and another 7-8% in 2022.
Lawn and garden tractors
Lawn and garden tractor sales for 2021 should be 6-7% higher than the amount sold in 2020. These riding lawn mowers are versatile and give homeowners many options/attachments to complete other tasks as well. Lawn and garden tractors are rarely used for commercial work.
This product has the largest volumes for all the riding lawn mowers. Again, the adoption of electric drive types has been slow to this point. The main brands include Husqvarna, John Deere, Cub Cadet and Craftsman.
Walk-behind rotary mower
Walk-behind rotary mowers are push-behind lawn mowers with a rotary cutting blade which rotates around the center. Sales in the U.S. this year should increase to over 5 million units. Another increase of about 4-5% in the sale of lawn mowers is expected for next year.
Some of the common brands sold are Toro, Honda, Craftsman, Troy-Bilt, EGO, Greenworks and Ryobi. Currently gasoline mowers account for 80% of the market. PSR is anticipating the share for electric lawn mowers to be close to 45-50% of the market by 2026.
As with most of these products discussed in this report, people have invested in their lawn and garden equipment over the last 18 months as they have spent more time with their lawn and gardens during the pandemic.
Snowblowers
The sale of snowblowers is very much related to weather and is seasonal for the most part. Ariens is the market leader without any electric models yet. Following Ariens, other brands include Toro, Snow Joe, Troy-Bilt, Simplicity and Husqvarna. Snowblower sales are expected to increase 8-9% over 2020. PSR is projecting the market to be 60% electric drive by 2026.
Handheld equipment market
PSR is projecting the handheld equipment segment to increase by 9% this year from 2020. It also anticipates this market will continue to grow by over 12% during the 2-year span 2021- 2023. Much of this growth is consumer driven.
Chainsaws
Chainsaws make up the largest sales volume in the handheld equipment category. The market is now over 3 million units. PSR is projecting this product to grow 9% from 2020-2021. Some of the main players in the chainsaw space include STIHL, Poulan/Poulan Pro, Echo, Husqvarna and Ryobi.
The market right now for chainsaws is evenly split between IC and electric (51% versus 49%). By 2026, PSR is projecting that electric chainsaws will be over 70% of the units sold in the United States.
Edgers
The edger market is growing by 8% this year. Edgers are used to trim/cut boundaries between a lawn and streets, driveways, paths or gardens. The main brands for lawn edgers are STIHL, Greenworks, Black+Decker, Troy-Bilt, Ryobi and Toro.
The adoption rate for electric edgers will be about 80% by 2026, up from 60% this year.
Hedge cutters
Hedge cutters are following a similar growth rate as edgers this year at about 8% from 2020 sales. Electric hedge cutters already account for 75% of the market currently. That will continue to grow over the next 5 years and IC units will only account for less than 10% of the market.
Leading players for hedge cutters include STIHL for both IC and electric units, Black+Decker, Sun Joe, Echo, Makita and Ryobi.
Leaf blowers and leaf vacuums
Leaf blowers and vacuums are also products within the handheld category of lawn and garden equipment in the U.S. Sales of this application in the U.S. are projected to grow 8.5% over 2020. Blowers are becoming more and more popular with homeowners as they are easy to use and very versatile.
Sales volumes are projected to be close to 1.5 million units in 2021. The leading brands are Black+Decker, Echo, STIHL and Greenworks. Currently the market is 80% electric drive and again that will only increase by the year 2026.
Trimmers
The last product to discuss in the handheld segment is the trimmer. This tool is also known as a string trimmer, weed whacker and weed whip. Trimmers use a flexible line/string instead of a blade to cut. Sales of trimmers in the U.S. are expected to increase between 8 and 9% in 2021 compared to 2020.
That growth will continue for the next 5 years and will increase 19% from 2021-2026. Electric models have 62% market share. As with the other handheld products, electric trimmers sold in the U.S. will continue to grow and be over 80% of the market by 2026.
Gasoline trimmers are still favored by contractors. The leading producers of trimmers are Troy-Bilt, STIHL, Black+Decker, Sun Joe and Husqvarna.
U.S. lawn and garden equipment sales have done well during the pandemic as many people are working from home and finding more time to work on their outside property. Lawns, gardens and foliage have been tended to more often now than in the past. Hence more lawn and garden equipment has been sold. Rising consumer confidence and more disposable income has prompted spending, which has driven the demand for new equipment.