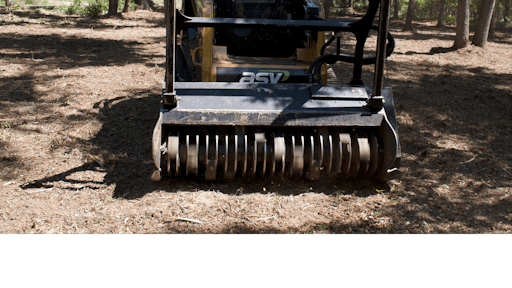 ASV
In 2001, Walter Oliver purchased a piece of property near Beaufort, South Carolina, that required heavy underbrush removal and maintenance.
Preferring to handle the work himself, Oliver bought a tractor with a rotary-mower attachment and began clearing the plot. Shortly thereafter, neighbors, friends and family began calling on him to remove underbrush from their land, and Oliver's Bushhogging, LLC was formed.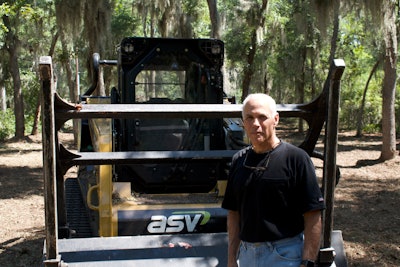 "When I got started, there was a big demand for bushhogging services in the area," noted Oliver. "The business grew quickly that first year; however, I was always searching for something that could take out bigger trees and do a better job."
Oliver developed an idea for a more efficient process and began looking for skid steers with mulching attachments as an alternative to the traditional tractor and mower.
The problem at the time, however, was that no one made mulching-head attachments for skid steers. Rather than giving up, Oliver discovered a Canadian company that was in the process of designing the type of mulching head he wanted. Oliver purchased the product and retrofit it to accomplish the process he had in mind.
"We put that mulching head on our ASV 4810," recalled Oliver. "Like anything on the first try, it took a little while to get right; however, eventually the 4810 and the attachment made a great combination. We were able to clear more land quicker and have owned every forestry model ASV has made since then."
Full-Service Operation
As one of the largest land-clearing companies in the southeastern United States, the 25-employee firm mainly serves an area from Charleston, South Carolina to Savannah, Georgia.
"We clear small trees and underbrush for people who are looking to sell property," explained Oliver. "Our end product is a park-like finish, which draws customers and sets us aside from the competition. We pride ourselves on the quality of work we provide."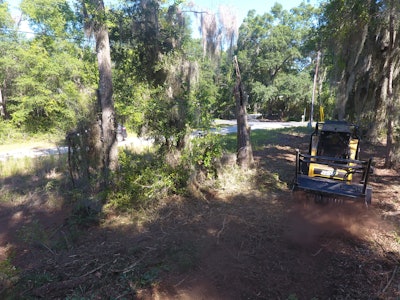 Oliver sees many benefits to mulching compared to a more traditional way to dispose of materials after clearing a property.
"In the past, land was excavated and bulldozed, and the leftover material was put in a pile to be hauled off or burned," explained Oliver. "By mulching the site, the debris goes back into nature and creates nutrient-rich soil instead of being wasted in a landfill."
Oliver's Bushhogging stays busy year-round and, on average, puts 1,500 hours on each piece of equipment annually. Recently, the firm worked with a landowner to clear several acres of underbrush on a site near Beaufort.
"The property was heavily wooded with thick underbrush," said Oliver. "The owners were trying to sell the land but couldn't get anybody to walk through it. They hired us to clean all the underbrush and open it up so that someone driving by could stop to walk around and see that the ground is good."
While crews typically work near the East Coast, they will travel further for the right project. Recently they made a trip to Oklahoma for the company's largest contract to date.
"We were brought in to help with 110-miles of power-line installation," said Oliver. "Another company went ahead of us and logged the trees, but the owners of adjacent properties did not want to see leftover logging debris. We cleaned that up as well as the treetops. Then we mulched everything to a fine product."
The Right Fit
The business currently uses several ASV RT-120 Forestry compact track loaders for mulching and finishing touches. The machine boasts a 3.8-liter diesel engine that provides 120-horsepower and 360 foot-pounds of torque to power the direct-drive hydraulic motors. It features a rated operating capacity of 3,745 pounds and an operating weight of 12,255 pounds.
"ASV has done a great job making their machines," stated Oliver. "They power the mulching heads very well and have a low ground pressure, so we don't have to worry about rutting up an area if it's wet."
The reliability and ease of maintenance are two major factors that have kept Oliver loyal to the ASV brand for nearly two decades.
"One of the great things about the ASV 120 Forestry is the reliability of its Posi-Track undercarriage," noted Oliver. "It handles slopes really well, and we've never had a track come off. The undercarriage is designed to be self-cleaning. It's wide open, doesn't collect debris and is easy to blow out with an air gun or a regular garden hose. We can go 2,000-plus hours without thinking about it.
"Other manufacturers make it difficult to clean their machines," he continued. "With the ASV track loaders, all the pans remove very easily or individually on the bottom of the machine. It's our practice to drop the pans underneath the engines once a week, which allows us to remove the debris and reduces the chance of fires or other potential problems."
The cooling package offered by ASV machines also draws Oliver in.
"After doing this for almost 20 years, one of the things I like about the 120 and why I stick with ASV, is the cooling package," shared Oliver. "ASV machines never get hot or overheat. They've really figured out how to keep the machines cool and reliable."
When Oliver reflects on the success of his business, his thoughts return to that first ASV 4810.
"That machine and mulching head put me on the map; I still have the 4810 and use it on a weekly basis around the shop and as a clean-up machine with a grappling rake," related Oliver. "This shows the reliability of ASV products and how they stick around for a long time."