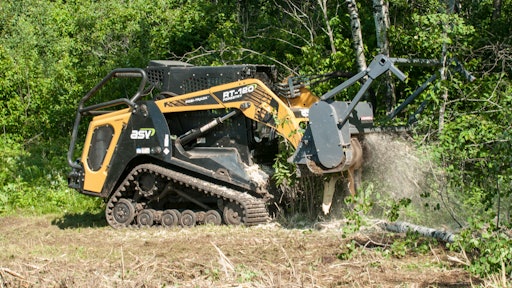 ASV
There are several choices when selecting a land clearing option. You can choose between skid steers or compact track loaders (CTLs) with attachments, forestry specific loaders with attachments or dedicated mulching machines.
Mulchers are hydraulic-intensive attachments. This makes it important to match the capabilities of the loader and the attachment. "Understand the specs of your loader, understand the specs of your attachment and make sure to choose the two that mate together best in the end," says Buck Storlie, product manager, ASV.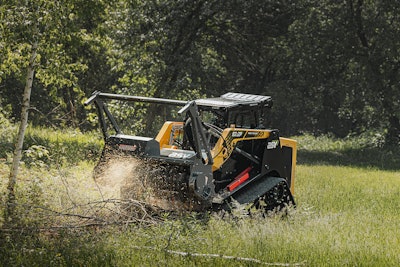 Choosing between a skid steer or CTL, a forestry-specific model or a dedicated mulching machine really comes down to utilization and jobsite requirements. One of the advantages of a compact track loader is size. "They are smaller, lighter, easier to transport," notes Storlie. The universal nature of skid steers and compact track loaders allows multiple attachments to increase utilization.
CTLs offer an advantage in terms of versatility and travel speed. "The true advantage is the design versatility, which is enabled by the wide variety of attachments that can be quickly paired with the compact track loader to allow it to effectively undertake and complete any number of tasks," says Kevin Coleman, product specialist, Caterpillar. "The CTL platform brings with it the ability to perform many different tasks in a land clearing application due to its quick-coupler interface that allows for quick tool changes.
"As an example, a mulching head can be attached to cut and mulch vegetation, trees, saplings and undergrowth from overgrown agricultural or forested terrain. A grapple rake could then be attached to help sort debris, stumps and large logs into piles," he points out. "If the material has been mulched into a fine byproduct, a power rake can be attached to mix it into the soil while loosening and leveling the ground, leaving a graded surface prepped for seedlings, if needed."
Travel speed is also an advantage with the CTL. "The standard two-speed travel allows for quick and easy movement into the brush or the area being worked and, conversely, it allows for faster travel out of the work area to move to the next job," says Coleman.
Upfit Skid steers and CTLs for Safety
Skid steers and CTLs will need to be upfitted for land clearing applications. "If you jump in a standard CTL and go out there, you don't have the level of protection necessary to make sure that operators are safe day in and day out," says Storlie.
The most important safety item is thrown object protection for the operator. "You must have 1/2-in. polycarbonate minimum," says Matt Warfel, division sales manager, Fecon. "It's a safety requirement."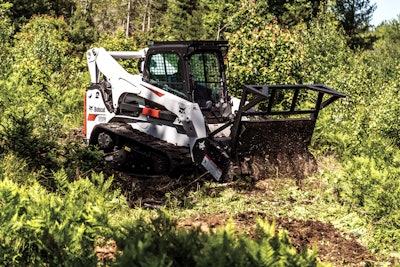 Bobcat Company offers a forestry application kit that can be paired with CTLs. "Designed to protect operators and business owners' investment in the toughest conditions, the forestry application kit must be installed on a compact track loader to operate forestry attachments," says Britta Kopp, marketing manager, attachments, Bobcat Company. "The exclusive forestry door protects operators from flying debris and objects. Other benefits include an ISO 3449 Level II Falling Object Protective Structure (FOPS) and debris guards for muffler, lights and hydraulic components."
Bobcat's forestry application kit includes:
Fire extinguisher mounted in the cab for quick access in an emergency
Forestry door made of 3/4-in. laminated polycarbonate installed — some forestry attachments will not operate without the door installed; emergency exit allows removal of the front door, if necessary
Front and rear light guards ensure branches and debris won't break lights
Hydraulic quick-coupler guard, along with no exposed fittings on the hoses, helps protect couplers, hoses and wire harness from falling trees and branches
Level II FOPS protects operator and cab from falling trees and objects
Muffler guard protects the tailpipe from damage and reduces material buildup in the engine compartment (except on Tier 4 Forestry Application Kits)
Polycarbonate top, rear and side windows (1/4- or 1/2-in. polycarbonate) protects the operator and maximizes visibility
Forestry specific models address most safety concerns right from the factory. "With our forestry specific models, you have Level II falling object protection, poly doors and an operator protective structure meeting all the forestry standards. The forestry specific models are becoming more popular for us," says Storlie.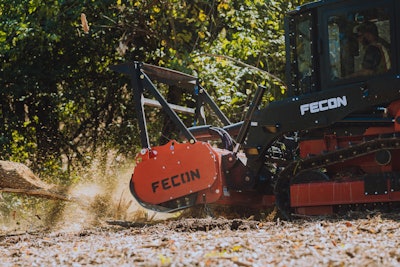 The ASV RT-120 Forestry is basically a CTL that has been factory upfitted with proper cooling and protection to be woods or forestry ready. "Those upfits, if you were to buy after the fact, you're probably looking at roughly $15,000 worth of additional accessories. The advantage in that product is having those features up front, knowing that you have them. You are ready to do work whether it is in the woods or standard CTL work."
Generally, the more hydraulic horsepower available, the more productive you can be. This has made high-horsepower models such as the 120-hp RT-120 Forestry popular for this application. But there is a growing demand for mid-size models. "We've added another model to our forestry lineup, the RT-75 HD," says Storlie. "That's a little bit smaller loader, 75 hp, a little bit less flow. But we are seeing that transition where guys are looking for that mid-size machine."
To address the need for smaller horsepower mulchers, Fecon has recently added a standard-flow mulching attachment, the RK5015. It is designed to shred vegetation to 4-in. diameter, yet requires just 17 to 27 gpm of hydraulic flow.
ASV has worked with Loftness to provide a mulching attachment that is optimized with the performance of the loader. "We work together with them specifically on all the pressure settings, the pulleys, the belts, to dial it in," says Storlie. "They have mulchers that can meet the needs of several manufacturers. But when we partnered up with them, they came in and worked with our engineers to get everything set to the durability levels we needed for high horsepower and high flow. I think we really have it dialed in well for our tractor."
Caterpillar also offers its Cat 299D3 XE Land Management CTL with matched drum-style mulching attachments. "The 299D3 XE Land Management machine comes with factory equipment that make it better suited for these challenging applications," notes Coleman.
Additional sealing components, and other special parts help to restrict debris and other materials from entering the engine compartment and lower frame. Added guarding components help to protect the front and rear LED worklights, work tool coupler area, work tool electrical harness connections and auxiliary hydraulic quick-disconnect fittings from impact and debris that are often hazards in land clearing applications.
There are some unique considerations due to the remote areas where these machines tend to operate and the amount of debris generated.
"One consideration is the 58-gal. fuel tank that delivers up to 12 hours of run time. Because these machines are often operating in areas where the fuel source is located at a distance from the work area, a long run time means staying on task longer, potentially completing the job without wasting time traveling to/from their truck for refueling," says Coleman.
A Fire Suppression System option is also available to provide additional peace of mind for customers working in these debris-intensive applications.
Consider Unique Jobsite Requirements
There is no substitute for the productivity of a dedicated mulching machine on a large jobsite, whether it requires selective thinning or to be completely cleared. "Dedicated mulchers tend to be for bigger jobs — maybe you are not doing thinning, you are doing complete clearing," says Storlie. "You need horsepower and size."
The speed of the job can directly impact the need for a dedicated mulching machine. "If you have a 5-acre job, but you need it done in one day, you are going to bring out a purpose-built machine," notes Warfel. "A skid steer will probably take two or three days to do that."
Contractors who do a lot of mulching may have a place for both skid steers or CTLs and dedicated machines. "We have a contractor in Illinois, he runs up to 12 skid steers and two purpose-built machines," says Warfel. "He says you cannot replace the skid steers with the purpose-built machine. He's grown his business to the point where there are places for both machines.
"He will send the purpose-built machine to a bigger, rougher terrain job where the skid steers might not be able to get up and down the slopes and through the rock," he explains. "The smaller jobs that might go through somebody's backyard to get to the right-of-way where it's a little intimidating sending the bigger machine — homeowners get a little more upset about it — he will send the skid steers out there."
Coleman adds, "Certainly, the size of the project and the desired results have an effect on the best machine for the job. The CTL solution allows for maximum maneuverability, especially in applications where the work area can be more restrictive. Examples would include working in areas where clearing of certain invasive plant species while leaving behind other plants/trees is required, or clearing right-of-way areas near highways or railroads. The CTL solution also provides flexibility with regards to transport vs. a larger and heavier dedicated machine that may have different transportation requirements."
Size the Machine for the Task
There is no way around basic physics. "The higher the horsepower you have, the more productive you're going to be," says Warfel.
But the correct machine choice really depends on the intended use. If it is for occasional use, a standard-flow attachment on a lower horsepower machine may be the most appropriate. In this instance, the lower hydraulic horsepower equates to a lower production rate, but you can compensate by using less expensive machinery.
"You can basically pay a third less for the unit because you are not going to use it every day," says Warfel. "If you want more productivity because you're trying to make money doing this, you should migrate toward the high-flow attachments."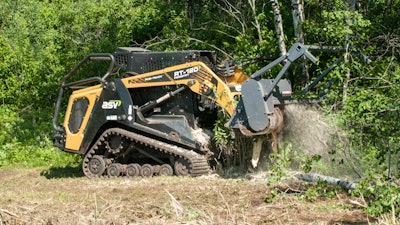 Matching the machine to the vegetation is an important consideration. For instance, Fecon engineers have designed a mulcher specifically for stringy vegetation that is common in areas with long growing seasons. The RK7618, or Blackhawk, is designed specifically for knife tools which finely chip standing vegetation as well as material already on the ground.
A common problem is that contractors often want to buy the least expensive machine they possibly can. "They buy a machine that's too small for the work they are trying to do," says Warfel. "You are overworking the machine, so you are going to beat your machine apart. You are also going to run into overheat issues, because if you are overworking that machine you are going to stall it more frequently. When you stall it, you are building up your hydraulic temperatures." Customers often purchase a small skid steer and think they are going to grind 12- and 14-in. trees all day. "It's not going to happen."
Part of the problem can be attributed to advertising. Many companies advertise that you can take a deck head and grind an 8- or 10-in.-diameter tree. "Can you do it? You can do it," says Warfel. "I wouldn't do it all day long or you are going to beat your machine apart. I don't care who builds it."
"The drum-style mulchers are a lot heavier built," he adds. With a high-flow skid steer, these mulchers can often handle 4- to 6-in.-diameter trees. "If you had to take an 8- or 10-in. tree with a drum mulcher, I wouldn't think twice about it. I know nothing is going to happen to the mulcher."
Choose the Best Cutting Configuration
Land clearing attachments come in different configurations. "The first one being rotary blade-style attachments," says Storlie. "Picture a large rotary disc with blades on it. That is your baseline, least expensive way to just knock material to the ground."
From there, you jump up to a disc mulcher. "That would be a large disc with typically carbide teeth on it," Storlie says. "It does a little bit better job of mulching. It still knocks [the material] down pretty well, but the teeth help it to mulch the material."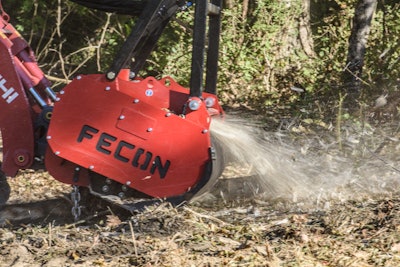 Then there are the drum mulchers. "Typically, they have the highest acquisition cost, but give you the best finish, the best overall capabilities," says Storlie.
"Drum mulchers are generally viewed as being safer than the disc or deck styles," says Warfel. "The disc or deck style heads generally throw material a lot further. They also don't leave you as fine a finished product. You usually use those in more open areas where you might not necessarily care what the finished product looks like. Guys usually refer to it as a 'blow and go' operation. You are usually left with larger material laying on the ground. The drum mulcher will grind it up finer, mix it in with the dirt. You could be left with almost like a park setting when you are done with a drum mulcher. A deck or disc style is faster, but it also doesn't leave you as nice a product."
Bobcat's forestry cutter attachment is equipped with a horizontal drum cutter designed for clearing trees and brush, cutting firebreaks, cleaning lots and maintaining properties. "The attachment can punch into large-diameter trees and bring the uppermost limbs quickly to the ground," says Kopp. "The forestry cutter's tube-style drum and spiral tooth pattern allow one tooth to engage at a time, so operation is smooth and less horsepower is required to do the job."
She adds, "The compact size of the forestry cutter allows for any type of removal job, whether clearing every tree in an area or selectively thinning stands. Operators can simply lower the forestry cutter onto the tree and its fast cutting teeth rip it to shreds, turning it into a bed of mulch that slows growth and provides organic material."
There are many factors that influence the best attachment decision. "When I'm choosing, I'd be thinking about the size of the job first," says Storlie. "The size of the material comes into play. Next is what kind of finish do I need to leave behind? If I just have to knock it to the ground and it can be ugly when I leave, a blade-style will do that just fine. If I have to leave a nice finish, then I have to get into a mulcher where the debris is sized smaller. We can go all of the way to dirt if we want to with a drum mulcher."
Be realistic about your planned utilization. "You have to factor in the cost of the attachments," says Storlie. "The acquisition cost of the attachment and the running cost of the attachment on a drum mulcher could be up to three times what a blade-style disc would be."
Cooling is a Priority
Hydraulic-intensive attachments tend to generate a lot of heat. "Cooling is a must for the high-performance, high-power hydro-mechanical attachments that these machines power," says Coleman.
The 299D3 XE Land Management machine's cooling system features a hydraulically driven reversing fan that can be manually activated or set to automatically activate to clear debris from the airflow intake screens. It can also be equipped with a roof-mounted auxiliary hydraulic cooler for additional hydraulic cooling capacity when operating in high ambient temperatures.
Hydraulic coolers are a popular option on mulching machines, but this option tends to be more regional in nature. "The further south you go, the more apt guys are to put that option on," says Warfel. "If you are in northern Minnesota or Canada, we don't sell a lot of coolers up there." The lower ambient temperatures in these regions provide a larger margin of safety.
ASV has designed its RT-120 Forestry mulcher to stay cool in demanding applications in the warmest climates. "The big additions we make to that machine are the cooling package — a standard reversing fan and an extreme cooling package," says Storlie. This application puts a lot of heat into the hydraulic system. "It's a very high demand application. Think about our biggest CTL — it's pushing 45 gpm to the attachment. When you are running a forestry mulcher, that attachment is engaged 100%. It's under load most of that time."
Storlie adds, "Then you have the chaff and debris factors. The mulching attachments are certainly known to throw a lot of debris in the air, a lot of dust, a lot of chaff that tends to plug coolers. You're building heat due to the high demand and the high debris can plug and dirty the cooling package, which is why we include our standard reversing fan and build our machines for 100% load, 100% of the time up to 118˚ F ambient temperatures."
The amount of chaff and debris generated mandates closer attention to maintenance. CTLs pack the engine and components into a very tight space. "It does not take much to start having overheat problems or fires in a CTL just because they are cramming a lot of stuff in that engine compartment," says Warfel. You need to be religious about keeping it clean.
"When you get into the more purpose-built machines, they have a lot more open engine compartments," he notes. "You still have to keep them clean, but there is a little more forgiveness because you have bigger coolers."
Dedicated mulching machines also tend to have trash-style coolers with wider fin spacing. Skid steers and CTLs tend to have tight fin spacing. This can create issues when someone tries to pressure wash the machine in the field. "One of the worst things they can do is pressure wash out those coolers," says Warfel. "Then they go back to work and the dirt and dust gets sucked into that water in the coolers. It almost turns into concrete inside there. It's very difficult to blast that out of the coolers. Now you have lost all your cooling potential in the machine."
Some dedicated forestry CTLs include wide fin spacing for this reason. For the RT-120 Forestry, ASV concentrated on the cooling package. "What we really focused on in that model is oversizing the cooling package," says Storlie. "It actually designs in some cushion for handling that chaff because it is not likely that you're going to be able to maintain full load 100% of the time. But if you have some cushion in there, you get some chaff in there and the machine is still able to perform at its best."
Companies in this article